4C-Trading is a platform offering smart bots for successful trading. According to the vendor, these bots are able to grow your capital in a progressive and safe fashion. The main objective is to grow your portfolio at a steady rate every month.
What is 4C-Trading?
It is a platform built by the 4C Trading team that has its headquarters located in Belgium, which is the financial center of Europe. The team aims to become a world leader in automated crypto trading. On the official websites, the founders are introduced as Ben and Julien, who act as the CTO and CFO, respectively. We don't have any background information available for these two individuals.
| | |
| --- | --- |
| Price: | $59/month |
| Payment Options: | Credit or Debit Card |
| Supported Exchanges: | FTX / Binance |
| Cloud Based: | N/A |
| Strategies: | N/A |
Is it easy to use 4C-Trading?
To use the features of this platform, first, you need to subscribe to one of the plans. There are weekly free trials for each plan, so you can test out the features without investing any real money. After subscribing, you need to create an API key on your exchange. Then, you simply need to connect your account to the dashboard, after which the smart bots will start trading.
Different smart bots are quoted to different assets like LINK, ETH, BTC, SOL, and BNB. For each smart bot, you need to open a new account on Binance. These bots work in accordance with the price fluctuations on the market. The vendor claims that the bots have a verified track record of more than 30 months of generating high profits. You can see the trading history in the dashboard and it is updated on a regular basis.
The vendor has not revealed the strategies and indicators on which the bots are based on. However, all of them are rigorously tested and updated to reflect the market scenario.
Features of 4C-Trading
Here are the main features of this platform:
Trade room
There are professional traders in the trade room who can advise you regarding anything related to crypto trading. Here, you can also find the latest updates related to BTC. There is a channel and community chat feature that lets you interact with members. You can also get on-demand analysis that will help you make better trading decisions.
Verified results
On the dashboard, you can see the detailed results for the smart bots. You can see the market, strategy type, buy date, buy price, sell date, selling price, profit percentage, and last position. Looking at the results, we are fairly confident that the bots can generate steady profits.
Affiliate program
The affiliate program involves a user promoting the bots. For each sale, you would get a 25% commission. Moreover, you can earn extra revenue for each sale made by a recruited affiliate.
Strengths and weaknesses of 4C-Trading
| | |
| --- | --- |
| Strengths | Weaknesses |
| Free trial for each plan | No information on trading strategies |
| Learning center for beginners | Lack of high-end security |
| Verified trading results | |
Is its technology good?
The technology is good for beginners without any trading experience. You don't need to create the bots from scratch. The platform keeps you updated about the latest market developments and you also get access to advanced analysis.
Is 4C-Trading safe?
This platform establishes a secure connection with exchanges using API keys. The bots prevent the liquidation of positions by using a risk-protected system. They also protect you against order overload, slippage, and market manipulation. Unlike some other platforms, this one does not have a 2-factor authentication system.
Customer support
The official website has a support section where you can simply search for your problem and get them resolved yourself by going through the help articles. In case your issue is not listed in this section, you can simply get in touch with the support team at the official email address.
Reputation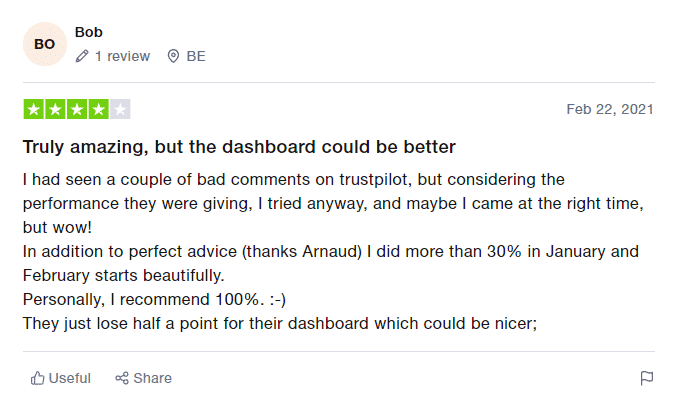 On Trustpilot, this platform has a moderate rating of 2.8 out of 5 based on 28 reviews. One user claims to have earned more than 20% profits in January. However, they say that the dashboard is not too user-friendly. There are some users that have criticized the strategy saying that it is not adapted to different market conditions.
Bottom line
4C-Trading is a decent platform for beginners because it doesn't have a steep learning curve. The features are quite simple and you don't need to program the bots yourself or adjust them in any way. There are verified trading statistics for the bots and a helpful guide for solving technical issues.