Advanced Hedge is a Forex expert advisor that was launched in 2021. It is a fully automated trading system that can trade in multiple currency pairs. According to the vendor, the EA has been tested from 2016 to the present day in various market conditions.
The developer behind this EA is known as Ho Tuan Thang. This person is based in Vietnam and they have not been selling products on MQL5 for too long. We don't know much about this person's background and it is unclear whether they work alone or as a part of a team. Other products from this vendor include Advanced Bollinger bands, Advanced Fibo levels, and Advanced Gold Trading.
Choosing a reliable expert advisor requires careful analysis. You need to look into different factors like features, pricing, trading strategy, trading results, and user reviews. For further details, check out our best Forex robots list.
Advanced Hedge overview
On the MQL5 product page, the vendor has made a very brief presentation. They have shared some information related to EA setup, but we are not provided with too many details regarding how it functions. There is a list of EA parameters, some screenshots showing the backtesting results, and a link to a live monitoring account. The vendor has not highlighted any particular feature or made any effort to advertise the service.
Pricing
You can purchase this EA for the price of $99. Compared to other EAs, it is quite affordable. The vendor claims that there are only 3 copies left at this price, after which it will be raised to $149. There is a free demo version of the robot that you can download. This will help you test the performance using virtual money. Unfortunately, the vendor does not offer a money-back guarantee for this EA.
How it works
This EA trades in Forex pairs like EUR/USD, GBP/USD, USD/JPY, and XAU/USD. The vendor recommends running it on M15 charts. Since this is not a broker-sensitive EA, you can use any broker of your choice. The minimum deposit required for this robot is $300. It is not sensitive to slippage or spread.
By modifying the EA parameters, you can select the starting lot size, volume multiplier, maximum volume, maximum locked orders, take profit, stop loss, grid size, and slippage. To get the best set files, you need to contact the vendor after purchasing the EA.
Trading strategy
This robot uses a hedging strategy to trade Forex pairs. It has a loss-recovery system, but the vendor has not explained how it works. For making its entries, the EA does not take the help of indicators, using mathematical logic instead.
Trading results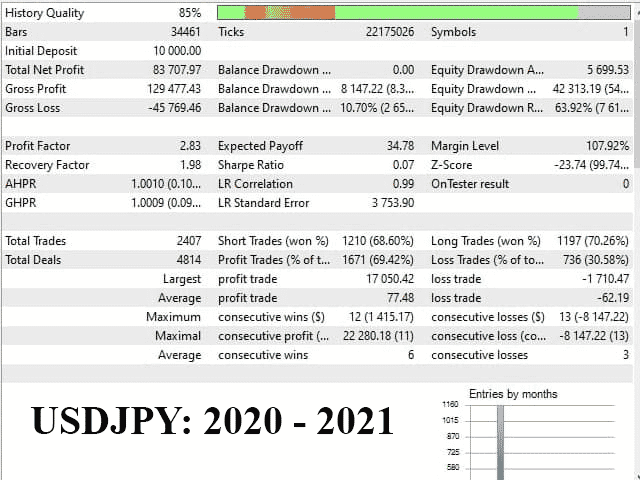 Here we have the results of a backtest performed on the USD/JPY pair from 2020 to 2021. The EA started with an initial deposit of $10,000 conducting 2407 trades and generating a total profit of $83707.97. It had a win rate of 69.42% and a healthy profit factor of 2.83. The relative equity drawdown for this backtest was a bit high at 63.92%, and this indicates a risky trading strategy. There were 12 maximum consecutive wins and 13 maximum consecutive losses during the testing period.
Although the vendor has shared the link to a long-term monitoring account on MQL5, we can see that this account no longer exists. Also, there are no verified trading results on websites like Myfxbook, FXBlue, and FXStat. Without verified statistics, it is not possible for us to determine whether the EA is capable of winning steady profits in the current market scenario.
Customer reviews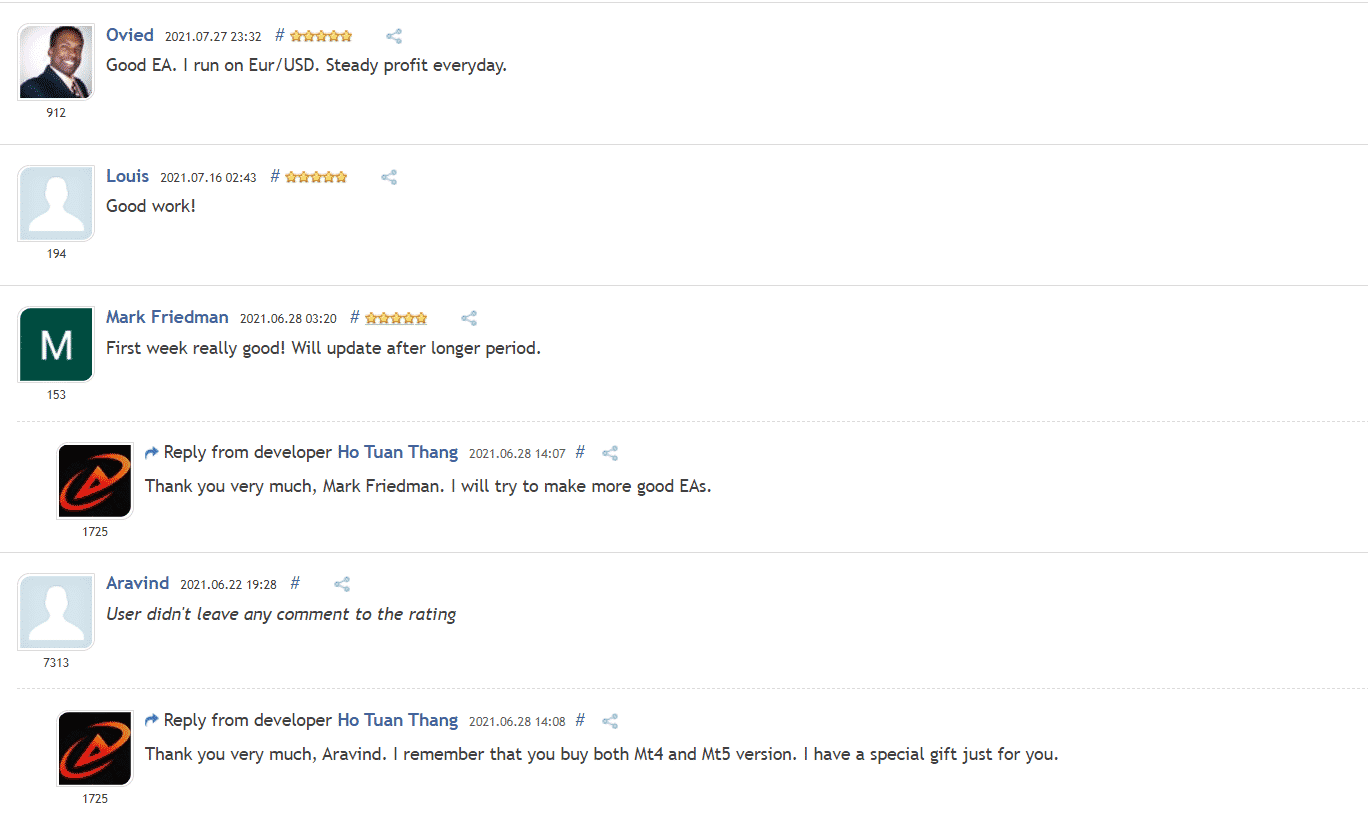 We couldn't find any user reviews for this expert advisor on third-party websites like Quora, Myfxbook, Trustpilot, and Forexpeacearmy. It seems that not many people are currently using this EA for live trading. On MQL5, there are a handful of reviews on the product page, but we have no way of verifying their authenticity.
Customer support
The vendor has shared no official contact information on their MQL5 profile. If you require support, you can message the seller or MQL5. Alternatively, you can join the official Telegram channel.