As one of the FX robots using the scalping approach, Advanced Scalper from Profalgo Limited offers a customizable FX EA for clients. This ATS is professionally developed to provide good returns with minimal risk.
Developed by Wim Schrynemakers and published in August 2018, the current version of the EA is 1.56. It has been updated on May 19, 2021. Wim Schrynemakers is from Malta and has more than 7 years of experience in Forex trading. He has developed 18 products, 47 signals, and provided 4930 demo versions. There are 18063 subscribers for this EA.
To know about the best FX robot provider, you need to look at the live results, backtests, the trading approach, and more. While it is not possible to check all these features for the numerous robots available now, you can use a reputed review site to narrow down your choice. Our list of the best Forex Robots is just what you need to make your task of picking the right EA easier.
Advanced Scalper Overview

This FX EA is promoted by the MQL5 site and boasts of having over 3 years of live results. The developer, Wim Schrynemakers claims that this is a professional FX robot that has been developed after several years of designing and optimization. He mentions that the EA uses advanced algorithms for trade exits. Other algorithms present in the ATS include a filter for spread and control for slippage.
The main features of this EA include:
Each trade has a stringent stop loss level and advanced SL control is present
Filter for spreads helps prevent trading during bad market conditions
A fully automated mode is present with modifiable entries
Big losses due to heavy slippage are prevented using the slippage control feature
Pricing
This FX Robot is available for $290 which is a discounted price with the original price being $990. At present EA can be purchased at a 70% discount with just two copies left as per the vendor info. The subsequent price is $390 and the final price is $990. Rental packages are present for this ATS. $149 is charged for a one-month rental, $199 for three months, and $249 for six months. The developer offers a free demo option also.
Even with a discount, the price of this FX robot is expensive, not to mention the final price. While the developer claims live results as proof of the effectiveness of this system, we feel that the price is very expensive when compared to the prevailing rates.
How it works
As per the developer info, this FX EA is applicable on any market with a low spread and good liquidity. He recommends using it on three currency pairs namely EURUSD, GBPUSD, and USDJPY. Other recommendations of the developer include using brokers with fast execution, low commission, and low spread. He claims that a broker using 0 stop level will work the best for this EA and that most ECN brokers meet this criterion.
Trading Strategy

While the name of the ATS implies that this EA uses the scalping method, there is no mention of the exact strategy used. Instead, there is mention of the EA working in two ways. Under automated trading, a high or low breakout feature is used for making entries and a time frame of H1 or the H4 time frame is suggested. The second method is using manual approaches where the user can choose the entry or use this EA along with other EAs for entries. This FX EA will apply its advanced exit algorithms to take care of such trades.
Trading Results
We found a live real trading account verified on the myfxbook site for this EA. Here is a screenshot of the result: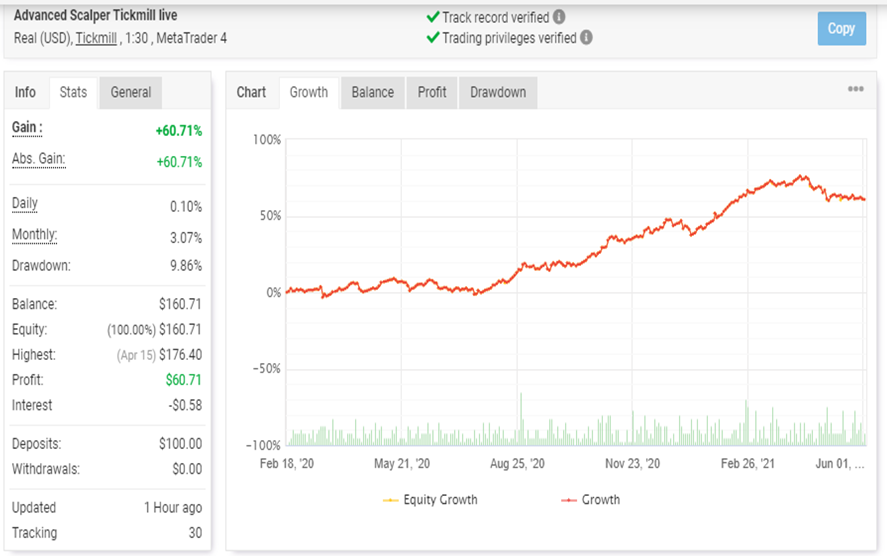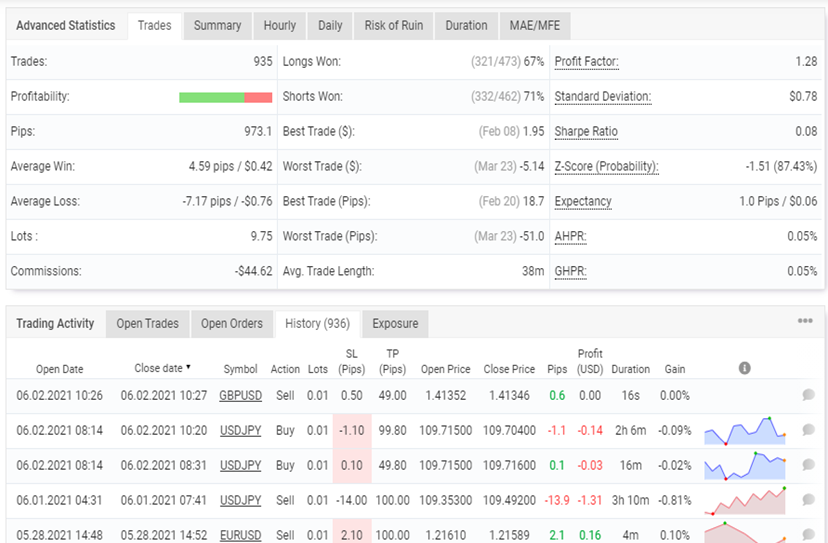 From the above image, we can see that this is a real USD account using Tickmill and delivering a total profit of 60.71% and a similar value of absolute profit. The daily and monthly profits are 0.10% and 3.07% respectively with a drawdown of 9.86%.
For the initial deposit of $100 made for the account that started trading in February 2020 up until now, the balance amount is $160.71. A total of 935 trades have been executed with a profitability rate of 70% and a profit factor value of 1.28. The trading history reveals that the lot size is 0.01.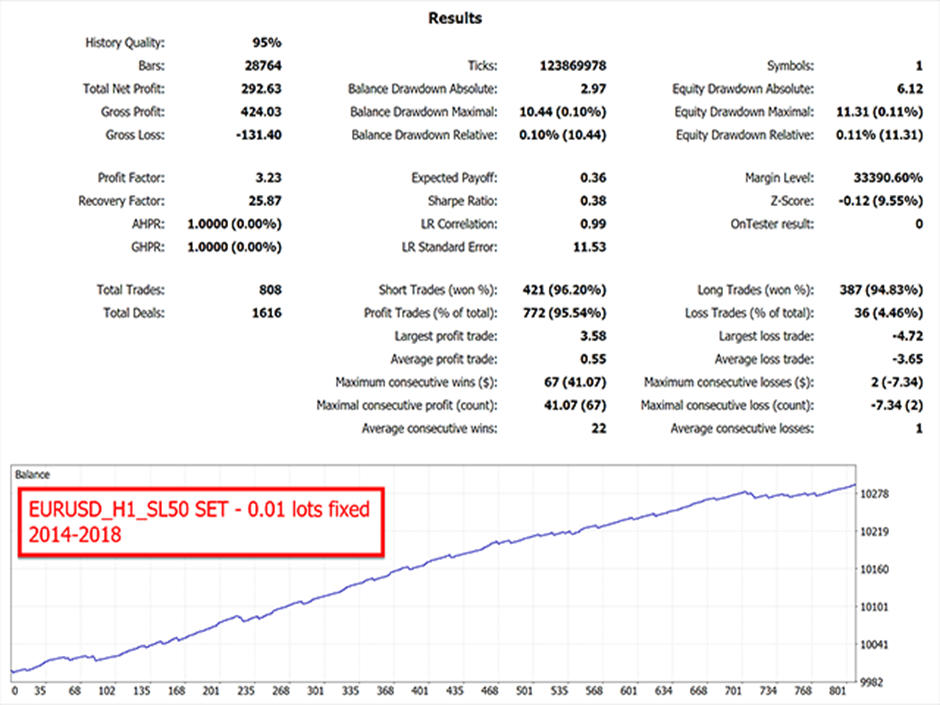 The developer provides backtesting results for four years from 2014 up to 2018. With a history quality of 95%, the strategy tester report reveals a net profit of 292.63 and a profit factor of 3.23 with the drawdown being 0.10%. Comparing the backtests and the real trading account results, we can see there are differences in the profit factor, net profit, and drawdown values. While the lot size shows a low-risk approach, the low profits are a big drawback for this system.
Customer reviews
We could not find feedback from users of this EA on trusted third-party review sites like Forexpeacearmy, Trustpilot, etc. However, the MQL5 site has 16 reviews with a rating of 3.5/5.
From the reviews, it is clear that the real account results are not comparable to the backtesting results. Most of the reviews indicate that the profit is not as expected and that this EA does not live up to the expectations fostered by the developer.