Advanced Supply Demand is yet another trading tool that promises to move heaven and earth for the trader. By purchasing it, the developer says that users will be able to identify the best zones to enter trades. The system was first published in February 2017. It is alleged that several proprietary features and a new formula have been incorporated after it was updated in June 2021. This supposedly makes the indicator high quality and unique.
The author of this product is known as Bernhard Schweigert. He is from Morocco but states that he is a German. He has developed many other products of a similar nature. According to the profile on the mql5 website, Bernhard has been in the trading business since 2005. This is such a long time. Therefore, we expect him to have a detailed background highlighting his expertise, experiences and achievements. However, this information is lacking. This makes us wonder why he is hiding such vital details.
Advanced Supply Demand features
Shows double timeframe zones-the higher time frame and the chart time frame
Runs on the MT4 platform
Is able to spot supply and demand zones
Can work on any product and timeframe
Has incorporated 2 zone strength functions modifiable by user input
Uses supply and demand zones as an alert trigger
Provides 4 alert choices-when the price goes into a zone, when it breaks a zone, when a reversal candle has formed from a zone or when there is a special fake breakout
Traders can use popup alerts with sound on MT4 and/or push and/or email. Once the trader receives the alert, they will know the action to take
The alert usually informs the trader about the number of demand zones that have been broken in a row, so that they can trade with the trend and identify a continuation of the trend
Provides a user manual
Pricing
Advanced Supply Demand is available at a discount of 33%, which makes the final price to be $148. It can also be rented for 3 months at $65 or 12 months at $85. Compared to the average price in the market, this cost is quite high. A free demo is provided as well. This enables potential traders to test the indicator prior to purchasing it. Unfortunately, no money-back guarantee is offered.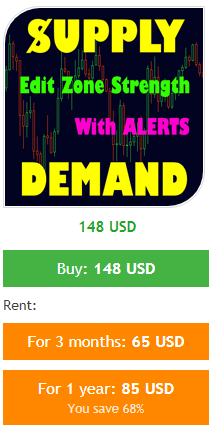 How it works
The software can easily be purchased from the mql5 website. If interested, you just have to click on the pricing plan of your choice and you will be directed to a link that guides you through the purchase process. Advanced Supply Demand indicator mainly focuses on opening and closing deals on the MT4 platform. In essence, the indicator will help you to forecast changes in price and identify entry points for trades.
Trading strategy
The developer states that the indicator has in-built algorithms that enable it to easily detect prospective variances between buyers and sellers. As such, it uses a graph to illustrate the strongest supply and demand zones along with old zones. This way, a user can find the best entry levels and zones.
Backtesting results are not there. It is sad that the vendor hypes his product, but fails to show us how it has performed in the past. Therefore, traders may easily lose confidence in this system and not invest in it.
Trading results
Live trading statistics are also noticeably missing. This is a huge setback. This kind of data is important as it gives us an opportunity to evaluate the performance of a system in the real market conditions. As a result, we are able to gauge its potential when it comes to generating profits. So, it wouldn't make sense to buy a product whose achievements are concealed.
Customer reviews
Many customers praise the software on the mql5 website. However, we doubt the legitimacy of these comments. For all we know, the developer may have manipulated them to fit his interests. Notably, there are a few negative reviews. The users mainly complain about the costly nature of the product, difficulty of use and its uselessness especially among traders who lack concrete knowledge in supply and demand. Here are the negative testimonials: