Agimat Trading System is a Forex EA that works on the Metatrader 4, 5, and TradingView platforms and promises high performance for both experienced and new traders. As per the vendor, this system carefully keeps track of the market movements, while allowing you to place trades using a smartphone. It has some advanced functionalities that apparently assist you in making more prudent trading decisions.
This robot has been developed by Dennis Buchholz, who is the founder of F.X. Tech Group Ltd. This company has offices in Hong Kong and Spain and is trademarked and registered with the United States Patent and Trademark Office. However, not much information can be found on the company's history, so we don't know if there are any other robots built by the same developer. The identities of the traders and developers have not been revealed by the vendor.
Choosing the best Forex robot is not a simple matter of checking the live trading performance. You must consider other aspects of the system such as features, pricing, trading strategy, customer reviews, etc. Check out our best Forex robots list to find out more.
Agimat Trading System Overview
Taking a look at the official website, we can find that the main features of the robot have been highlighted by the vendor. We have a video showing users how to trade using this EA and another video showing live trading examples. The vendor has gone on to explain what makes Agimat Trading System different from the various scam services on the market.
Next, a live trading account for Agimat Trading System has been presented, after which the functioning of the neural network technology has been explained in detail. We have a screenshot showing recent withdrawals, as well as the pricing details. While the neural network technology is not something most Forex EAs use, the vendor does not offer anything special through this robot.
Pricing
In order to trade with Agimat Trading System, you need to pay a one-time license fee of 174 Euros. While this is not extremely expensive compared to other Forex robots, the vendor does not offer a money-back guarantee, which is a cause for concern. Most reputable Forex robot vendors have refund policies since they are confident about their systems' performance.
How it Works
With Agimat Trading System, the scalp trades are copied to your account on a daily basis, and proper money management techniques are applied to make sure your account does not get drained. The vendor claims that the signals have 90% accuracy and that you can grow your account in a safe and steady way using this system. If you do not have a VPS installed, the service team can help you with the installation process.
This robot has an artificial neural network technology that allows it to make faster decisions in real-time, compared to a human brain. According to Dennis Buchholz, this technology is used by the top hedge funds and trading firms and it allows one to make profits from the Forex market with increased accuracy.
Trading Strategy
This Forex EA uses the scalping strategy, which is a trading scheme used by short-term traders. Here, after placing a trade in a particular currency, the position is held for a very short period of time. The idea is to capitalize on the small movements in price. While this can be an effective way to make small profits at a steady rate, it is not suitable for those who wish to make larger profits.
Trading Results
Since the vendor has not provided any backtesting data for this Forex EA, we have no idea how it would perform based on historical data. Thus, it is difficult to determine whether the robot is robust enough to survive long periods of drawdown.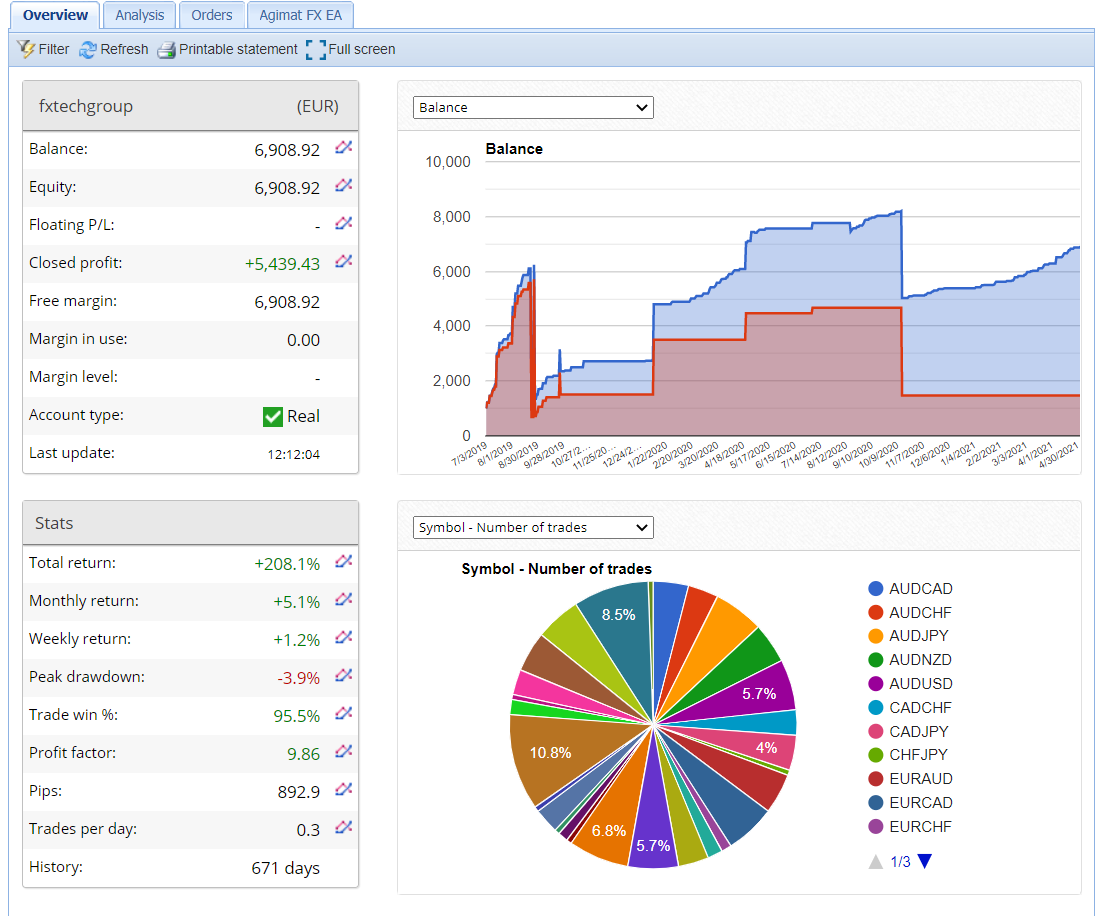 This is a live trading account on the FXBlue website having a trading history of 671 days. To date, a total profit of 5439.43 Euros has been generated through this account, and 95.5% of all trades placed have been won. Currently, the daily, weekly, and monthly returns are 0.24%, 1.18%, and 5.07%, respectively. Compared to other Forex robots, the monthly profit is a bit low. Another thing to note is the high risk/reward ratio of 2.90, which tells us that trading with this system carries a significant amount of risk.
Customer Reviews

On the Forex Peace Army website, there are several reviews on this Forex EA. One user has complained about the extremely high drawdown they experienced while using this robot. They have claimed that this happened in spite of using the default settings.