Amaze is a multi-currency trading system for AUDUSD, EURUSD, USDPY, and GBPUSD. It runs on the MT4/5 platform and attaches a fixed stop loss, and take profit on each trade. We are also told that Amaze is an open system, and therefore, each setting impacts trading. But how effective is this EA in live market conditions? We are here to provide the answer in this review.
The system was created by Anton Kondratev, a software developer who lives in Russia. He doesn't have any other product in his portfolio apart from Amaze. We know absolutely nothing about Anton's trading experience or whether he has any professional background in Forex trading. It would be nice to know if he is someone who has the ability to turn traders' investments into something worthwhile.
Amaze overview
The EA comes with the following features:
The minimum deposit is $100, and the recommended leverage is 1:500.
The H1 timeframe is preferred.
Traders are asked to use brokers with minimal or zero spreads.
The system has a built-in protection that safeguards against broker slippages, large spreads, gaps, and repeated levels.
Does not trade at night.
Pricing
The current retail price of Amaze is $325. Compared with prices from other providers, this pricing is quite high. We have ascertained that, on average, an EA costs between $100 and $200. So, you can see that, to get the robot, you will have to pay an extra $125-$225.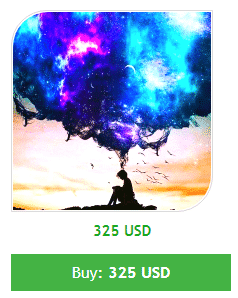 How it works
Being an expert advisor, Amaze is designed to work automatically without your intervention. So, what it does is initiate and trade Forex positions for you based on the developer's programming criteria.
Trading strategy
The vendor does not divulge important information about the strategy this EA utilizes. We only have a generalized description of the approach: "A fully automated open system for identifying and exploiting global vulnerabilities in the market." Anyway, if desired, users can activate the grid option provided. But we wouldn't advise you to do so knowing very well how this method generates disastrous results.
There are several screenshots that show the historical performance of the EA. See below what we found out.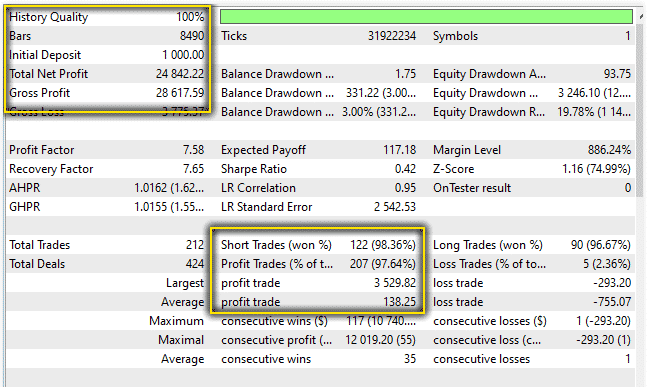 In this backtest data, we can see that the EA worked with a deposit of $1000 to generate a total net profit of $24842.22 from 212 trades. Unfortunately, info on the testing period is missing. The system was able to win 98.36% of the short positions and 96.67% of the long trades. These results were outstanding. The relative drawdown was 19.78%, and an indication that the strategy used was not dangerous. The profit factor was 7.58, while the average profit trade and loss trade were $138.25 and -$755.07, respectively.
Trading results
We don't have any live trading results for this EA on mql5 or on verified sites like FXBlue, Myfxbook, or FXStat. This makes us believe that the vendor is not confident about the performance of his invention. Then, why is he selling it to the public? We suspect that he is only interested in your money. So, you should never purchase a product with no proven track record. Otherwise, you will be in for a rude shock as some of the customers below.
Customer reviews
There are a total of 19 reviews for this robot on mql5. Although a majority of the testimonials are positive, there are several negative ones that we couldn't just ignore. They provide us with some insight on the true performance of the robot in the live market. As per the comments, it is clear that Amaze made some customers lose money.