Athena EA assures high account growth using its MT4 automated tool. The vendor claims that the ATS can generate up to 25% monthly profits consistently based on over two years of live trading results.
Elite Currensea is the company behind this FX EA. Founded in 2014 by Nenad Kerkez and Chris Svorcik the firm offers a diverse range of FX tools, software, marketing research, event management, and industry commentary. The company is based in Estonia. For contact, the vendor provides an email address and a location address.
Performance, reputation, vendor transparency, and support are a few of the numerous factors that help in choosing an ideal EA. With the market brimming with numerous EAs, it is not possible to analyze every product and choose from them. Fortunately, we have made your task easier by doing all the hard work for you. All you need to do is look at our list of best FX robots and pick one that suits you.
Athena EA overview
As per the vendor, here are a few significant features of this FX EA that give it an edge over its competitors:
It provides consistent monthly returns ranging from 5% to 25% based on the live trading results monitored for more than 2 years.
The rental and managed account services offer hassle-free trading with zero upfront cost.
Using the rental and managed services does not require prior experience with MT4 EAs.
You can increase or reduce the profitability by varying the risk levels.
The service offers full verified results, clear reporting, and no hidden fees.
Withdrawal or depositing of money does not have any limits allowing you full control of your capital.
Pricing
To use the service, you can choose from the four different packages as shown below:
Rental (€799): this annual rental provides support, onboarding assistance, VPS, Telegram channel, and reporting.
Lifetime (€999): in this one-time payment you get all features of the rental package for a lifetime
Rental Sponsored (€499): a recurring annual package that offers quick onboarding and no limits on the capital
A managed account (€0): under this package, there are no upfront fees but you need to pay 25% to 35% of the profits generated. It needs a supported broker account.
When compared to the price of competitor products, we find the pricing is expensive for this service. Further, the lack of a money-back guarantee makes us doubt the reliability of the system.
How it works
This FX robot uses a special algorithm to generate profits and ensures that it does not close a day with losses. It uses technical analysis and works mainly on the EURUSD pair. It is made of two different EAs, one for buying and one for selling. The robot opens long and short orders with hedging and the deals are based on a combination of moving averages, price swings, and oscillators.
Trading strategy
The grid-trading method is used by this EA. Additionally, it uses a specific TP strategy that ensures the EA does not end a day with a loss. It uses a smart implementation of a classic equation and trades the price action and price swings.
Trading results
The vendor provides a live real EUR account verified by the myfxbook site. Here is a screenshot of the account using the leverage of 1:500 on the MT4 platform.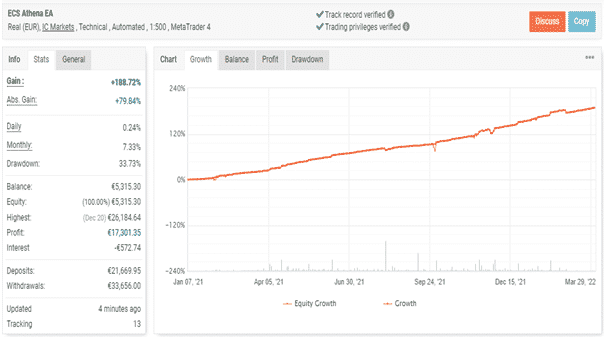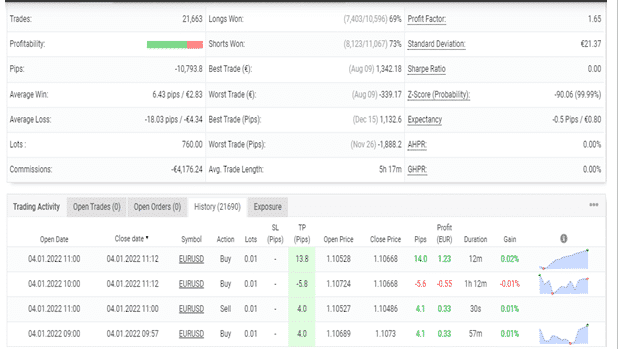 From the above stats, we can see that a total profit of 188.72% has been generated for the account that started in January 2021. The daily profits are 0.24% and the monthly profits are 7.33%. A drawdown of 33.73% is present. For a deposit of €21,669.95, a profit of €17,301.35 has been realized. A total of 21,663 trades have been executed with a profitability of 72% and a profit factor value of 1.65. The lot sizes used vary between 0.01 and 0.02. From the high drawdown and varying lot size, we find the approach used is not a safe one. Further, the monthly profits are less than 8% which is not what the vendor claims.
Customer reviews

Unfortunately, we cannot find user reviews for this FX EA. However, there are reviews for the EliteCurrensea company on the Forexpeacearmy site with a rating of 4.499/5.