Autopip EA Gold is described as a fully automated strategy that conducts daily trading using BTCUSD, XAUUSD, and EURUSD pairs. The developer affirms that the system was backtested on real data. We are assured that no manipulation or backtest conditioning was applied. Another claim is that the system's performance in the actual world is even better because the EA uses a news filter. Let's assess the robot in detail to see if these claims are accurate.
This robot was developed by Neill Thomas Campbell Forbes. He is a UK resident. Neill says he creates software for the automation industry and has been involved in the development of Forex EAs for a few years now.
Autopip EA Gold overview
The features of the robot, according to the developer, are highlighted below:
It requires a minimum capital of $500 to begin trading, but the recommended amount is $1000. A cent account can also be utilized.
Comes with the following default settings: XAUUSD, XAUAUD, and EURUSD on the M15 timeframe.
You are advised to use an ECN account for best results.
Has different protection systems, including money management and trailing stop features.
Pricing 
AutoPip EA is being sold at an affordable price of $100. A monthly renting option is also available at a reasonable price — $30.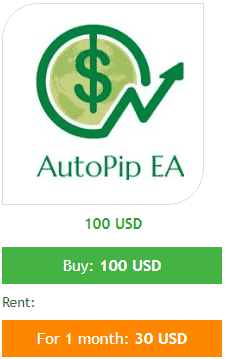 How it works
Autopip EA is a system programmed to aid you in trading. Although the robot is fully automated, it also features manual trading tools meant to control it from a simple interface.
Trading strategy
The vendor discloses that Autopip uses an inbuilt news filter that avoids news to decrease trading risks. Safe loss options are also applied to protect profits when the trend changes. We later noted that the grid and martingale approaches are part of the trading algorithm, something which the vendor fails to say.
Check below the backtest results of the EA that show how its strategy performed on historical data: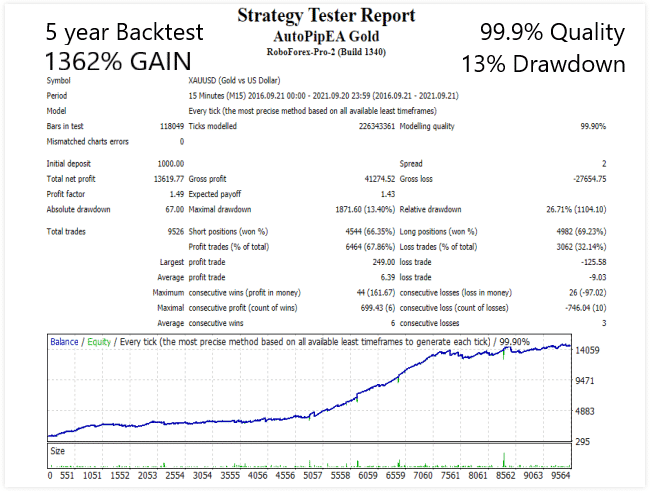 This test was conducted for 5 years, specifically from September 2016 to September 2021. The EA traded the XAUUSD currency pair on the 15-minute chart. Eventually, it implemented numerous trades — 9526. Even then, the success rates for short (66.35%) and long positions (69.23%) were not satisfactory. It meant that the robot's activities didn't yield many returns. The profit factor, which was 1.49, also confirms this.
Fortunately, Autopip engaged in low-risk trades, as illustrated by the small drawdown — 13.4%. The trading period saw a deposit of $1000 increase to $13619.77.
Trading results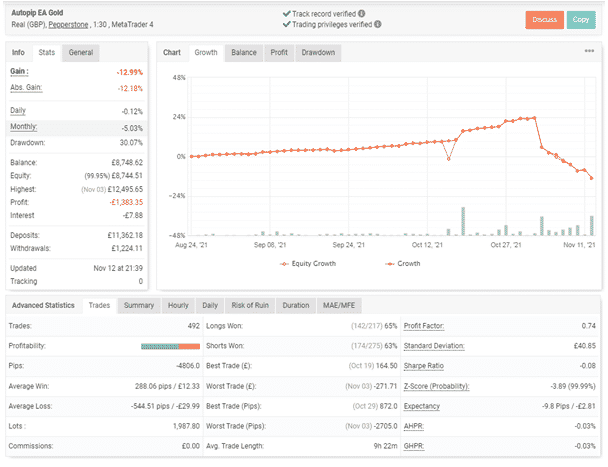 This real account was last active on November 12, 2021. Sadly, the strategy on board has caused 30.07% of the capital to be lost. Consequently, the account's value has deteriorated by -12.99%. Already -£1,383.35 has been lost from a deposit of £11,362.18.
There are 492 trades conducted thus far. Most of these trades end up with losses as we have an average loss of -544.51 pips that is nearly twice higher than the average win (288.06 pips). The profit factor of 0.74 further proves that the EA is more of a loser than a winner. The lots traded are 1987.80. This number is rather large, bearing in mind that the system has traded for only a short period. It shows that many trading risks are taken.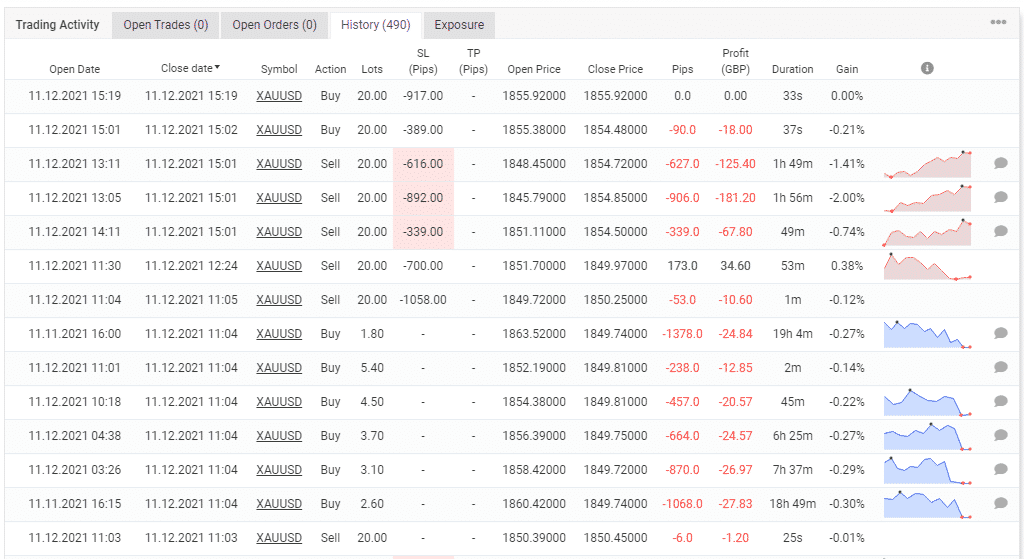 The system traded with very large lot sizes, which increased significantly whenever losses were made. This tells us that martingale was present. The grid strategy was also used. As fate would have it, the two approaches led to numerous losses.
Customer reviews
To this point, traders who have brought Autopip seem to be happy with it. This is because all the reviews on mql5 are positive. The developer is also praised for being helpful and supportive.