Belkagalzer EA is a Forex expert advisor that lets you create diversified trading schemes for the foreign exchange market. This Forex EA executes orders in the market instantly while adjusting automatically for 4-5 digit quotes. It has been created based on advanced trading models like PRNG, PriceAction, Pivot, and PriceChannel.
The creator of this system is a person by the name of Dmitriy Shal, who is based in Russia. A full-time trader, Dmitriy claims to possess a bachelor's degree in economics and programming skills. He has been trading since 2006 and has spent over a decade perfecting his trading algorithm knowledge to create several strategies and models for different financial instruments. Apart from Belkaglazer EA, he has developed a system called BelkaMiner in the past.
Since no information has been provided about the team members, we assume Dmitriy works alone. Choosing the best Forex EA requires you to analyze the various system aspects like trading results, pricing, vendor transparency, customer reviews, etc. All the best recommendations are available in our best Forex robots list.
Belkaglazer EA Offering
On the official website, the main emphasis seems to be on the features, strategies, and models. All the various filters used by the Forex EA have been briefly discussed and a link to the company profile on Myfxbook has been provided. The presentation is certainly different from other Forex EAs, and we can tell that the vendor has attempted to reveal more information about the system rather than desperately trying to sell it.
Pricing
Belkaglazer EA is priced at $499, which is not at all cheap compared to similar systems available in the market. The vendor also has a 3-month rent option available that costs $149. You can also download the free demo version of the software to test the performance before investing in it. There is no mention of a money-back guarantee, which is highly disappointing.
How it Works
Belkaglazer EA is fitted with a CBOE VIX filter that lets you backtest the impact any major news event has on the market. It is also able to detect GMT Offset without any manual intervention. Moreover, you can use different money-management techniques with this robot.
The vendor recommends using a 5-digit and VPS broker with low spreads. All the strategies and strategies can be fully customized by the user and the options can be configured using the belkaglazer.ini file.
Trading Strategy
Belkaglazer EA employs the breakout, mean reversion, and momentum strategies. The breakout strategy is used to make entries in a volatile market with pending stop orders placed at horizontal support and resistance levels. When there is a strong price surge, it may activate a breakout.
The momentum strategies are based on the rationale that following a major short-term price shift, the price will continue in the same direction until it becomes weak. In this scheme, an asset is bought or sold following a major positive or negative price shift.
Mean Reversion assumes that the price will return towards the average following a strong movement. This strategy, also known as reversal trading involves buying or selling an instrument following a large movement. Here, the market is entered in the reverse direction once the price approaches a resistance or support level.
Trading Results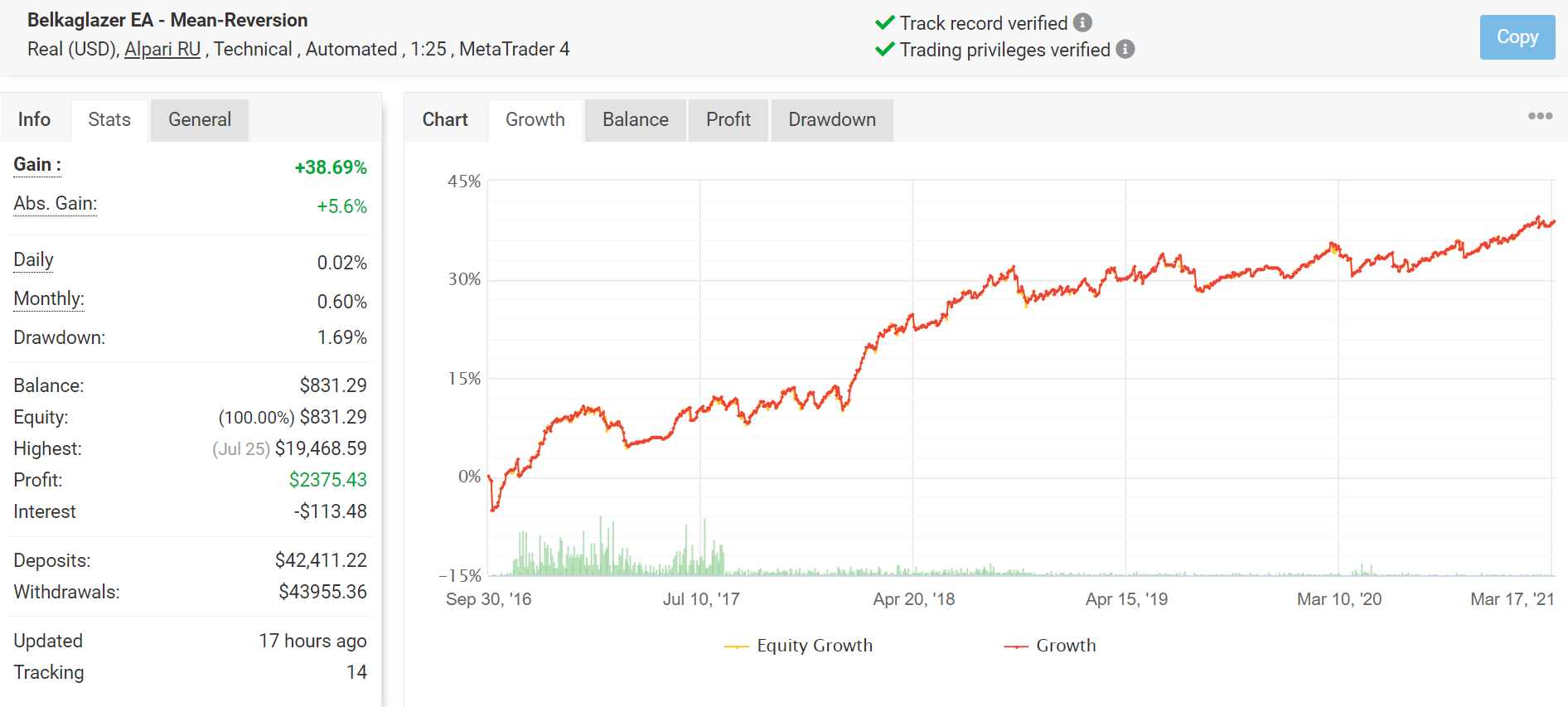 This Belkaglazer EA live trading account on Myfxbook has been active since 30th September 2016. To date, it has made 2052 trades, with a win rate of 68%. The net profit generated through this account is $2375.43, while the time-weighted return is 38.69%.
One notable thing about this trading account is the incredibly low drawdown of 1.69%. Most Forex traders have higher drawdowns, but it seems Belkaglazer EA does not often suffer from huge losses. The profit factor for this account is 1.30, and it is quite decent.
Backtesting Data
We were hoping to find some backtesting data for Belkaglazer EA, so we could make a comparison with the live trading results. It would have revealed how the system would have fared during difficult market situations. So at this moment, we have no idea about the system's performance based on archival data.
Customer Reviews
We couldn't find any customer reviews for Belkaglazer EA on the popular review websites. This is quite odd since you would expect to find at least a few reviews for a robot that has been trading live for more than four years.