Best FX Networks is a Forex robot that, according to the vendor, allows you to conquer the market. It is a fully automated trading system that has been showing positive results since 2021.
Unfortunately, there is no information on the developer team behind this expert advisor. The vendor has not shared any background information on the developers and we don't know when the team was founded. It is unknown whether this team has built other Forex trading systems in the past.
These days, there are many scam EAs on the market. Not all EAs are capable of making profits, and this is why we need to do thorough research before investing in a trading system. We ought to analyze the different performance factors like features, pricing, strategy, trading results, customer reviews, etc.
Best FX Networks overview
On the official webpage, the vendor has highlighted some of the main features of the system. They have briefly explained how the EA conducts trades and what it offers. We have the link to a live trading account on FXBlue, along with backtesting results. The vendor has also shared the pricing details and the installation guide. Looking at the features, we cannot find anything special or unique about this system.
This robot has simple parameters and in-built magic numbers for identifying the trades. It only trades in the EUR/JPY pair. Best FX Networks is compatible with all brokers and you run it on different types of accounts like Cent, Micro, STP, and ECN. It can automatically adjust the risk settings based on the total assets.
Pricing
There are three pricing plans for this EA, known as Business, Standard, and Premium. The prices for these plans are $129, $149, and $169, and they give you access to one, two, and three real and demo accounts, respectively. Compared to other EAs, the plans are quite affordable. There is a 30-day money-back guarantee for users experiencing drawdown above 50%.
How it works
You need to install this EA on your MT4 platform. It works in autopilot mode, scanning the market for lucrative profit-making opportunities. You can build a risk profile and the robot will adjust the money management rules accordingly.
Trading strategy
This robot is based on a neural network system. It is a technical analysis method combining various strategies. The network needs to be trained with testing and training data sets. It is a learning system that compares its own forecasts with technical and fundamental data.
Trading results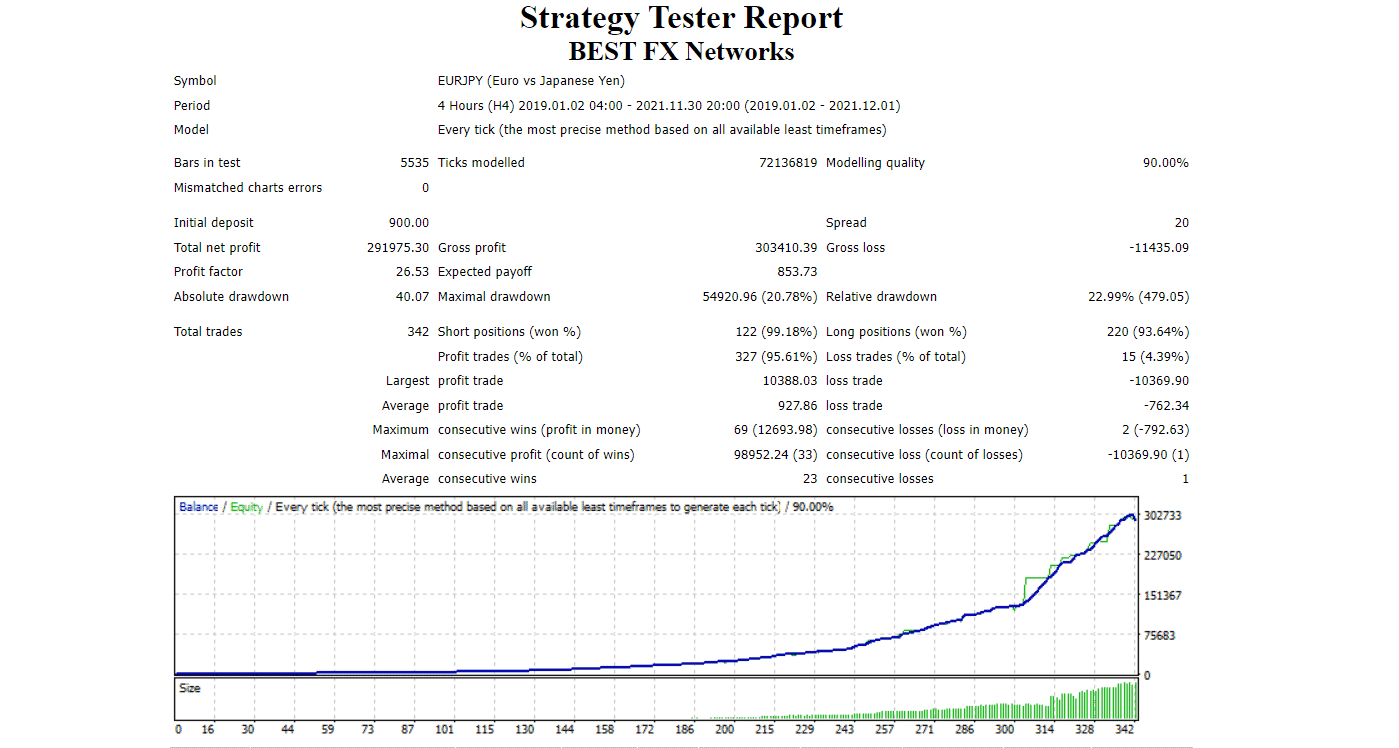 For this backtest, the EA conducted 342 trades using an initial deposit of $900. It used an every tick model and the H4 timeframe. The win rate of 95.61% was even higher than what we saw in the live statistics. It is evident that the strategy was a bit risky since the relative drawdown was slightly high at 22.99%.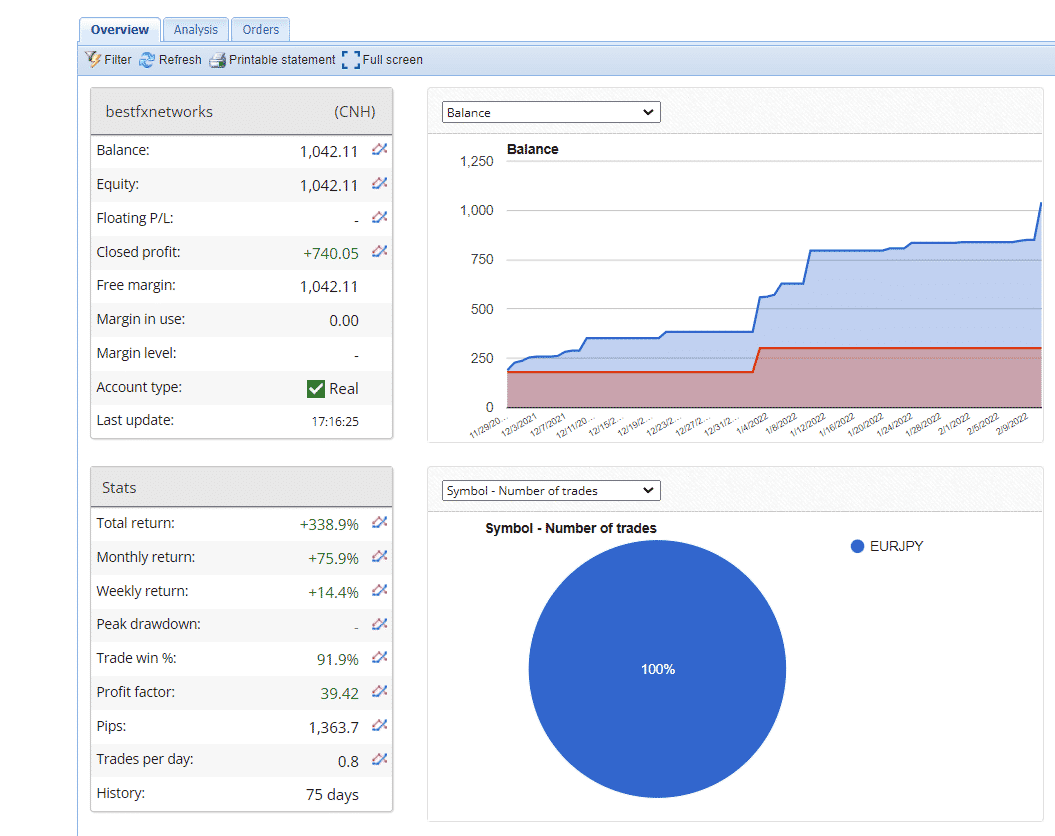 This live trading account on FXBlue has not been active for too long. The first trade on this account was placed on November 29, 2021. It has won 57 out of 62 trades, which means it has a very high win rate of 91.9%. The total profit currently stands at ¥740.05, while the profit factor is 39.42.
Currently, the daily, weekly, and monthly gains are 2.73%, 14.39%, and 75.90%, respectively. The total growth experienced by this account is 338.9%. However, looking at the risk/reward ratio of 4.62, we can tell that the EA follows a risky trading strategy.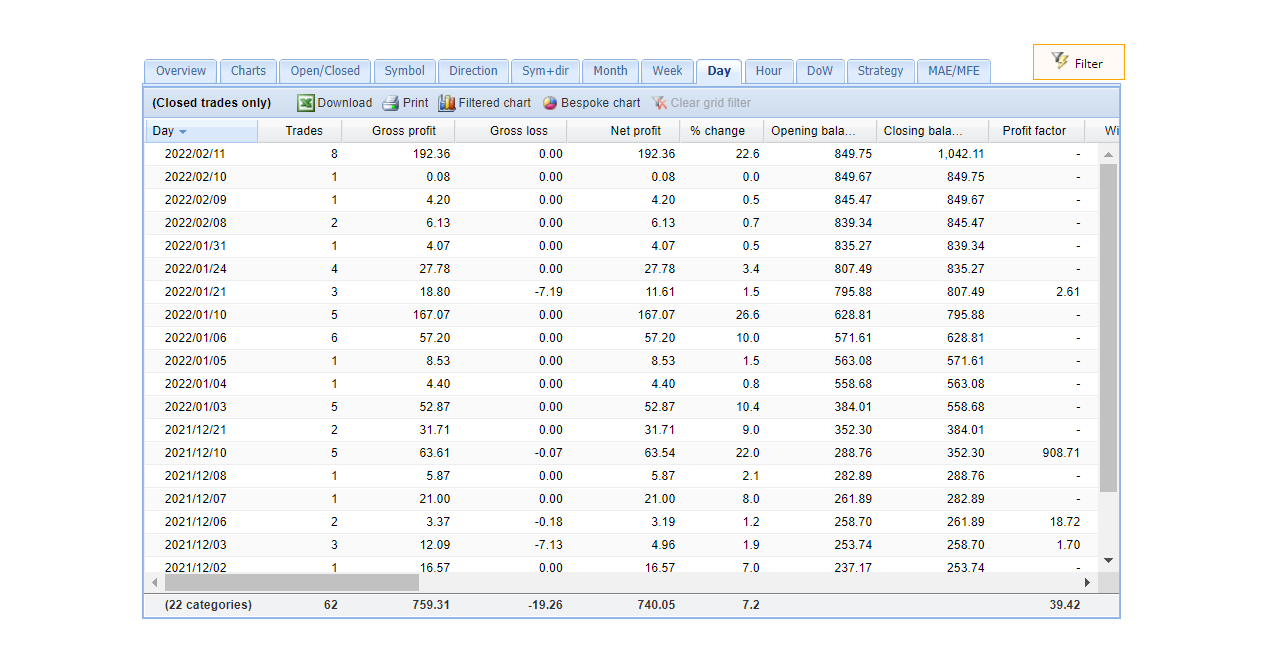 Here you can see the recent trades placed by the EA. It manages to win the vast majority of the trades. The average length of each trade is 35.4 hours and the average win and loss are ¥13.32 and -¥3.85, respectively.
Customer reviews
At this moment, there are no user reviews for this expert advisor on websites like Trustpilot, Forex Peace Army, Quora, and Myfxbook. This tells us that the EA does not have a large user base as of now.