Best Scalper is an automated MT4 EA that was launched in 2014. The software claims to provide traders with a low-risk tool so they can build accounts over time steadily. Let us verify the claim with an honest review.
The website is very amateurish. There is no menu bar and the content is scattered. So, we had a lot of difficulty in finding the key points we need to analyze the EA. There is no information about the developers. We do not know who they are and where they are located. All we see on the website is a bunch of links to multiple Myfxbook account. 
Best Scalper EA Offered plans
Best Scalper offers two plans. For $299, you can have the simple license that comes with 1 real account. The full license comes for $399 that offers 2 real accounts. Both licenses offer free demo accounts and free updates. There is a 30-day moneyback guarantee as well, but we are not sure if you will get your money back.
| | |
| --- | --- |
| Type | Automated EA |
| Price | $299 – $399 |
| Strategy | Scalping |
| Compatible Platforms | MT4, MT5 |
| Currency Pairs | EURUSD, GBPUSD |
| Timeframe | M15 |
| Recommended Min. Deposit | N/A |
| Recommended Deposit | N/A |
| Leverage | 1:300 |
Automated Trading Strategy
The site has mentioned that the EA follows a scalping strategy. However, we could not find any further information about the scalping strategy on the website. It is very disappointing that they have repeatedly mentioned that the product is consistent and profitable and yet they have failed to explain how it works.
Strategy Backtests
Backtest reports are extremely important if you want to know about an EA's performance without trying it out. The developers of Best Scalper, however, did not feel it necessary to include backtest results to the website. This is just another reason to say that this EA may not be as reliable as the developers claim.
Best Scalper EA Live Trading Performance
Apart from the backtest results, we rely on the Myfxbook account to analyze an EA's performance. However, there are too many Myfxbook account links on the website which is quite confusing. Moreover, all the links are not correct as well. Five accounts are displayed on the site, while two of them have the same link. When we clicked on them separately, the same page opened. This is definitely something that the developers need to work on if they want to attract customers. 
One of the charts was last updated on May 2, 2019. Since it does not have recent results, we will not analyze it, but here is a screenshot: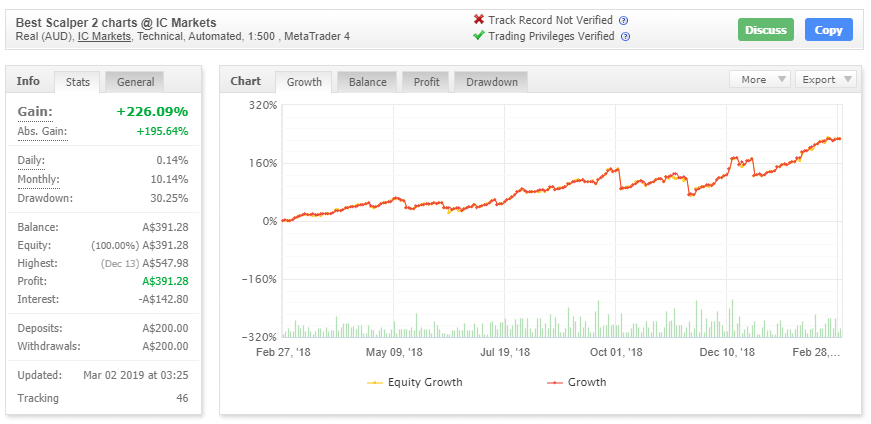 Another account has more than half stats hidden, so, there is no point to go through it either. However, it was the only chart that had both track records and trading privileges verified. You can view it in the image below: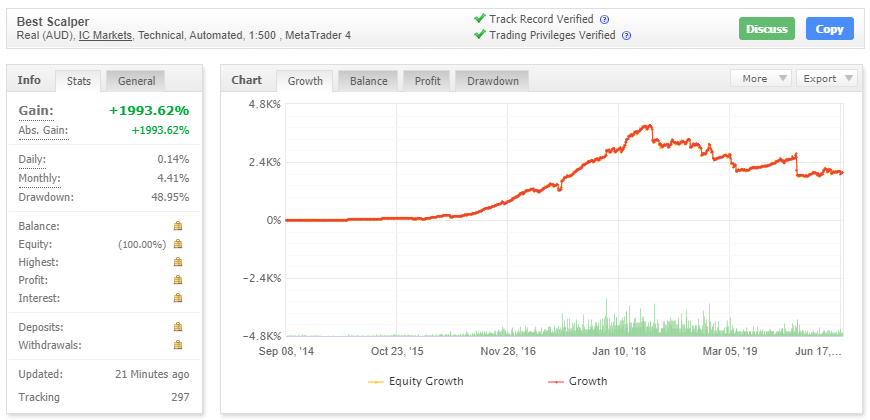 The chart that is most recently updated has both the track records and trading privileges unverified. So, we cannot rely on the results. Here is the chart: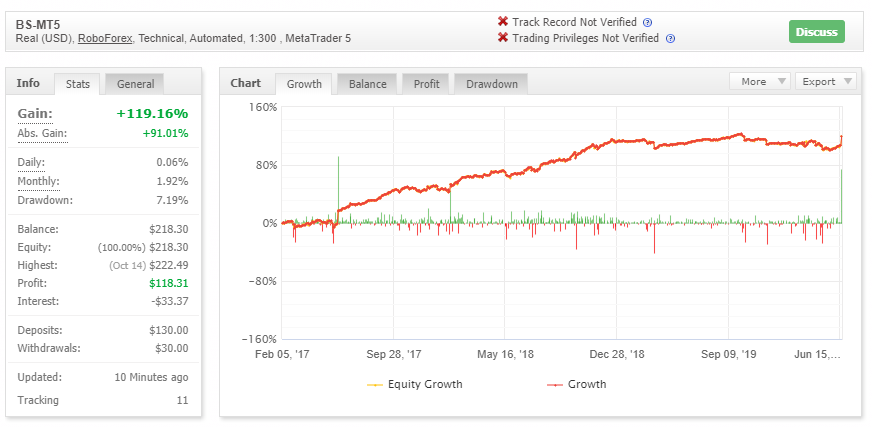 After careful consideration, we choose the chart below to analyze that was updated recently too. The trading privileges are not verified but the track records are verified. Moreover, all the stats are open for us to see.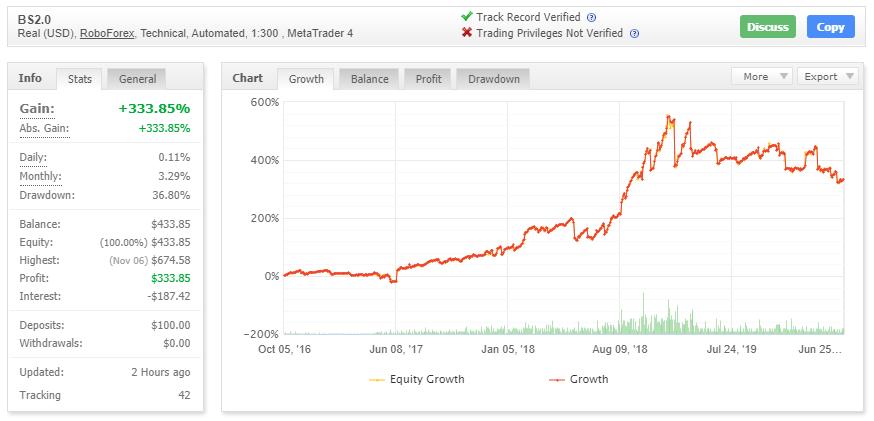 The account started trading on October 5, 2016, with $100 of deposits. The balance is now $433.85 with zero withdrawals. The profit is $333.85. Both gain and absolute gain are +333.85%. The account has maintained impressive equity of 100.00%. The drawdown rate is 36.80%.
| | |
| --- | --- |
| Myfxbook Account | BS2.0 (Real USD) |
| Started | October 5, 2016 |
| Deposit | $100 |
| Balance | $433.85 |
| Gain | +333.85% |
| Daily | 0.11% |
| Monthly | 3.29% |
| Drawdown | 36.80% |
| Profitability | 70% |