Bitsgap offers automated crypto trading bots that trade 24/7 in the market with the help of several signals and technical indicators. The platform is compatible with Binance, Coinbase, and 25+ exchanges. It comes with three subscription packages and users also have the option to test their strategies on a 7-day free demo account. Read the full review for more details on the working, features, security, and pros/cons of using this bot.
What is Bitsgap?
Bitsgap is a cloud-based automated trading platform that profits from a fluctuating market. Traders can use ready-to-go strategies or create their own according to their needs. A demo account allows investors to test their bot settings on backtesting results. The table below mentions the pricing and other info about the platform.
| | |
| --- | --- |
| Price: | $29/$69/$149 (Monthly) |
| Payment Options: | PayPal, Visa, Mastercard, Crypto |
| Supported Exchanges : | Binance, KuCoin, Okex, Bittrex, Bitfinex, Coinbase, HitBTC etc. |
| Cloud-Based: | Yes |
| Strategies: | Grid trading (profits from the fluctuating market) |
Is it easy to use Bitsgap?
Bitsgap offers two kinds of bots: Grid and Futures. Investors can use five bots with preset or custom settings: flat, buy the dip, custom, scalper, and combo bot.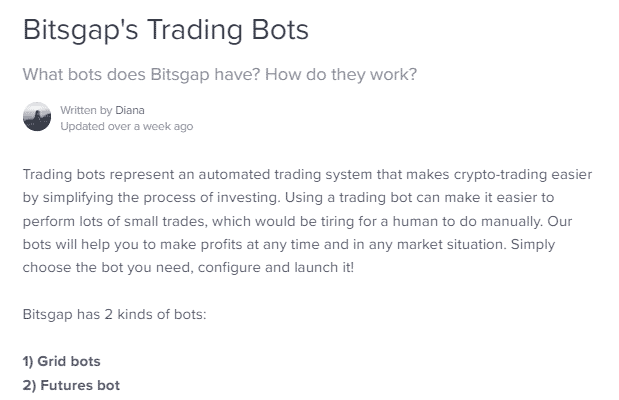 Use the following steps to start trading with the platform:
Sign up to the platform
Connect your exchange and select the trading strategy
Run the system and buy/sell cryptocurrencies
Features of Bitsgap
The main features of Bitsgap are as follows:
Smart strategy design
Traders can create bot settings that best suit their trading needs.
Cloud-based
The platform does not need to be installed on the user's PC.
Demo account
Investors can test their bots on a free demo account based on 7-day backtesting records.
Trading view charts
The charts can be used to analyze multiple markets.
Strengths and weaknesses of Bitsgap
The advantages and disadvantages of Bitsgap are:
| | |
| --- | --- |
| Strengths | Weaknesses |
| Traders can pre-test their bots before investment | The bot is only effective when the market is stable |
| The portfolio management feature updates transactions and tracks the trading history | |
| Multiple crypto exchanges are supported | |
| Extra layers of security to protect your investment | |
Is Bitsgap good?
Bitsgap is compatible with over 25 cryptocurrency exchanges like Poloniex, Coinbase, etc., and +175 Tradingview indicators. The developer states that the bot will profit when the market is stable, ensuring stable gains. Detailed information about the platform is available on the website, where traders can get answers to all their inquiries.
Is Bitsgap safe?
Bitsgap claims to have a double layer of security with 2048-bit encryption standard protocol protected by a firewall. The platforms cannot access the investments, and the funds are secured in an exchange with encrypted API keys. They also use two-factor (2FA) as an extra safety measure.
Customer support
Traders can reach out to customer support for help via live chat or email. A community of users is present on different social media platforms like Facebook, Twitter, LinkedIn, and Telegram. There are 387 client reviews on Trustpilot, where Bitsgap has an outstanding rating of 4.5.
A trader comments that the developers are keen to answer traders' inquiries. The platform is recommended to all.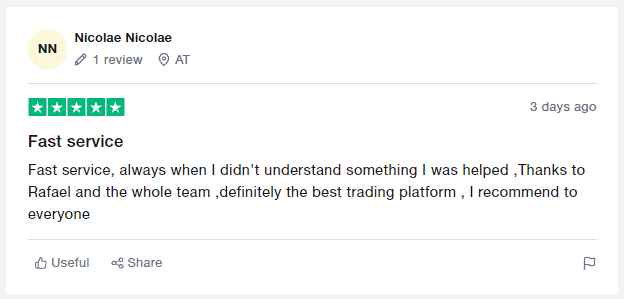 Reputation
The main office of Bitsgap is in Tallinn, Estonia. Maxim Kalmykow is the CEO with a team of developers, including Dmitri Laush as Chief strategist, Sergei Verbitski as COO, and Jevgeni Avdeev as CTO. The platform has ten full-time developers and a full-stack marketing team.
Bottom line
Bitsgap offers complete transparency on the functionality of its platform. Traders can access and manage their positions from a user-friendly dashboard. The customer support is swift to answer all of your questions neatly as per the reviews on Trustpilot.