BlackQueen is a robot that was designed to help us with executing orders on MQL5. We noted that there is not much attention paid to this solution. There are several details and features explained.

Mikhail Sergeev from Russia has an 88,162 rating on MQL5. The intel about the number of products and signals was removed. The products he offers have a 5 star rate based on 99 reviews.
BlackQueen features
The presentation includes various explanations about system details, functionality, features, and, most importantly, what we should expect from it.
The robot can provide our account with automatic orders execution. It's a pro because no actions from our side are required.
The default settings are well customized.
We can start trading with as low as $50 on the account.
The user interface doesn't require extra knowledge from us.
There's a price action strategy that helps us with spotting trading opportunities.
We can customize the robot if we know how.
There are three trading modes available.
The auto mode allows trading seven pairs.
There's a switching strategies feature.
The devs claimed that their following strategies applied: Grid, Hedge, and Martingale.
The system executed orders on a real account.
It trades on a real account.
The default settings can be used on EURUSD on H1.
We should work only on Hedge accounts.
There's no scalping strategy behind the robot.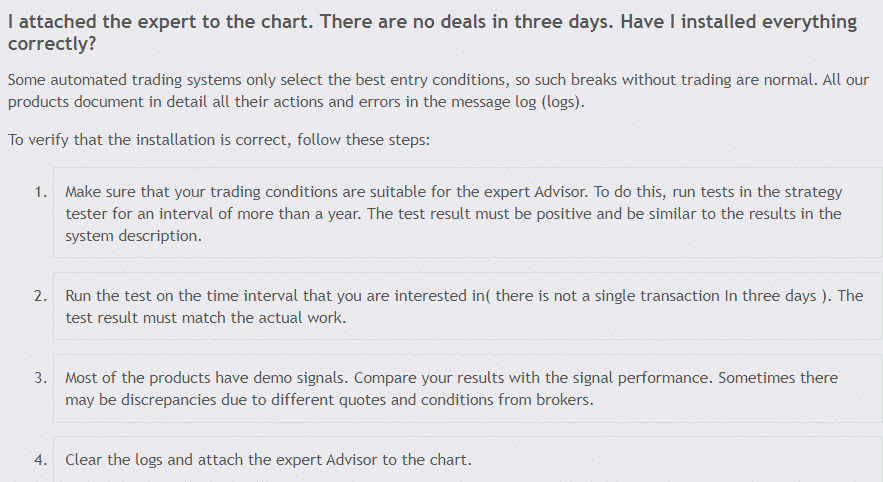 There are several pieces of advice provided. We can follow them if we want.
Pricing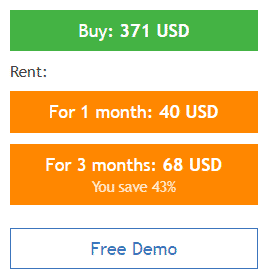 The dev raised the price to $371 several weeks ago. There's no discount provided. The rental options are: $40 monthly and $68 quarterly. A demo copy can be downloaded for demo usage like executing backtest and checking settings.
How it works
The robot spots trading opportunities based on price action strategy.
It makes a decision to open a trade.
It protects it by placing SL and TP levels.
Trading strategy
The main strategy is Price Action.
We can trade on H1.
There are pairs that can be used by default: EURUSD, GBPUSD, AUDUSD, NZDUSD, USDCHF, USDCAD, and USDJPY.
Trading results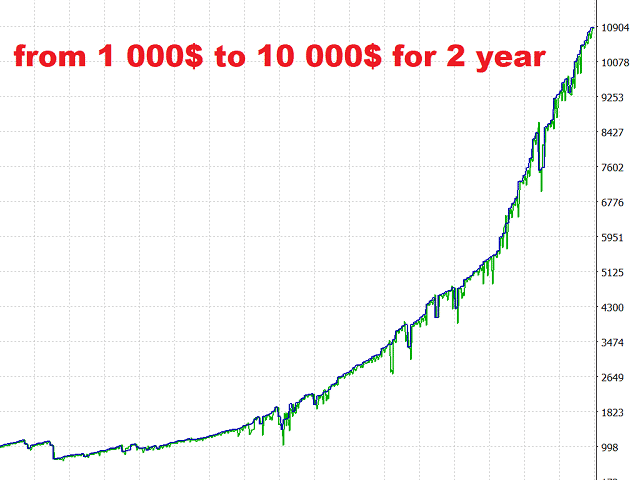 We have only this chart as a backtest. Of course, without the final report it's hard to trust this system that it was tested properly. We'd like to know what results it achieved on the past tick data.

We have two accounts with this system applied. The robot works on a real USD RoboForex based ECN account with 1:300 leverage automatically. The maximum drawdown is 11.9%. The maximum deposit load is 9.2%. The win rate is low – 63.9%. It's not a pretty professional one for a pod advisor. The absolute growth is negative – 3.55%. It has been working for 21 weeks.

The advisor trades completely unpredictable.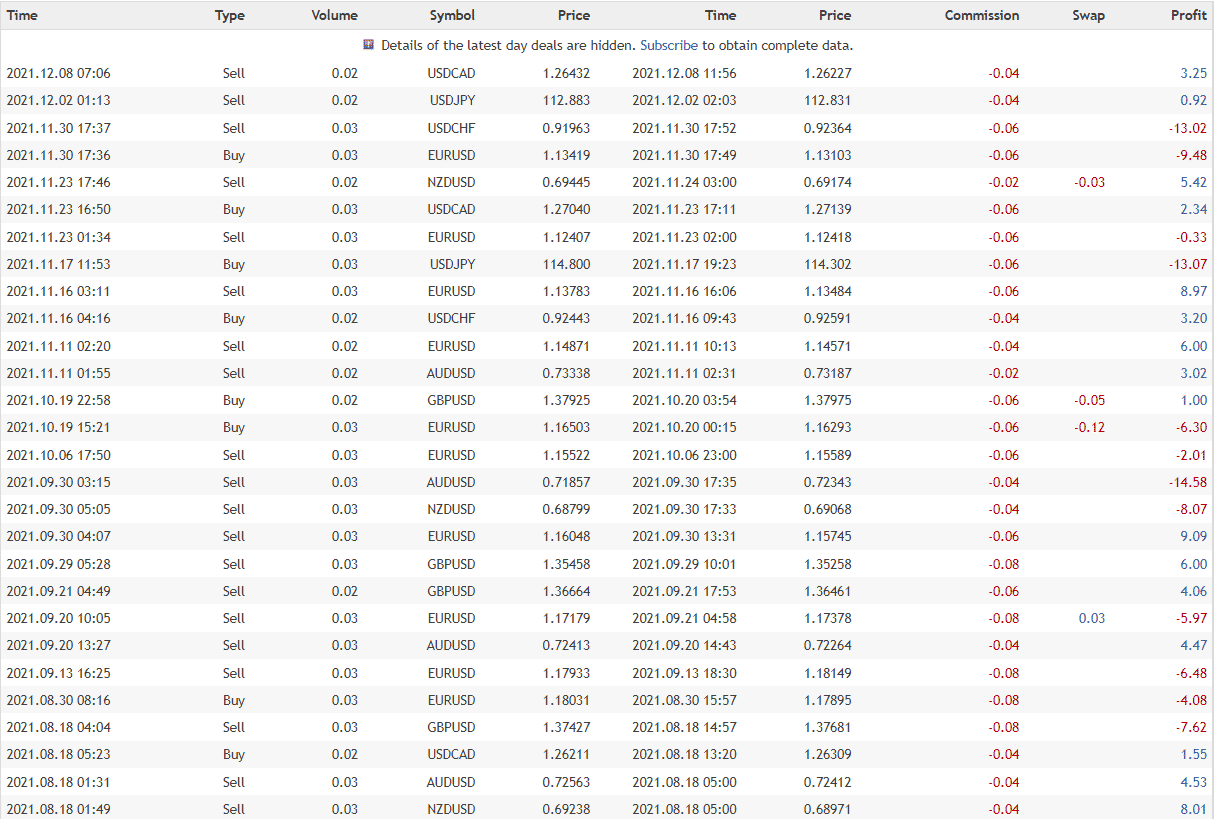 We may note that from time to time it lost much compared with short profits.

BlackQueen executed 36 orders on the market. The best trade is $9.06 when the worst trade is -$15.91. The recovery factor is -0.28 when the profit factor is 0.90. An average monthly growth is -0.84%.

It works with seven pairs where EURUSD is the most traded with 11 deals closed. Most orders were closed in the sell direction.
Customer reviews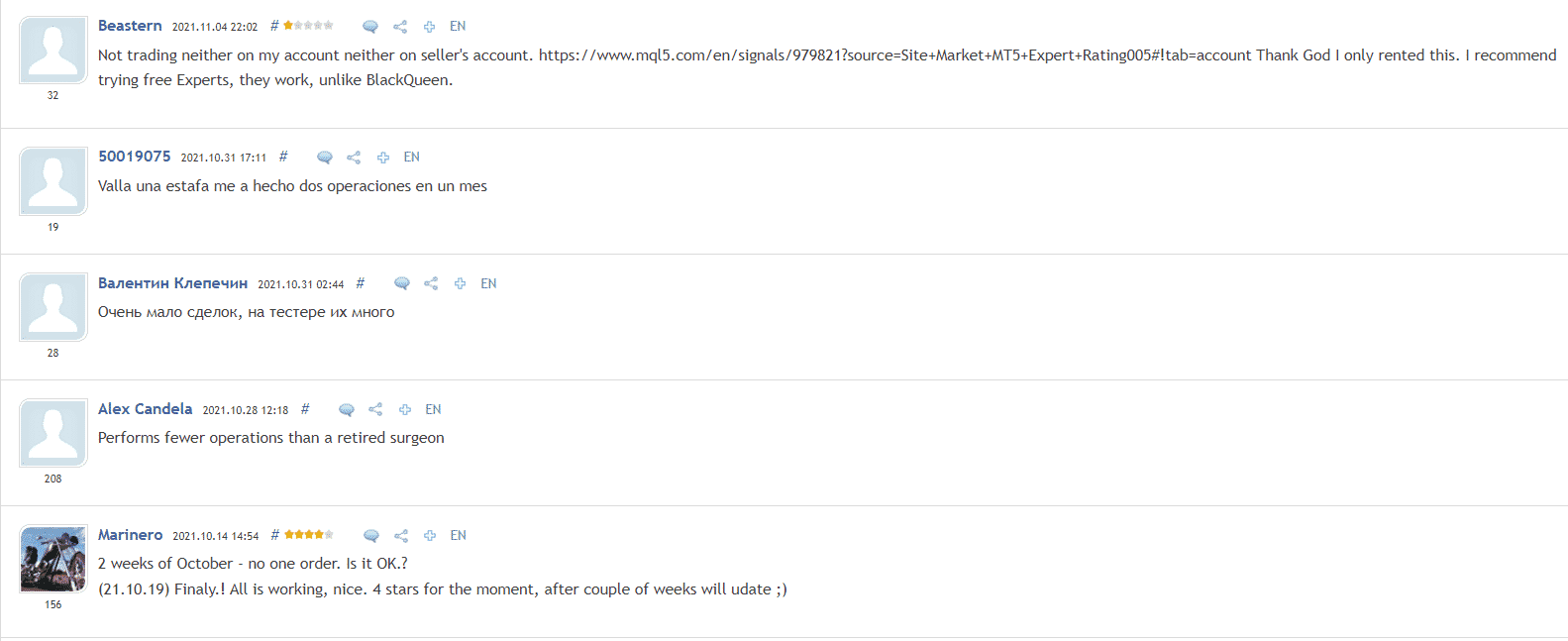 Many clients aren't happy with this solution.