Bober Lannister is a robot that has a short presentation and below average trading results. We have decided to take a closer look at it to understand if it fits our expectations.
Bober Lannister Features
We have some explanations provided about how the system is going to be profitable. For your comfort, we have united everything in the following list.
We have a system that can support us with automatic orders execution.
So, using it will be enough to be profitable.
We can work from the MT5 terminal.
If we pay some extra money we can get an MT4 version.
The system doesn't support trading, using risky strategies.
We can be sure that there is no Martingale either.
There's risk management that allows us to be secured on the market.
It can cover all our orders with TP and SL levels.
We can purchase a copy of the robot from the MQL5 site only.
The pricing will be increased up to $1200.
We don't know if the system costs that much.
Every broker house is possible to trade.
It's possible to be protected from high slippage and high spreads.
We should work with low commission accounts only.
The leverage can be 1:30, 1:100, or 1:500.
The core pair to trade is GBPUSD for which the system was customized.
There are various modes applied to the robot.
We have to start trading with at least $100 on our balance.
Pricing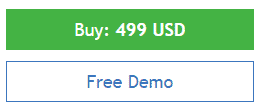 We have only a purchase offer for $499. The pack includes only a copy of the robot. We don't know if we get something extra. At the same time, there are no subscription options to give the robot a try. We can download a demo copy of the robot to check it out on our terminal and execute some backtests if needed.
How it works
The system looks for trading opportunities.
It calculates entry points pretty well.
It places orders with SL and TP levels on them.
Trading strategy
The owner doesn't provide us with details about the trading strategy.
Orders can be opened on the pairs: EURCHF, GBPUSD, EURNZD, CHFJPY, and EURAUD.
We have no details about time frames provided.
Trading results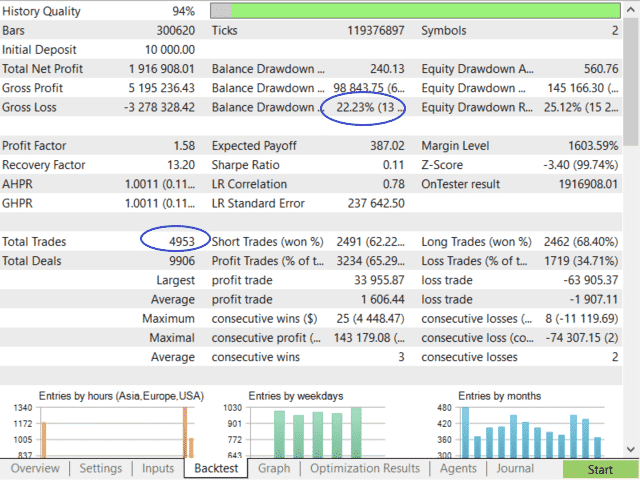 The robot was tested on two cross pairs. It has historical data of 94%. An initial deposit was $10,000. It has turned into $1,916,908 of the total net profit. The profit factor was only 1.58 when the recovery factor was 13.20. There were 4953 deals performed with a win rate of 62-68%.

The trading results inform us that the robot works on the IC Markets real account with 1:500 leverage. The maximum drawdown is 37.8% when maximum deposit load is 29.2%. An average win rate is 65.3%. The advisor has been working for 51 weeks. The total growth is 132.58%. An initial deposit was as low as $200. So, the owner risks almost nothing if something goes wrong.

We can easily note that the robot can lose a month in a big way. So, there's no stop mechanism applied.

The robot works with insanely deep SL levels compared to the TP levels.

Bober Lannister has traded 3,278 orders. The best trade is $9.04 when the worst trade is -$49.18. The recovery factor is 1.41 when the profit factor is 1.15. The results aren't great as for a solution that costs $499. An average monthly growth is 4.17%. We have an annual forecast of 50.65%.

EURNZD, like an exotic pair, is the less traded symbol with 241 deals closed.
Customer reviews

The person mentioned that the robot has lost much in several months. According to the trading results that we saw, it could be possible.

Arnold Bobrinskii is a developer from Russia who has a 9078 rate. His name doesn't look trustworthy. There are four products on the board that were downloaded for demo purposes 12,419 times.