Botsfolio is a bot that can manage our portfolio like a pro. We can note that the monthly profit hasn't changed for several weeks or so. So, we can't be sure that this porift counter works well.
What is Botsfolio?
This short table provides you with short explanations about the most important parameters.
| | |
| --- | --- |
| Price: | from $4.75 to $19 monthly + 15% performance fee |
| Payment Options: | ETH, Bitcoin, Bitcoin Cash, and Litecoin |
| Supported Exchanges : | Any |
| Cloud Based: | No |
| Strategies: | Hedge trading, Futures trading, Fixed income, Value investing. |
Is it easy to use Botsfolio?
Yes. The system doesn't require us to have any knowledge to be profitable.
Features of Botsfolio
The presentation includes almost no explanations about how the system functions and no features provided. We have some details explained about how the system can help us with automatic trading and what strategies it can use.
Experience-free starting
The advisor doesn't require us to have any relevant trading experience.
It's possible to work with default risk management that looks to keep our account profitable and stable.
The system can work well for us even without our coding robots experience.
We may get starting even without configuring default bots.
Automatic trading
The developers designed the robot in a purpose to provide every single trader with a possibility to open and close orders completely automatically.
It can cover us with diversifying our net investment into a mix of long term & short term strategies based on your financial goals and risks.
It will work on the market 24/7 for us.
We may do whatever we want instead of babysitting the robot.
Developers
Everything we know about developers is that they are from KribX Inc., USA.
Money-management and security
It has automatic investment strategies on the board.
We may be sure that the robot won't get access to our funds.
The system is featured by a dashboard to check how everything goes on the market.
The system has never got full access to our account.
Trading features
The system performs the following strategies: Hedge trading (40%), Futures trading (10%), Fixed income (5%), Value investing (45%).
To start trading, we have to connect the robot to our account on an exchange.
There's a discount provided if we work through the developers' referral links.
Pricing
The developers introduced various trading packages to work with. 15% performance fee is charged quarterly on profits.
Portfolio Value $1.0k-$3.0k–$4.75/Month+performance fees.
Portfolio Value $3.0k-$10.0k–$9.50/Month+performance fees.
Portfolio Value $10.0k-$50.0k–$14.25/Month+plus performance fees.
Portfolio Value $50.0k-$100.0k–$19.00/Month+plus performance fees.
Paying is allowed by ETH, Bitcoin, Bitcoin Cash, and Litecoin.
We have no money-back guarantee or any kind of a refund policy provided.
Strengths and weaknesses of Botsfolio
| | |
| --- | --- |
| Strengths | Weaknesses |
| The offer looks acceptable | No team revealed |
| We have an account on Trustpilot for people to write comments | No risk advice given |
| | We don't know what settings we are allowed to customize |
| | We don't have verified trading results |
| | No refund policy applied |
Is Botsfolio good?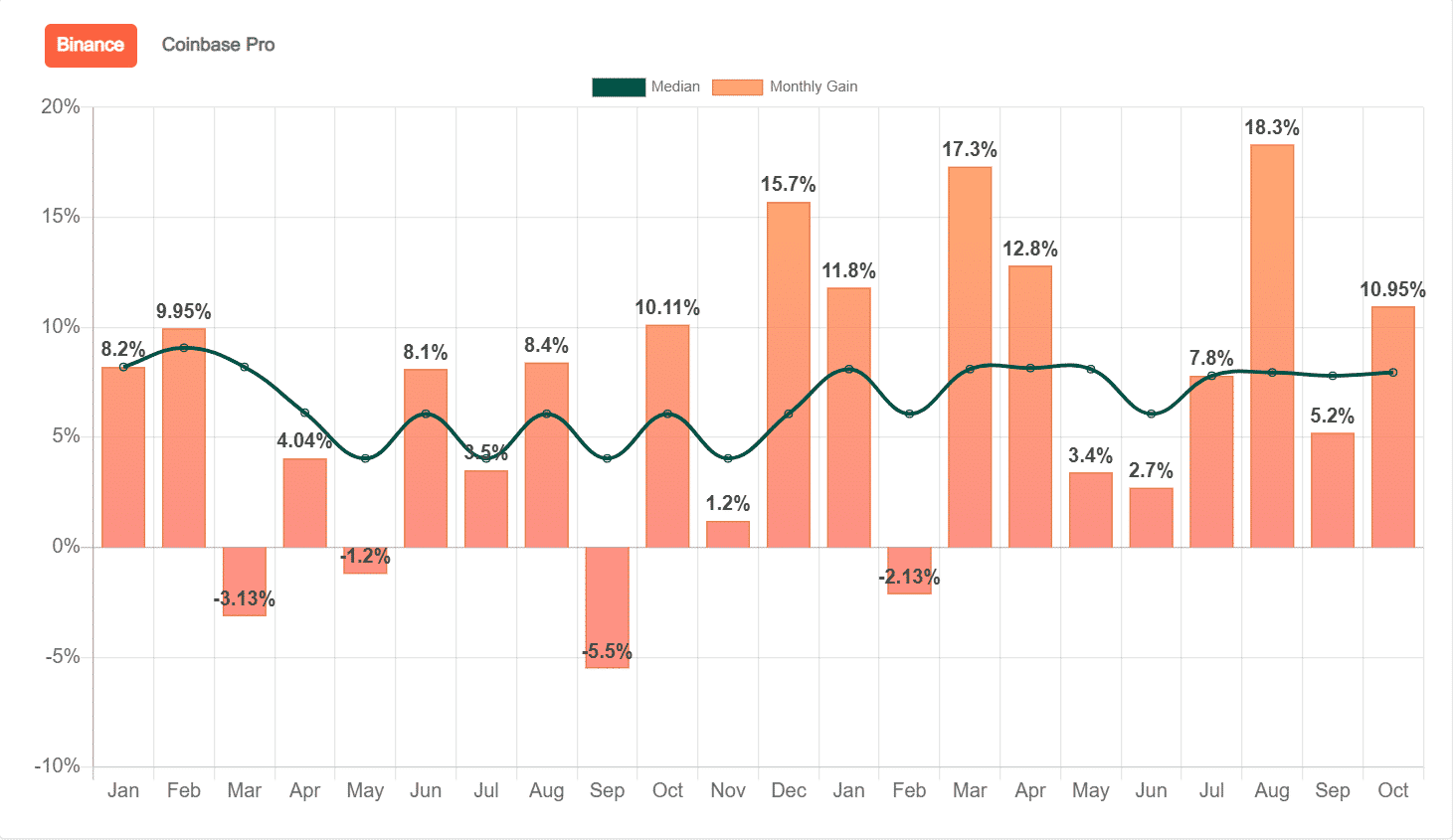 We have this chart that isn't clickable. So, this means that this data can't be trusted blindly. Even if it's true, the system has lost four months. It's pretty unprofessional. In addition, the "tracking" has ended in October. What year? We don't know. There is intel about Top Trades Made: FIL–+600%, ENJ–+181%, XRP–+135%, XLM–+88.58%. Without screenshots, at least, it's impossible to believe.
Is Botsfolio safe?
We can't claim this for sure. The system doesn't have verified trading results to convince us that its profitability is relevant.
Customer support
The developers provide support via a Telegram channel.
Reputation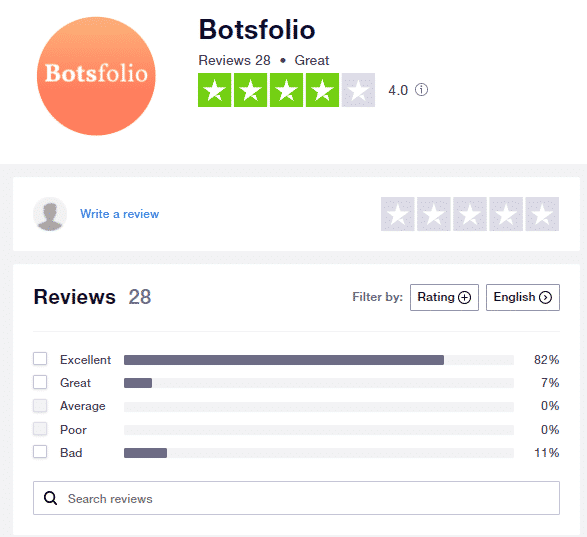 Botsfolio created a page on Trustpilot that allows everyone to write a review about the company and its services. There are 28 testimonials published that formed a 4.0 rate.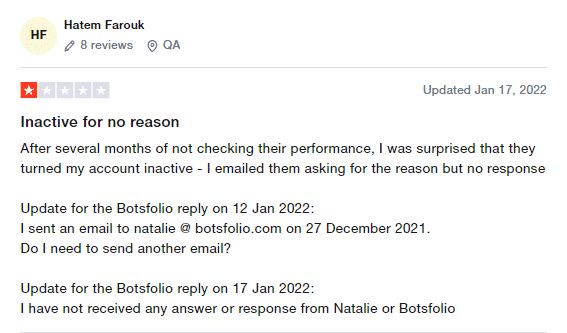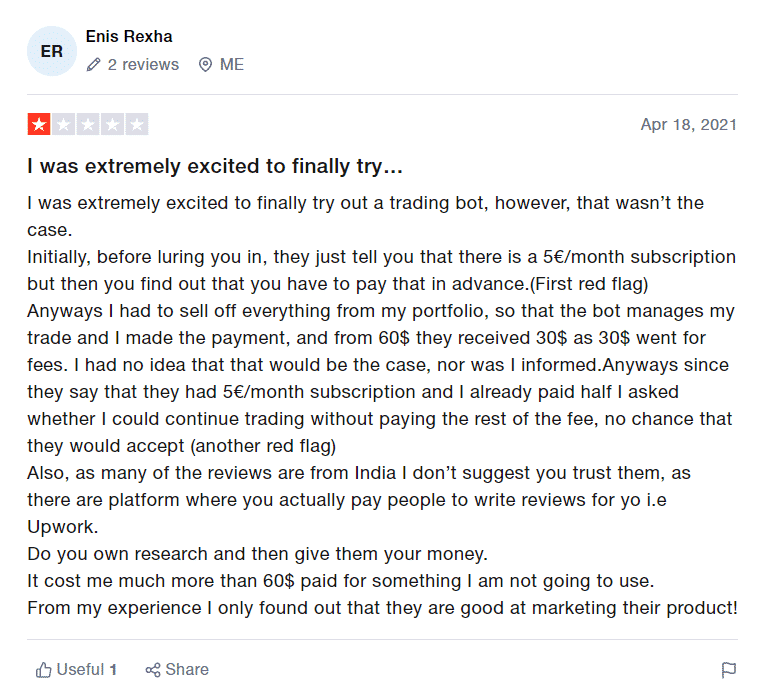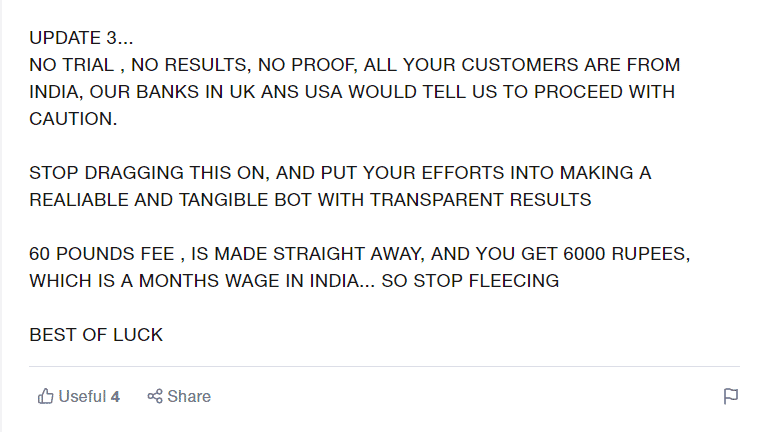 The last comment is most liked and it informed us that the developers don't provide tral, trading results, proof of profitability, and so on.
Bottom line
Botsfolio is a robot that has a short presentation that discloses only details about the system in general. The presentation doesn't include any sign of backtest reports or verified trading results. We have various negative testimonials written that warn us from using this service. In addition, there is no trial or refund policy available.