BuySellSeriesEA has a short and not informative presentation. It was a challenge for us to gather all the required data to provide you with relevant explanations. The devs decided not to write the main claim.
BuySellSeriesEA Features
Everything the developers explained is united in the following list.
The system does know how to trade automatically for us on a terminal.
We can get the best possible return monthly with low risks.
It opens orders at the right time.
We can trade as soon as possible.
The advisor focuses on trading strong trend moves when the market is volatile.
It's based on the patterns of candlesticks.
There's a news filter applied.
It opens orders every day.
We can decide what risks we'd like to keep trading.
There's viable support provided by developers.
We can start trading with a $100 deposit.
Pricing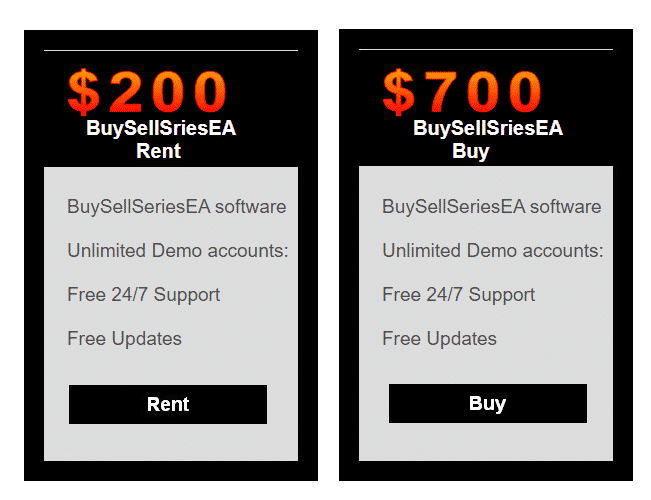 We can purchase a rental option for $200 monthly. The lifelong license costs $700. The packages have the next features: an unlimited number of products, free support, and updates. Nothing was told about a refund policy.
How it works
The system works completely automatically on the terminal.
After we set it up, we have to do nothing in addition.
The advisor calculates Entry Points with proper Take Profits and Stop Losses.
Trading strategy
It works based on candlestick patterns.
The system works on eleven currency pairs.
We don't know on what time frame it works.
Trading results
We have no backtest reports provided in the presentation. The system should have been well tested before release. So, the devs must know if it's possible to be profitable with it before setting it on a real account.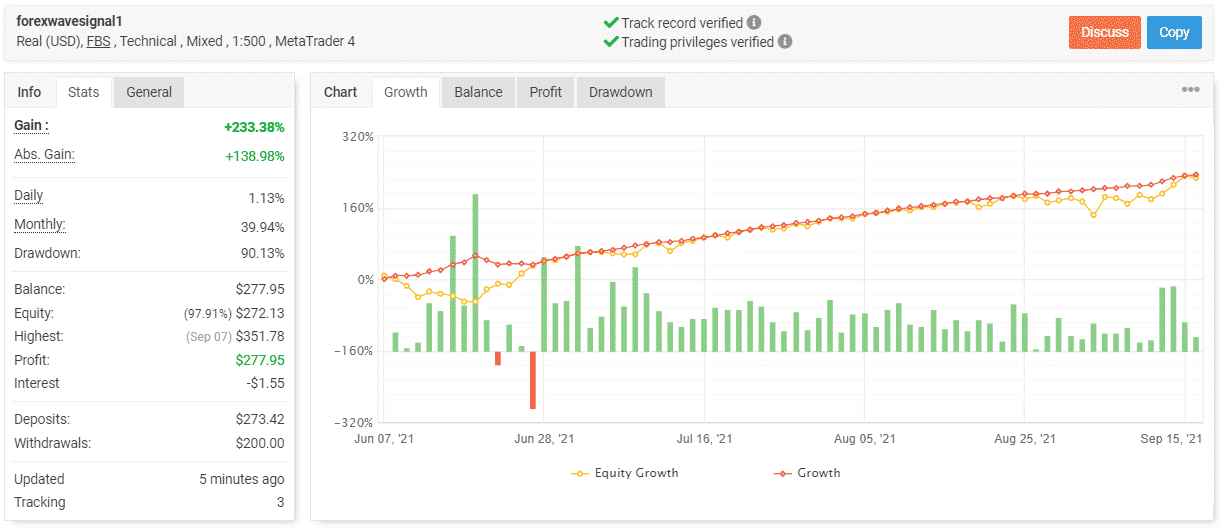 Verified trading results are an important part of every advisor presentation. This should inform us that the system can work well under current market conditions. Looking at them, we can predict what trading results we will be able to obtain within several months and when the system will pay back itself. The system works automatically on a real USD account with leverage of 1:500 under the quite known broker – FBS. It has received technical data from MT4. The account has a verified track record. It was created on June 07, 2021, deposited at $273.42, and withdrawn at $200. So, the devs risk nothing. The absolute gain has become 233.38%. An average monthly gain is 39.94%. The maximum drawdown is 90.13%. It's almost five times more than it should be.

The system executed 820 deals with 2779 pips traded. An average win is 8.34 pips when an average loss is -16.13 pips. The profit factor is 2.01. The accuracy rate is 75% (300/395) for longs and 83% (354/425) for shorts. An average trade length is 12 hours and 8 minutes.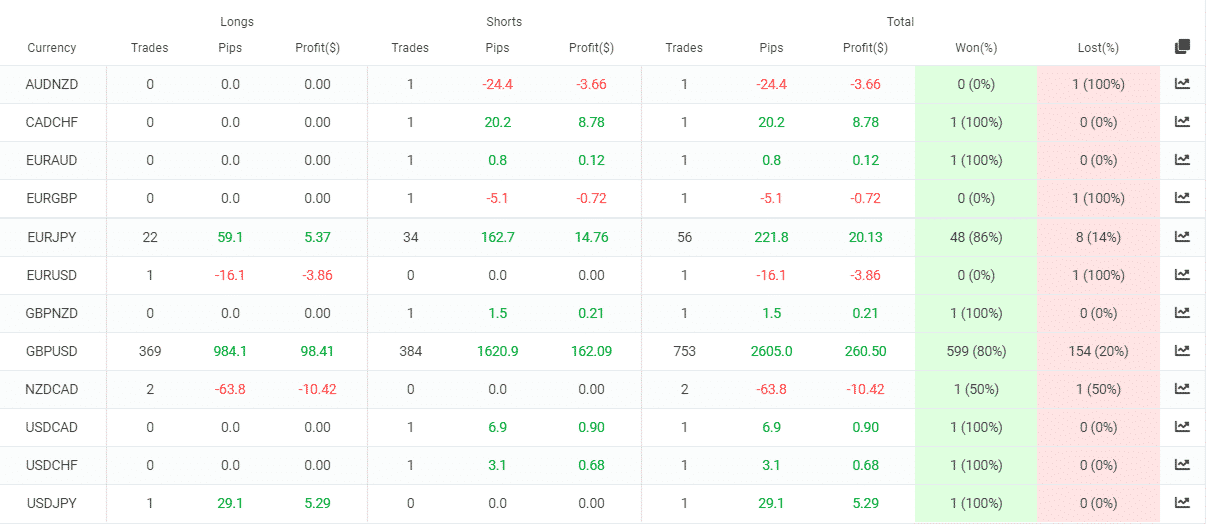 We may note that among many cross pairs, the system works only with two of them: EURJPY and GBPUSD. GBPUSD is much ahead in trading activities, with 753 orders with $260.50.

The advisor opens orders all day equally by the number. It's rare to see something like this.

The same picture, we may be looking at the weekly activities. It works all day with the same frequency.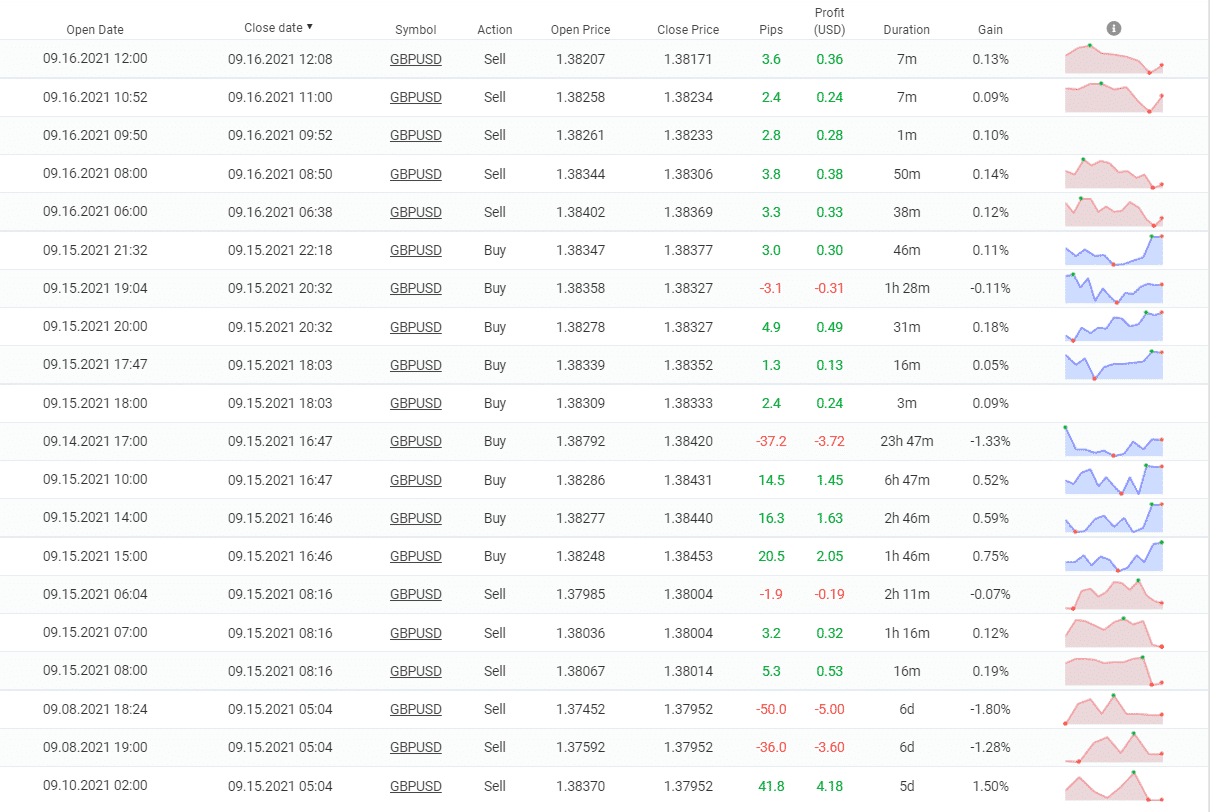 The developers decided to hide from us details about lot sizes that were vacillated by the system. It's not professional to do so.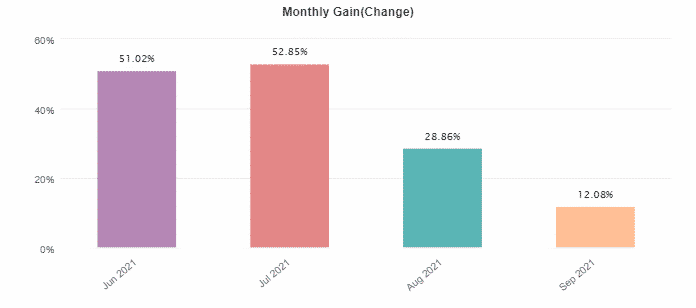 The system is making big profits trading with insanely deep drawdowns. It's risky. We don't know how long this happiness keeps going.
Customer reviews
The presentation doesn't include proper testimonials. The same we have on sites like Trustpilot or Forex Peace Army. There are usually verified testimonials published.