Capital Way is a fully automated Forex Expert Advisor that utilises a unique trading algorithm. The team behind the EA claims that they have amassed over 15000 clients from around the world and execute an estimated 800000 transactions on a daily basis. It is MetaTrader 4 compatible. 
The website of this EA looks professionally designed with separate pages for describing their trading strategy, FAQ section, news, and a contact page. The EA works specifically with the EUR/USD pair, as it is one of the most liquid currency pairs available. Unlike other automated forex trading robots, they offer users a trial account to use their software before they make any decision. 
However, in spite of mentioning "absolute transparency" on their website, they provide little to no information about the team behind the project. All we get is a local address. This immediately raises a red flag for serious potential buyers. 
Capital Way provides 2 starting packages for its users. They do not charge any additional fees for the service. However, they have a minimum deposit requirement of €500 for their trial account, and €3000. 
Capital Way
Type

Fully-automated EA

Price

–

Strategy

–

Compatible Platforms

MT4, MT5

Currency Pairs

EUR/USD

Timeframe

Any

Recommended Min. Deposit

€500 for trial account

€3000 for real account

Recommended Deposit

–

Leverage

from 1:100
Trading Strategy Explanation
Capital Way does not provide any real information on the trading strategy they use. From the information they provide, there is no way of realising how they approach their trades or how they want to achieve the promised "50% annual return" as indicated on their website. This seems a bit odd, as potential buyers would always search for a thorough insight into any trading strategy an automated trading software uses. Capital Way only offers a trial account for prospective buyers to try out, but upfront information would've been preferred. 
Back-test Data Analysis
Back-tests can clear many of the doubts that prospective forex robot customers can have about a robot's strategy, trading habits, and profitability. By testing the software through historical data, prospective buyers can get a clear picture of how the robot actually performs. Uploading back-tests on authoritative sites such as myfxbook is always preferred. However, in this case, Capital Way does not provide us with any such back-test. They do, however, provide live trading statistics on myfxbook. 
Live Trading Data Analysis
As mentioned before, Capital Way provides us with a live trading account, hosted on myfxbook.com, a popular and trusted site for checking out trading statistics.
Myfxbook Account

Real(EUR)

, Capital Way Group

Started

January 01, 2017

Deposit

€20000.00

Balance

€235426.88

Gain

1077.13%

Daily

0.19%

Monthly

5.99%

Drawdown

20.87%

Profitability

68%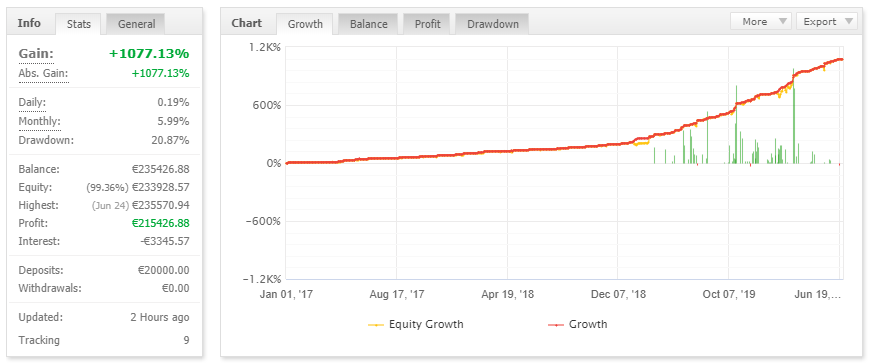 The statistics from the above account are all impressive, including the 1077.13% gain and the relatively low 20.87% drawdown rate. While this would've been impressive for any other Forex robot, we don't have enough proof, in this case, to recommend Capital Way solely on this basis of the live trading statistics alone.