As a system focused on signal services, Centre Forex claims to use a systemic approach to trading that is ideal for amateur and experienced traders. This system helps traders to actively manage their trades and reduce the loss percentage.
Centre Forex was founded in 2000 and consists of a team of experienced and professional traders working in tandem with regulated brokers. Besides the signal service, the vendor also provides intraday signals and PAMM accounts management. The vendor assures consistent profits with its signal service system.
Can traders rely on this system to gain profits? For a Forex trading system including signal service and robot providers, the performance, strategy, feedback, and ease of use play a vital role. To know about the right system for you, have a look at our best Forex robots or signals list. Read this Center Forex review to find out whether you can trust this signal service system or not.
Centre Forex Overview
Centre Forex boasts of being the global market advisor with a history of high performance. Some of the significant features of this system include verified live account, low initial investment, professional experienced team, regulated recommended brokers, 24/5 customer support, and high watermark trading policy. As far as the features provided here, there is nothing new or exciting as most of them are offered by other similar services.
Pricing
Centre Forex costs $250/month which is very expensive when compared to other signal service providers currently available. For instance, the MQL5 signals cost around $50 per month if you are receiving the Signals from other traders.
The Forex Signals service charges $31.50 per month for providing the signals besides daily real-time live streams, market analysis, and others. And, the 1000pip builder costs $97 per month. Compared to the above signal services, it's clear that the system is overpriced and needs to focus on providing better value to the customer.
How It Works
As a Forex trading signal provider and money management system, the Centre Forex service claims to provide accurate signals. Pending orders are used fully and sent two times a day. The risk-reward ratio is 1:1.
And, the signals are sent via email notifications via the official website, Facebook, Skype, and email. The signals are easy to use and they have clearly stated entry and stop-loss signals. According to the vendor, the system analyses the trend lines, resistance and support levels, and psychological levels.
Trading Strategy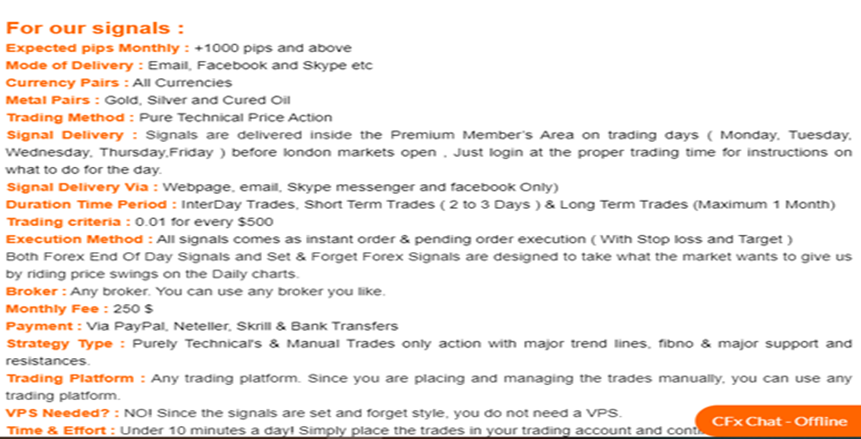 For trading, Centre Forex claims to use pure technical price action. The signals are used as pending or instant order execution with the trading criteria of 0.01 per $500. All currencies are dealt with by the system including gold, cured oil, and silver. A high return of 1000 pips or more is assured by the vendor. But, with no other information on the technical and manual trading, we are unable to assess the strategy used and its workability.
Trading Results
Live trading results verified by the myfxbook site are offered by the vendor. Find below the screenshot of the trading results.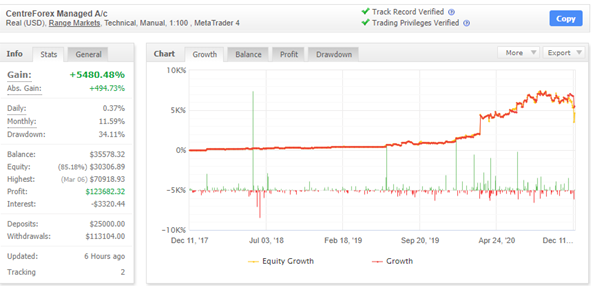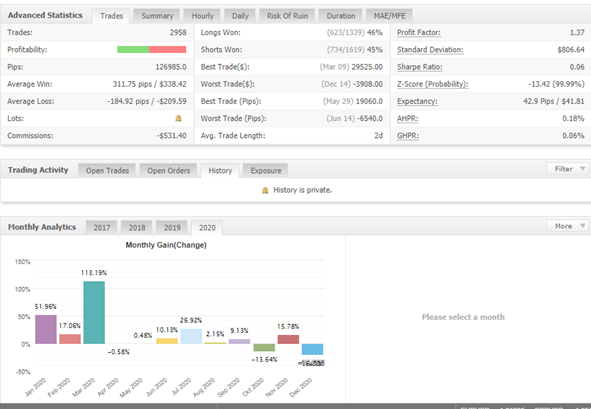 From the trading stats, a gain of 5480% and an absolute gain of 494.73% are provided for deposits of $25,000 for this real USD account using a Range Markets broker and leverage of 1:100. The huge difference between the two values indicates that the performance is not as great as projected. And, the drawdown at 34.11% is also high.
Other gain stats include a daily gain of 0.37% and a monthly gain of 11.59%. For the 2958 trades executed over three years, the profit factor is 1.37. We could not find information about the lot sizes used as the vendor has the details of the lots and trading history hidden. This indicates that the trading performance is not as efficient or effective as the vendor assures.
Customer Reviews
Feedbacks from users serve as a significant evaluating factor in our reviews. We would like genuine reviews from trusted sites like Forexpeacearmy, Trustpilot, quora, myfxbook, etc. For Centre Forex signal service, we found a couple of reviews one of which was a spam review and the other indicates the signals were similar to that of Daily FX technical system. From the screenshots below you can find that the system is not a genuine one.