Coinrule is a system that claims to simplify the crypto trading process. The vendor also claims that when using this platform for trading, you can keep pace with hedge funds and experienced algorithmic investors. In this review, we are going to investigate whether it is worth investing in this platform.
What is Coinrule?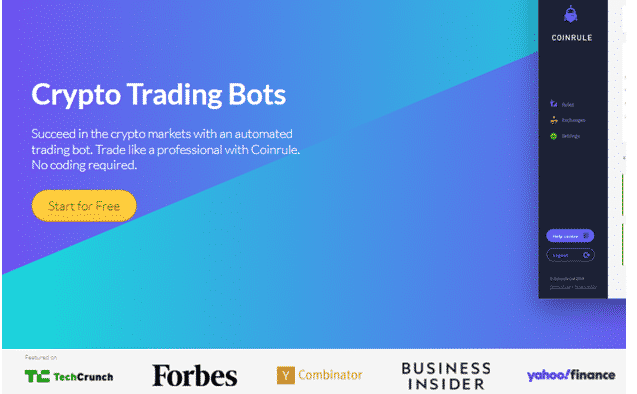 It is an automated trading system for digital assets. This platform is compatible with over ten well-known exchanges and has been featured on media outlets like TechCrunch, Forbes, Combinator, Yahoo! Finance, and Business Insider. Here you can create and test trading rules for free or for a very affordable monthly subscription fee.
| | |
| --- | --- |
| Price: | $29.99/month |
| Payment Options: | Credit Card/Crypto |
| Supported Exchanges: | Binance/Coinbase Pro/Okex/HitBTC/Bitstamp/Bitpanda Pro/Kraken/Poloniex/BitMEX |
| Cloud Based: | No |
| Strategies: | 150+ trading rules |
Is it easy to use Coinrule?
It is quite easy to use this system, thanks to the bottemplates and the intuitive interface. Here are the steps needed to start using the platform.
The first step is to create a new account
Next, you choose a pricing plan and start creating trading rules. Coinrule offers a way to build rules using simple conditions
To conduct trades, you need to select an exchange to link to
In case you are not ready to conduct live trades, you can choose a demo exchange
Set a condition based on which the rule will be executed
Now, you have to select an action or multiple actions that will be triggered by what was set in the condition section
Finally, you need to decide when to launch your rule and how many times to execute it
Features of Coinrule
Let's check out the key features of this platform:
Condition-based rule building
There are multiple operators you can use to build your rules, like Then, Any Time, Wait, Do Not, etc. You can also use conditions like If, This, Then, and That. For instance, with the If rule, you can set the bot to execute an order 'If' something happens on the market. It may be a specific time interval or a new event that can activate the order. The rules work 24/7 enabling safe and efficient portfolio management. You can backtest the rules before launching them. As such, you don't need advanced coding skills to build trading rules on this platform.
Historical testing
Thanks to this feature, you can test the performance of the trading rule using archival data. This helps you optimize your strategy prior to launching it on the live market.
Multiple strategies

There are several advanced strategies you can access on this platform, like Accumulation, Contrarian, Trend Following, RSI, and Moving Averages. This allows you to take advantage of different market scenarios.
Strengths and weaknesses of Coinrule
| | |
| --- | --- |
| Strengths | Weaknesses |
| Free plan with unlimited validity | Mobile app not available |
| Strategy templates | |
| High monthly trading volume | |
Is its technology good?
While there aren't too many complex functionalities for this platform, the technology is quite sophisticated. There are several conditions and actions that you can set, and such a high level of configurability lets you take advantage of different lucrative opportunities in the market.
Is Coinrule safe?
This platform uses advanced encryption to protect sensitive user data. Also, it does not store your assets, so you can access your funds whenever needed. For additional security, you can enable 2-factor authentication. When you attempt to log in, the system will send a unique code to your phone that you need to enter. Thus, even if someone had your password, it wouldn't be possible for them to access your account.
Customer support
If you require assistance, you can visit the help center. Here, you will find a wide range of articles covering the setup process, the strategies, trading ideas, etc. There is an FAQ section containing the answers to some of the most common questions asked by users. In case you cannot solve your problem by browsing the help center, you can always get in touch with the support team via live chat or email.
Reputation
The parent company behind this platform was launched in 2018. Its headquarters is based in London, UK. Gabriel Musella, the CEO of the company, has worked at leading organizations like MIT, WPP, Nokia, and Vodafone. Oleg Giberstein, The COO, worked in Banking and Risk roles at Citigroup London for several years. The CIO Zdenek Hofler has been developing web applications for almost two decades. Other key members of the team include CTO Andrew Salvadore, Senior Software Engineer Abdulla Faraz, Software Engineer Femi Alayesanmi, and Tech Lead Wojciech Sromek.