Cosmonaut FX EA is a tool that targets users who prefer quiet trading. As per the vendor, the system also trades safely, so you can entrust it with a huge capital amount. It is capable of generating 30-50% monthly profits with a minimal trading drawdown of 5-10%. It also demonstrates a very high profit factor and success rates. These are very bold claims from the vendor. A thorough review of the product will, therefore, help us to determine if the EA is worth the hype.
Cosmonaut is a product of CashMaker, an online shop that sells trading systems created for the MT4 and MT5 accounts. Some of the store's other listed products include Zeus, Machine EA, Power EA, Aurum EA, and Angry Rabbit. CashMaker also sells manual trading systems like Hyper Channel, Adaptive Channel, and Divergence Killer.
Cosmonaut FX EA overview
The vital features at Cosmonaut are summarized below:
It is fully automatic and easy to use.
Assets for trading include GBP/CAD, EUR/AUD, GBP/AUD, EUR/CHF, AUD/CAD, AUD/NZD, EUR/USD, GBP/USD, USD/CAD, EUR/CAD, CAD/CHF, and USD/CHF pairs.
It is compatible with MT4 and MT5 terminals.
The system trades during the Asian session.
Trading is conducted on M1 to M15.
An ECN account is required.
Pricing
The Optimal plan for this EA costs 299 Euros and offers an unlimited number of accounts. You can get the Economy plan for 249 Euros, but trade on one account only. The other features available are detailed instructions, online support, and a 2-week refund policy.
How it works
Cosmonaut is designed to trade automatically without your intervention. The EA monitors price channels and when the price moves far away from its average value, it begins trading. A smart money management system is included to minimize drawdown.
Trading strategy
The robot trades in the Bollinger channel. It waits for the financial market to be quiet (when quotes move nearly horizontally). After that, it initiates trades to rebound from the boundaries of the price channel inwards. A single deal is made on an asset at a time and each order has a stop loss attached to avoid losses. The system does not apply dangerous money management techniques like grid, martingale, and hedging.
Trading results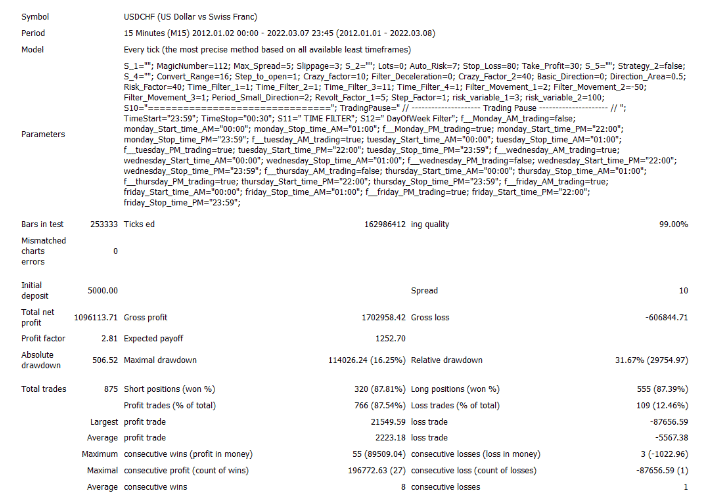 As per this backtest report, the robot traded on the USDCHF between January 2012 and March 2022, generating 875 trades as a result. About 87% of the orders were successful, and together, they brought in a large profit amount of $1096113.71. This is more than 200 times the initial deposit. The relative drawdown was high at 31.67%, meaning that the strategy on board was a risky one. The timeframe used was M15, while the profit factor was 2.81.
The live trading results of this EA are not featured anywhere on the official website. Our search for this data on sites like Myfxbook and FXStat yielded no results. We are very disappointed as we hoped to confirm the vendor's claims about this system's profitability.
Customer reviews
Cosmonaut has no customer feedback. It is possible that traders have not started using the product yet. So, we will be on the lookout for reviews in the future when the tool's popularity increases.