Darwin Evolution is a trading system that works with over 8 indicators and filters. You don't need to optimize it because the set files are delivered with it. The vendor recommends to trade, utilizing a lot size of 0.01 during the initial weeks to comprehend how it operates.
The author of this trading tool is a self-employed professional trader known as Guillaume Duportal. As per the vendor's profile on mql5, this developer has been active in this market for only 3 years and doesn't have any other products to his name yet. So far, he has 22 signals and 13 subscribers.

Darwin Evolution overview
The robot's features are listed here:
Trades on 28 pairs simultaneously, but the recommended settings are EURUSD M1
Works with any broker regardless of the execution speed, fees, spreads, or quotation
The minimum recommended capital is $200, while the suggested leverage is 1:30 or lower
Comes with Trailing SL, TP, and SL
Has a creative news filter with disconnection schedules before and after the news, but also independent hours for major news like BCE, FOMC, Fed, etc
A specific news filter is also present for nocturnal news
Pricing
Darwin Evolution's asking price is $999. This amount is high, given that the average price for Forex robots is ≤ $200. A one-year renting option is also offered at $690. Unfortunately, the package doesn't feature a refund policy.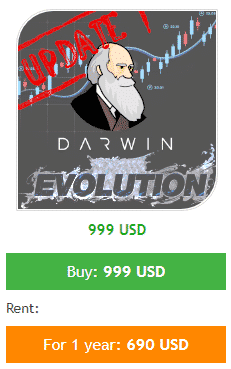 How it works
Darwin Evolution trades automatically. Its in-built algorithm helps it to gauge whether to buy/sell a currency pair at a certain point in time.
Trading strategy
As per the vendor, the EA is designed in a way such that it can trade on your account without engaging in numerous risks. He explains that it's not a fast scalper and can keep positions for a few days or weeks so as to optimize the profits and DD. The EA can allegedly remain on standby for over a week as it waits for the perfect trading opportunity.
Trading results
The vendor has summarized the backtest results of the robot as shown in the screenshot below: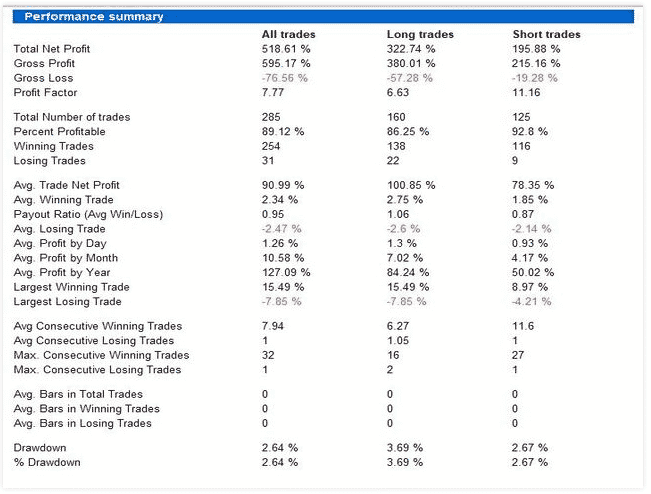 As per the above report, the system implemented 285 trades in total and conducted more long trades (160) than short trades (125). As a consequence, a profit of 518.61% was produced. The average winning trade was 2.34%, while the average losing trade was -2.47%. All trades generated a drawdown of 2.64%, which intimates that the strategy used was low-risk.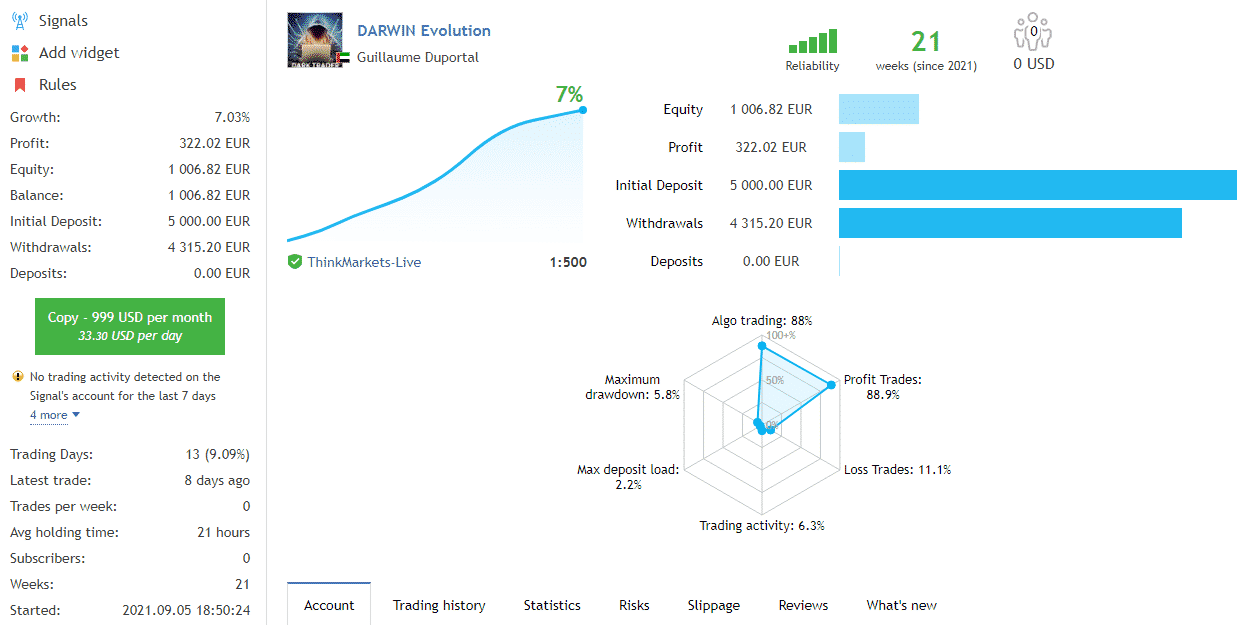 We have the live trading results for the EA, but they are not from a verified site like Myfxbook. This account was launched in September 2021 and deposited at €5000. To date, it has made a profit of €322.02 after actively trading for 13 days. The drawdown rate (5.8%) is low, further highlighting the low-risk nature of the strategy on board.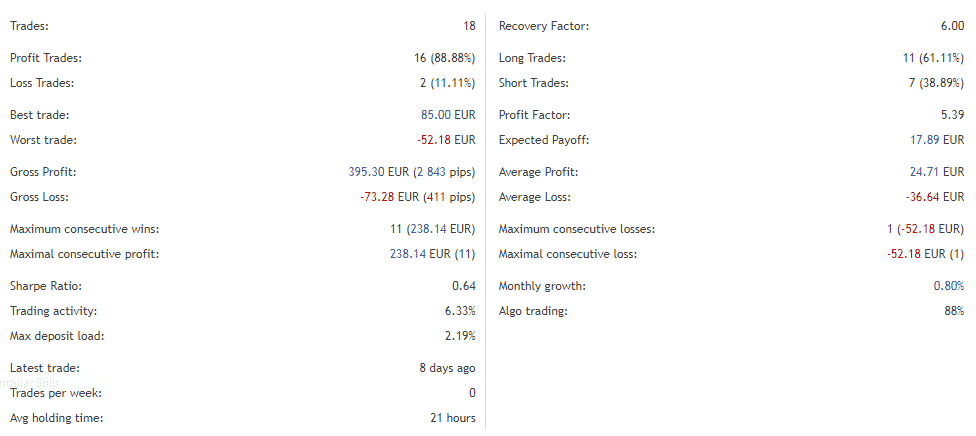 There are 18 completed trades with an 88.88% profitability rate. The monthly growth, which is 0.80%, tells us that Darwin is not very lucrative. In fact, it losses trades more than it wins them. So, it's not surprising that the average loss (-€36.64) is higher than the average profit (€ 24.71).
Customer reviews
Currently, Darwin Evolution has a 5-star rating based on 32 reviews on mql5. Clients claim that the EA is safe, stable, reliable, and offers good support.