Seems that every day a new auto trading expert advisor is coming out, with innovative ideas and promises to end all traders' financial troubles at the touch of the button. There is nothing new here. Sometimes people who stand for their products don't even try to be original at all. Today in this DaxBot review, we will be talking about a Forex expert advisor developed by the AlnoTrade team and intended for MT4 Dax30 CFD.
The Algo Trade team stands for this EA. This service was launched in early 2019. Unfortunately, there is no address provided for their headquarter location, so it seems that the team is managed remotely. On their "meet us" page we are told brief information about their three main team members: Matts Korsen, Claire Hancock, and Michael McAlpine.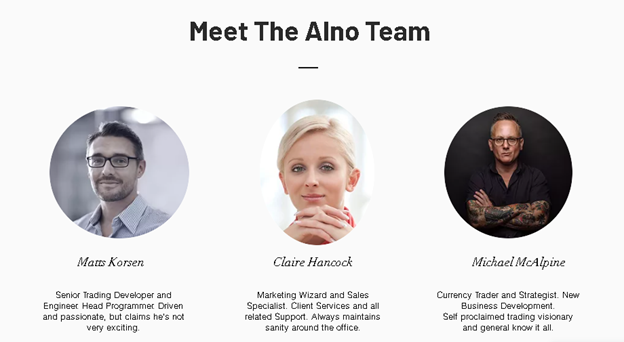 Matts Korsen is a senior trading developer, engineer, and a head developer at the AlthoTrade Company. The AlnoTrade team tells us that they are experienced traders with over 30 years 'combined experience'. This info is difficult to verify because this team is very new in the trading marketplace.
Although they have an aesthetically cute website, we still want to know the reason how their DaxBot can generate "a high win rate of 70%".
DaxBot Overview
Although they have an aesthetically cute website, we still want to know the reason how their DaxBot can generate "a high win rate of 70%".
The following features explain why the AlnoTrade team believes DaxBot is a good choice for everyone:

In addition to this, the software can work with any broker, it is auto-adaptive and a trader is always provided with customer support.
Pricing
Currently, the DaxBot robot is available in 3 different packages. It is available to buy for €149 (includes 1 live account license), for €249 (2 live account licenses), and €299 (3 live account licenses). The cost of any of the listed licenses is for annual use. Therefore, if you decide to trade with this robot, be ready to update your license use annually.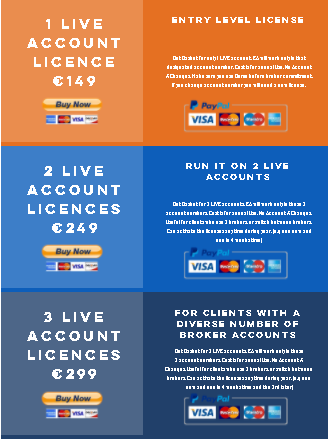 In addition to this, AlnoTrade Team has released a new DaxBot version – DaxBot version 2.1, which is currently available with a 50% discount and costs 299,00 EUR/year.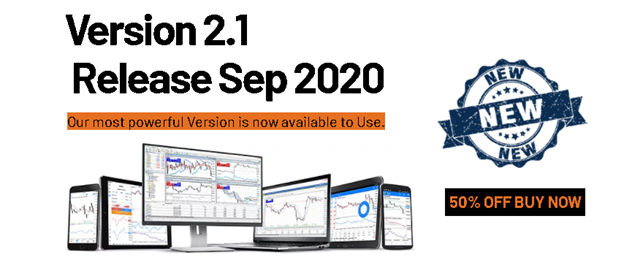 How It Works
This MT4 tool trades between 9 am CET-5.30pm CET. The developers of DaXBot claim that choosing the right time frame is a crucial element of a successful trading strategy. They claim that "the lower the timeframe, the greater the noise (false signals)". On the other hand, they believe that the longer the time frame, the higher chances that a trade will enter late and miss out on impulse moves.
The devs tell us that DaxBot is easy to set up and run:
User needs to set lot sizes
Orders are executed in 5 minimum bar
MAX daily trade=1, but it can be increased if required


Trading Strategy
This EA is described as "a true top class scalper". The devs tell us that every trade can easily set up its own risk metrics, by simply using a Take Profit of 20 pips and hard Stop Loss. A trading strategy is easy to manage and they say it can place up to 10 trades/day, depending on the market volatility.

This robot trades in a 1 min chart and its trading strategy is dependent on the balance of "momentum, rate of change and volume".

They tell us that their system is optimized for an edge because it is optimized for a heavy volume market such as the Dax30 index. The vendors add that DaxBot can bring up to a 70% win rate. We appreciate that the AlnoTrade team has provided us with a detailed trading strategy insight and a detailed description of their product and its "Powerful Live Trading" results. However, we would like to see it in practice. That is where trading results come in.
Trading Results
The AlnoTrade team has provided the link to their myfxbook profile on their website.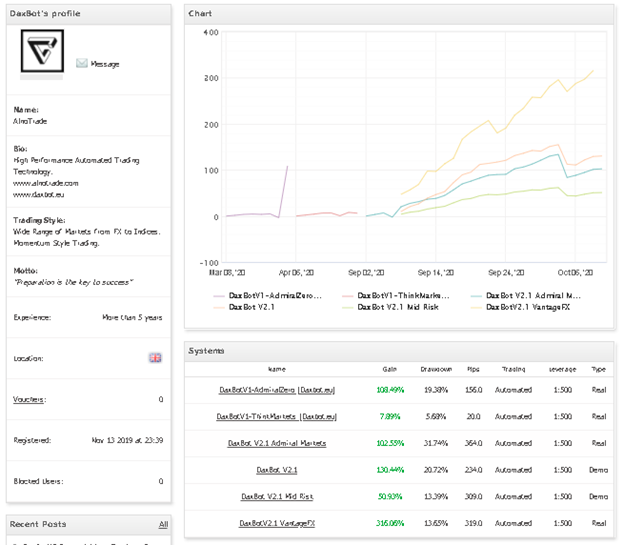 They have provided live trading results of 4 trading accounts verified by myfxbook.com hosted on Admiral Markets and VantageFX. All the trading accounts were created between 2nd up to 8-th of September 2020. So, their trading accounts have been running for 1 month – it is a very short trading sample to analyze the trading performance of DaxBot. Taking into account that the robot was released in September 2020, there is not enough data to analyze whether this EA will remain profitable in the long term. However, we have nothing left except to analyze what we have on the plate.
Well, we have decided to analyze the trading performance of the account which was launched the first – on September 2, 2020: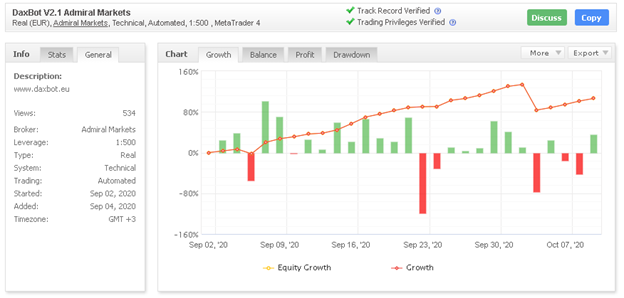 It is a real EUR account, which is working on the MetaTrader 4 platform with Admiral Markets brokerage and a 1:500 leverage. From September 2 up to the current days, the account has obtained a gain of over 106.48%, with a monthly gain of 78.47% and a maximum drawdown of 31.74%.
For over more than a month of trading, 239 trades and 385.0 pips (60% of trades have been won) have been closed. The average loss results in pips (-17.88 pips) is higher than the average win (14.69 pips). The average win rate for short and for long trades is almost equal — 59% /60%. The average trade length is 18 minutes. The profit factor is small and equals 1.37.
A Tad of Transparency
Is DaxBot transparent? No. The AlnoTrade team lacks a level of transparency in the display of the trading results of DaxBot.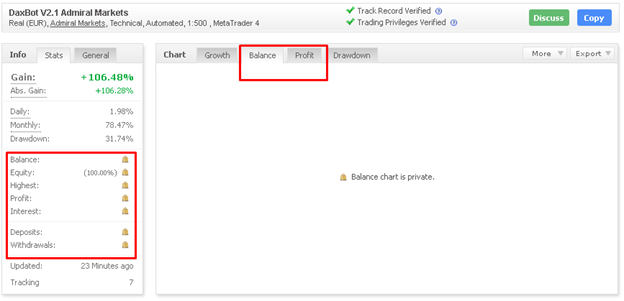 It is the case when balance and profit data are made private and critical performance analytics is blocked off by the developers. We can only assume that they are trying to mask some unsavory details. It is a red flag for DaxBot.
High Drawdown Performance
We also see problems in terms of drawdown with the DaxBot robot. Drawdowns have constantly been above 8,53% during the entire trading period of this Forex automated trader. High drawdown performance is dangerous for any trading account as can easily increase the risk of ruin.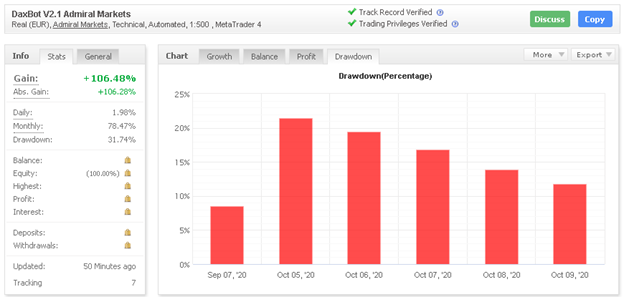 Currently, the risk of losing 10% of the trading account equals 45,7%:

The DaxBot robot seems not to have any built-in mechanisms to cope with this problem – this is the main reason why the trading growth of this robot has dropped from 133,9% up to 83,67% on October 5, 2020: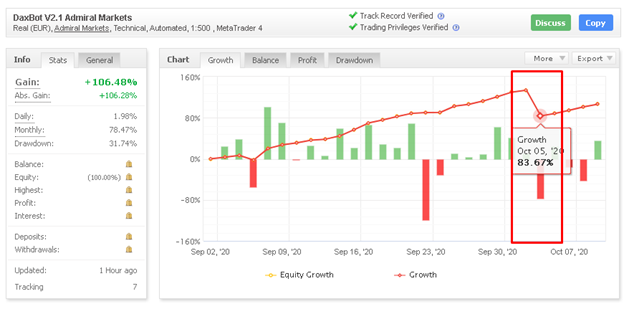 Customer Reviews
Customers reviews are an important part of any review because they are the best gauge of how good or bad a product is. On forexpeacearmy.com we have found many reviews from customers and all of them are positive ones: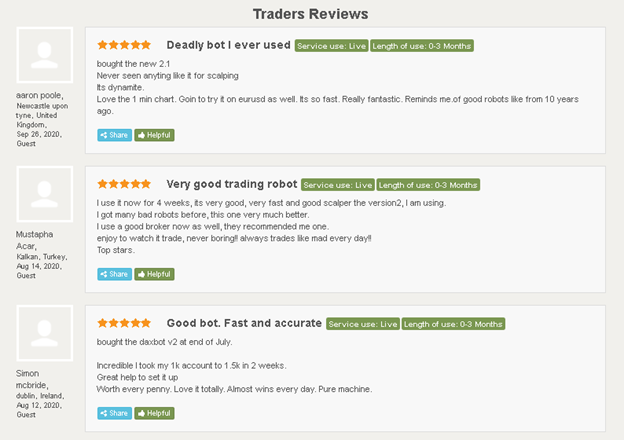 Although positive reviews are a good sign for any EA, we will wait some time and see how the system will be performing in the long run.