Directional Forex Robot is an automated system that is claimed to have made $106918 worth of profits so far this year for the developers. The EA likes large trades, and that's why it focuses on huge movements of pips daily. This, the devs say, has led it to record a solid decade long performance.
The vendor of this product Forex Robot Trader. The company was formed in 2006 by Don Steinitz, an ex-gambler with a financial background. By working with a team of experienced developers, Don was able to introduce other trading tools into the market like Odin, Pterodactyl, Vader, Reaper, Falcor, Ganon, and others.
Directional Forex Robot overview
The developers claim that this robot:
Works on all Forex currencies and every timeframe
Supports the Metatrader 4 charting software
Includes all custom indicators and templates
Works with 4 or 5 broker digit pricing automatically
Has all text and color objects, as well as inputs like "applied price types" and "moving average modes" customizable
Has a built-in automatic money management system
Allows you to close any trade manually without interfering with its functions
Comes with in-built optional trailing stop loss capabilities
Pricing
The cost of this robot is $49. This pricing is very cheap, given that some vendors sell their tools at $100 or more.
How it works
The EA conducts trades on your behalf automatically. It decides when to buy or sell a currency pair by capitalizing on large and reliable trends on your charts.
Trading strategy
As we mentioned before, the bot is designed to work on large trends. It usually waits for trends to form on many time frames prior to entering the market. In other words, the system places trades in the direction of the underlying trend(s) and remains in until the trends begin to reverse.
Trading results
No backtest results are shared. There's a high chance that the system was not subjected to any testing to see the kind of results it could produce under the past market conditions.
The live trading results for this robot are presented in the sales pitch, but there is a catch. The data has not been dexamined by a trusted third-party site like Myfxbook, FXBlue, or FXStat. In this regard, there's no way of confirming the authenticity of the stats. But let's have a look at what they report.
As per the screenshot below, we can see that the system has generated thousands of profits for the user each month. February emerges as the most productive period in the last 5 trading months. It increased the user's portfolio by almost $40000.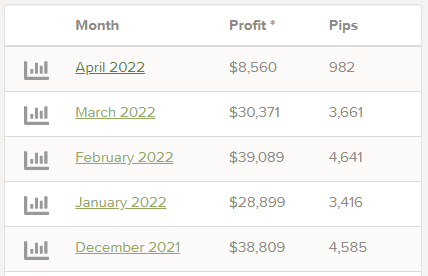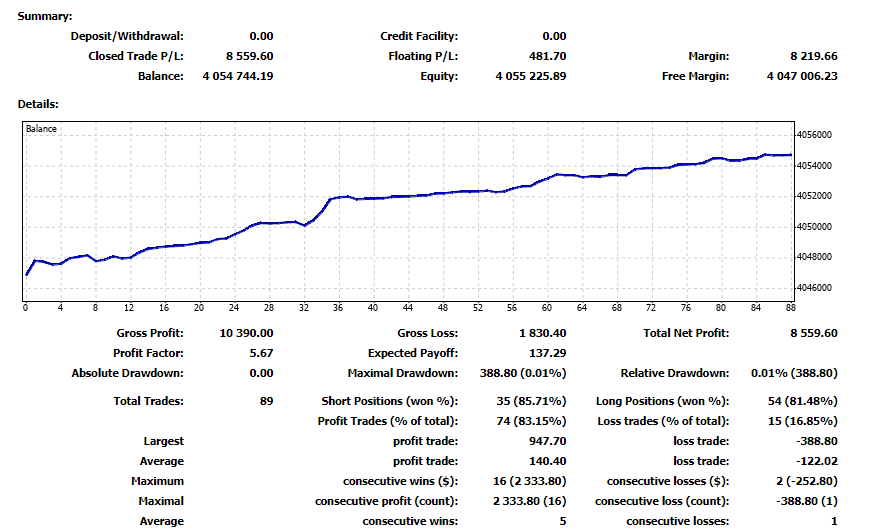 Up till now, the EA has managed to generate a total net profit of $8559.60 for this account while keeping trading risks at a minimum, as illustrated by a minute drawdown of 0.01%. A total of 89 trades have been carried out. They have reported win rates of 85.71% and 81.48% for short and long positions, respectively. The profit factor, which is 5.67, suggests that the system can increase the value of your portfolio immensely.
Customer reviews
There are no client testimonials for this robot on reputed sites like Trustpilot and Forex Peace Army. It is possible that traders are not using it, which is quite surprising, given its low pricing and long existence in the Forex market.