We'd like to talk about AlnoTrade's robot called a Dragon EA.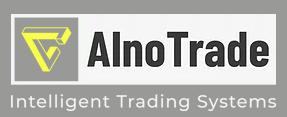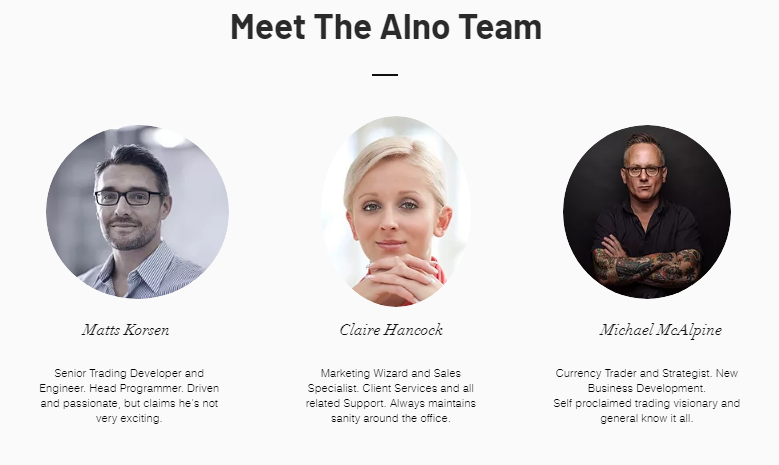 There are higher chances that the company has a real team behind the products they introduce.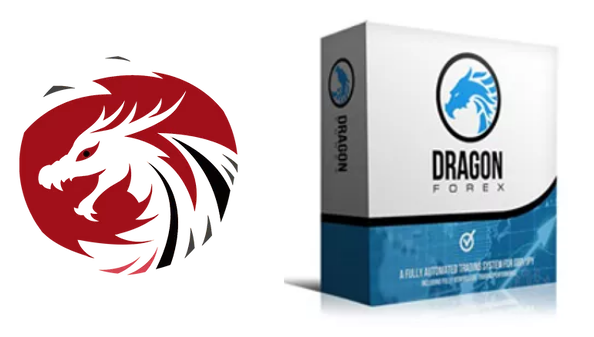 The box looks cool and spicy.
Dragon EA Overview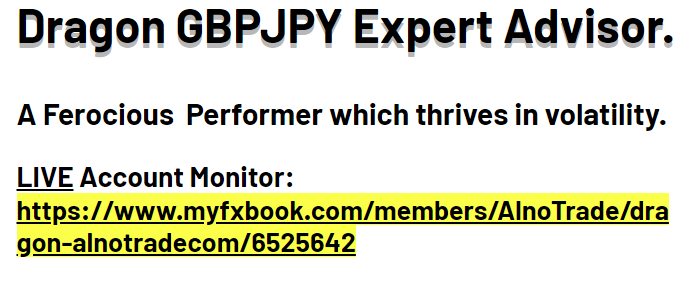 The presentation looks unprofessional, bad-designed, and not user friendly in general.

The presentation is featured by these rates from Google, FPA, and SiteJabber.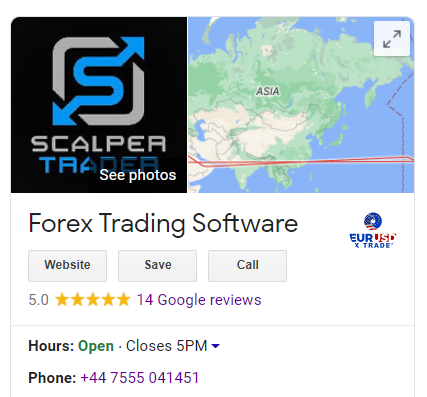 In Google, they have a five-star rate.

Sitejabber gave them five stars, too, based on two fake reviews.

FPA's rate is much lower and equals 3.59.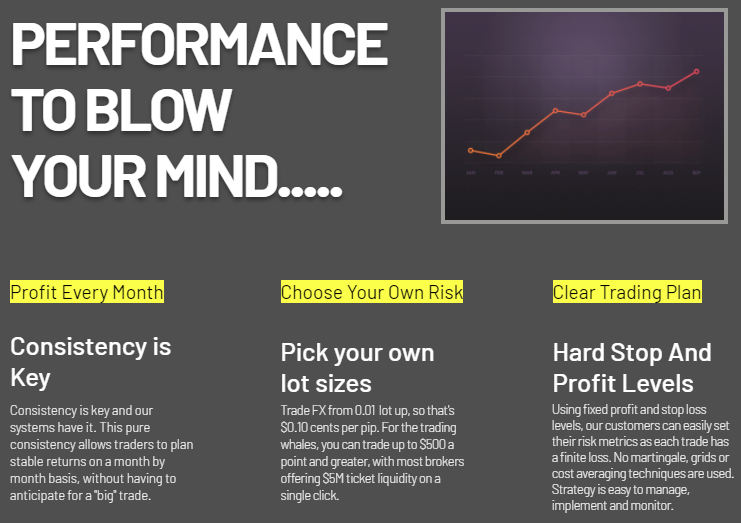 The EA has the next settings that allow us to customize our trading experience:
The robot opens trade consistently to make more profits during a day without need to wait for one big trade.
We can set Lot Size for every trade and risk. If we trade with high leverage, it can force the account to high losses or big gains.
A Stop Loss feature focuses on decreasing possible losses, keeping our account safe.
The robot doesn't perform risky strategies like Martingale, Grid, or Cost Averaging.

The money-management system lets us work with different risks for various symbols.
It has Trailing Stop Loss, break evens, and other options to close deals.
The default settings are optimized, and we don't need any additional improvements.
We can trade from a PC, running a demo account to check its performance.
We can run the robot with others on the same account without a conflict.
Pricing
There are two ways to get a Dragon Scalper.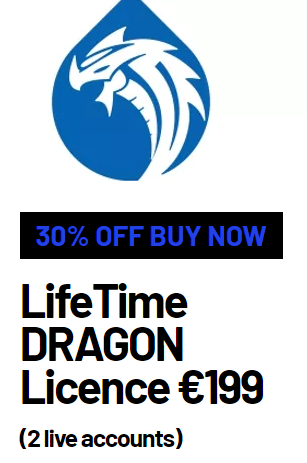 The first one is to buy it for 200 EUR with 100 EUR OFF. This package includes two real-account licenses. The EA will receive free updates and upgrades. The installation takes several minutes before we start making money.

If we buy it, we can rely on a 60-day money-back guarantee.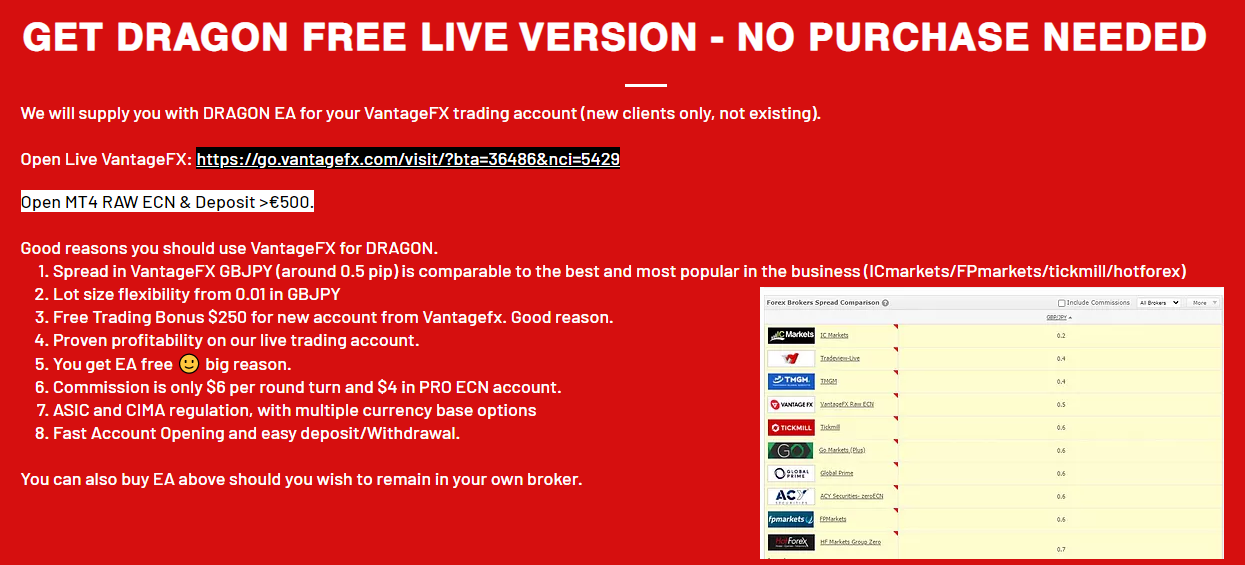 The second one is more complicated:
We have to open a real account on a VantageFX broker using their referral link.
We have to fund the account at over 500 EUR.
In addition, we receive:
Low spreads on the ECN account (0.5 pips).
Lot Sizing starts from 0.01.
The welcome $250 bonus.
The commission is $6 per a traded standard lot.
The company is regulated by ASIC and CIMA regulators.
Quick account withdrawing/depositing.
How it works
There are several features:
It trades automatically.
The EA places Stop Loss and Take Profit levels.
Trading Strategy
The EA performs a scalping strategy at the opening of a European market.
Trading Results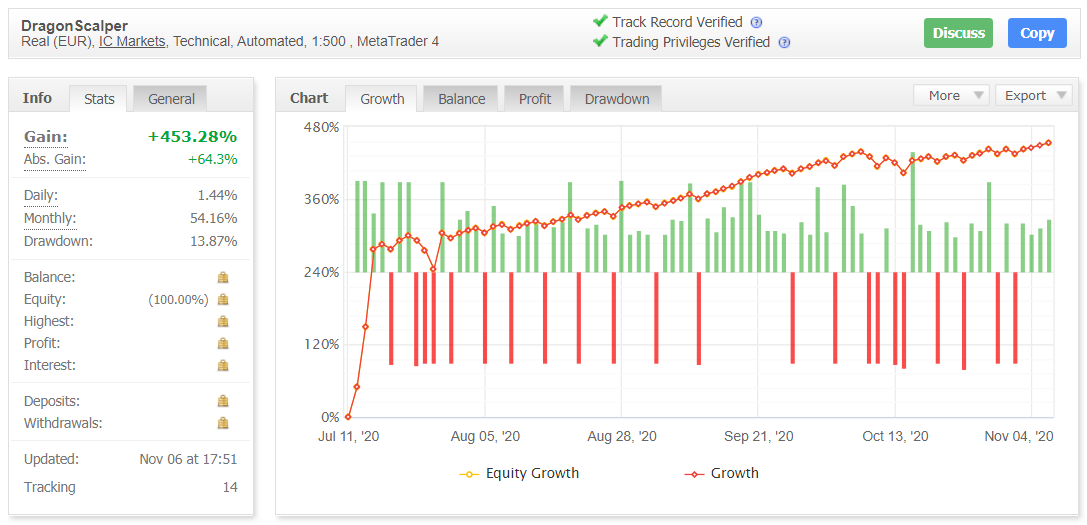 We have a real EUR account. It's a standard one (not aggressive trading) on IC Markets. The robot trades using technical indicators with 1:500 leverage on the MetaTrader 4 platform. The account track record is verified, but there's much intel hidden from us. It was started several months ago, on July 11, 2020. Since then, the absolute gain has become +453.28%. An average monthly gain is +54.16% (because of the first several trades) with the maximum drawdown (13.87%).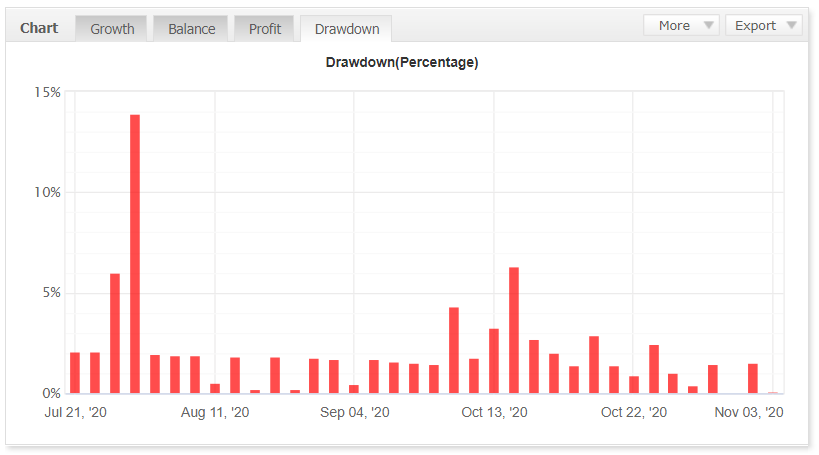 The period of big drawdowns has gone with high risks trading.

The robot performed 84 deals with 403 pips. An average win (15.75 pips) is just a little lower than an average loss (-24.24 pips). The win-rate is high (Longs – 73% and Shorts – 71%). An average trade length is one day and seven hours.

The robot performs, as it was mentioned, only a GBP/JPY trading pair. Both directions, BUY and SELL, got the same level of success.

The robot mostly trades during the European market opening for the next several hours with going down activity.

All days were traded equally by a Dragon EA.

It runs with quite high risks to the account balance (as usual for scalpers).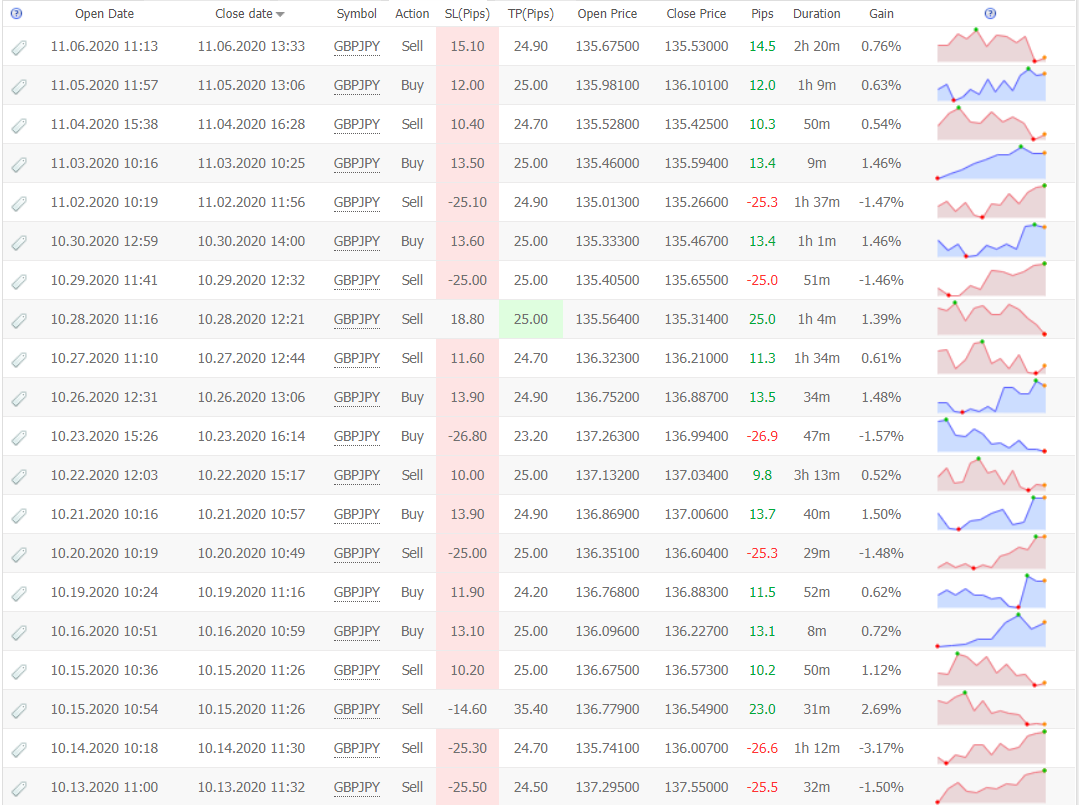 The system uses hidden from a broker Stop Loss and Take Profit levels, and, as we can see, there's a Trailing Stop Loss to trade every deal all the way.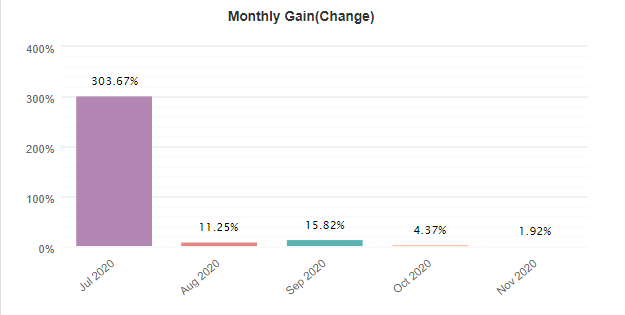 After risks were decreased, the monthly gain went down to 4.37%.

The account was funded, and there were placed three high risky trades in a row. There could be Arbitrage traded deals.
Customer Reviews

There are links to articles on other sites. It's rare to see that they work. There are really articles about this service. They can be SEO ones, but anyway, it looks better than nothing.

The company has a profile on Forex Peace Army with a 3.59/5-star rate based on six reviews. From the descriptions, we found out that there was no mention of the Dragon EA.

As usual, there's a negative comment. The devs countered it by the fact that this client has closed deals manually and hasn't let the EA work properly.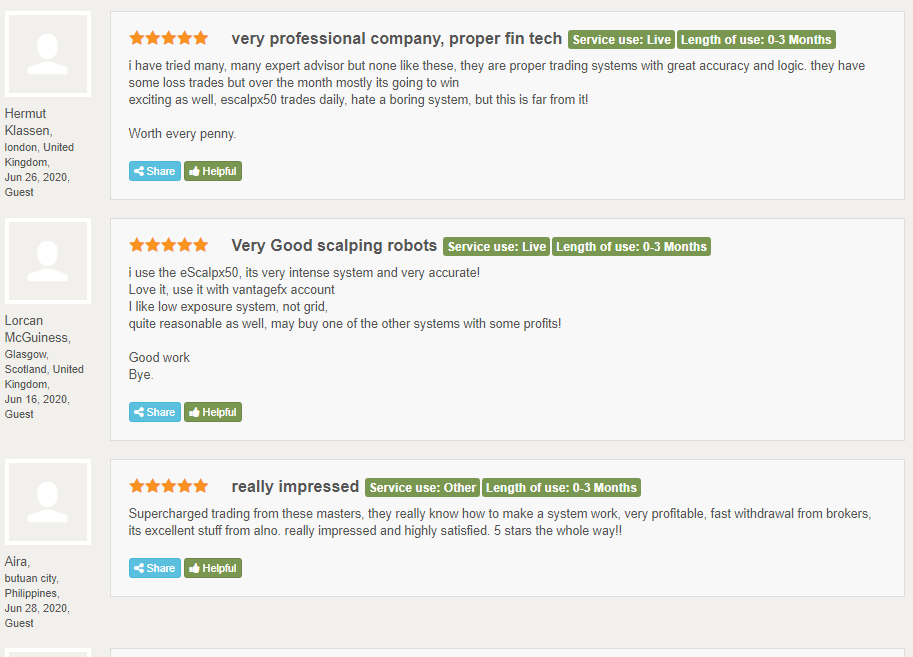 The rest of the comments are positive like that.