The Dragon Expert presentation starts with an aggressive promise of "70%-100%++ Profit Monthly". This is where a lie starts (we will talk about it in the 'trading results' section). On top of this, the developer of the trading system wants us to know that Dragon Expert is equipped with the "most advanced real-time algorithm code" to provide stable income and high profits. It is difficult to believe, as what we are promised by the devs looks too good to be true.
Dragon Expert Overview
The team behind this EA claims that their software uses an advanced triangular correlation strategy. Long story short, the main goal of its trading approach is to find the best entries to make profits.
What can traders expect with Dragon Expert EA?
The software is sold with a default package of settings. These settings are optimized, so there is no need to change anything.
Hiding SL and TP levels allow a trader to be certain that a broker doesn't trade against him or her.
Real-time broker shield protects traders' accounts by hiding all the important information about your trades from the broker.
Time filter allows you to decide when your EA should open or close trades.
Undetectable robot trade allows a broker to think that the trade is performed by a human.
The other features of this robot are:

David King, the developer of this automated trading tool, recommends a minimum deposit of $5000, although on the FAQ page he says that the EA can work on the cent account with a minimum balance of $200. We do not know anything about the team's headquarter location or what trading experience they have in the Forex marketplace. They only tell us that they're:

It is not enough to go on, as we know very little to rely on a team that prefers to stay incognito. It makes it difficult to invest funds in software, the devs of which are not 100% with us.
Pricing
The price of this expert advisor ranges from $197 up to $1,997. The vendor offers 3 different packages named Rookie Trader, Professional Trader, and Unlimited: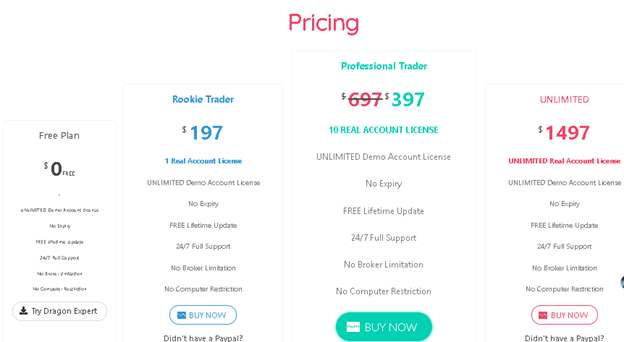 The price is too high, but the developer offers a free trial version of EA. It could be a great thing if it could run for at least 3 months. This period would be a great solution to test the robot and see how it trades and decide whether this EA is worth its incredibly high price.
To get in touch with support, traders can email drag[email protected] or chat with them via Skype dragonexpert99.
How it works
The developers provide a detailed manual of how to install the software in the zip file, which is available for traders after a purchase. The EA can be downloaded in the download section.

Recommendations on how to use Dragon Expert:
Min. deposit of $5000 and $200 if you want to trade on a cent account
Traders can use EA on 3 currency pairs. The developers recommend BPUSD, GBPJPY, and USDJPY
No need to optimize the robot as it is adjusted on default settings that are said to be good to use
Supports only MT4 platform
Trading Strategy
Well, let's move to the "legendary trading strategy" of Dragon Expert EA:

The developers of this expert advisor add that this MT4 tool uses an advanced correlation algorithm, which finds correlation between pairs and gives hedge to your trade. So, we can assume that this robot uses Hedging for trading. However, this information is not explained on the website.
Trading Results
So, the dev provides us with 4 myfxbook trading accounts and one trading account verified by fxblue. So, we have 1 trading account which was discontinued in 2018 and 3 myfxbook accounts with the latest activity in January and February 2020. To go on with our analysis we need live trading results to get a clear picture of the consistency of the EA. Therefore, we will analyze the fxblue account with the most recent trading history on October 19, 2020: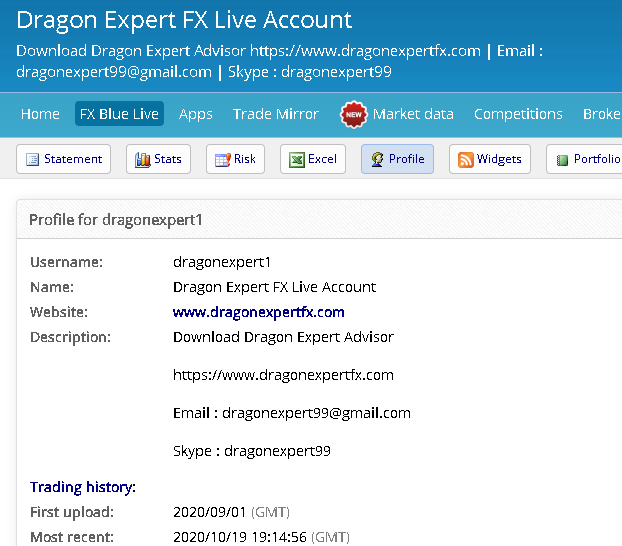 The account was launched on September 1, 2020. To tell the truth, one month period is not enough to see how the EA will be performing in the long run. However, we have nothing else left than going on with what we have on the plate now.
To start with, it is a real trading account with the semi verified trading results.

For over 1 month of trading, the robot has brought a total return of +111.6%, the monthly gain is +26.2% with zero peak drawdown. Now its closed profit equals $55,780.56.

The robot has traded 836.3 pips and 7537 trades (the robot trades 76.3 trades/day). It has won 4965 trades and lost 2567. Average win is +26.48 while the average loss is -29.35. Its risk/reward ratio is 7.25. The profit factor is 1.74.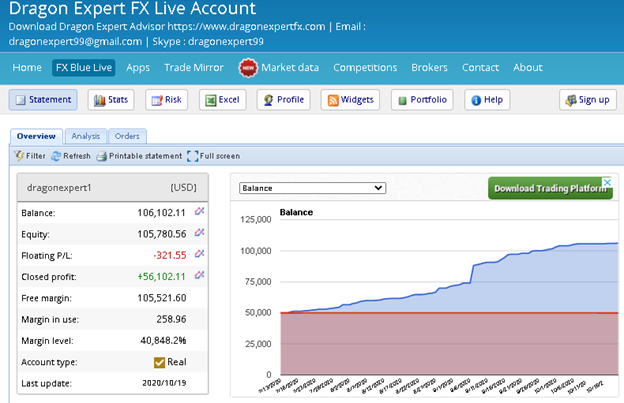 Customer Reviews
Customer reviews are very important for us as they provide the information we can't see on the site of the developer. On the Forex Peace Army, we have found mixed customer reviews. One trader says that it is a great EA, while the other one claims that it is a total scam.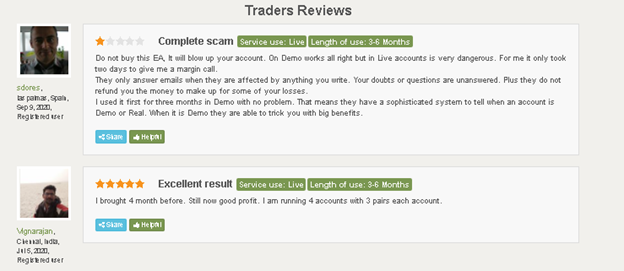 The team that stands for this EA also shares customer reviews on their website:

We would like to note that all these comments are fake because there is no possible way to get in touch with these customers. Historically, customer reviews written on the sites of developers are frequently paid, concocted or manipulated.
Dragon Expert Backtests
Unfortunately, we have found no backtest results on the Dragon Expert website. The developers decided not to share this information.