Dsc Price Action is a Forex EA that was launched on 10 June 2020. This EA promises to leverage the trader's account quickly and multiply the capital by taking advantage of Forex leverage.
This EA is sold on the MQL5 website by Diogo Sawitzki Cansi, a Brazilian trader. We don't have too much information on this person, so we don't know whether he has the required experience to develop an automated system. It is also not clear whether he works alone or in collaboration with others. This person has developed Forex indicators like Dsc Vwap Channel, Dsc Candle Aggression, and Dsc Panel Trade, while his other robots include Dsc Ai Grid Mtg and Dsc Kamikaze MT4.
Since there are several scam services in the market these days, you need to do your research before investing in a Forex EA. This means you need to analyze the different performance aspects of the system, such as live trading results, pricing, trading strategy, customer reviews, etc. Check out our best Forex robots list to know more.
Dsc Price Action Overview
This Forex EA does not have an official website of its own. On the MQL5 page, the vendor has explained in brief what the system is about. The information provided is inadequate, but we have the link to the live results on the MQL5 website, along with links to brokerages.
We also have the contact information provided by the vendor in the form of email address and Whatsapp number. Finally, the vendor has shared a screenshot of a backtest performed on the robot. As per our understanding, the vendor is not offering anything special with this EA, and no particular feature has been highlighted.
Pricing
Dsc Price Action is currently available for the price of $499. We think this is excessive, considering most robots on the market costs less. There is a rent option available for this EA where you have to pay $99 every month to use it. The vendor does not provide a money-back guarantee for this product.
How it Works
This robot trades in the EUR/USD pair for the M5 time frame. The vendor has not clearly explained how the system functions, which might come as a disappointment for some experienced traders who wish to know everything about a robot before investing. It is recommended that you use this EA with ICMarkets or XM broker.
Trading Strategy
We have no idea about the trading strategy used by Dsc Price Action. The vendor has not provided us with any explanation for the same. We can assume that the EA performs price action analysis, but there is no information about the indicators that are used. The lack of strategy insight might serve as a deterrent for many investors.
Trading Results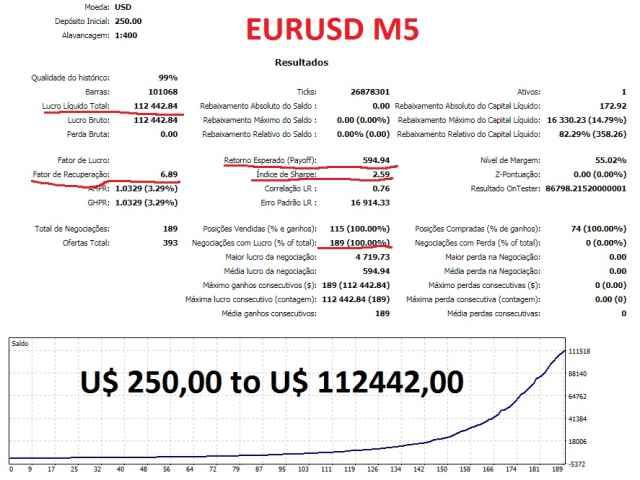 Here we have the backtesting results for Dsc Price Action. This was conducted with 99% modeling quality and leverage of 1:400. An initial deposit of $250 was made for this test, out of which a profit of $112,442.84 was generated.
The robot placed 189 trades during this backtest, winning all of them. We think this is unrealistic, and it may be that the vendor manipulated the backtesting results to make the system look more profitable than it really is.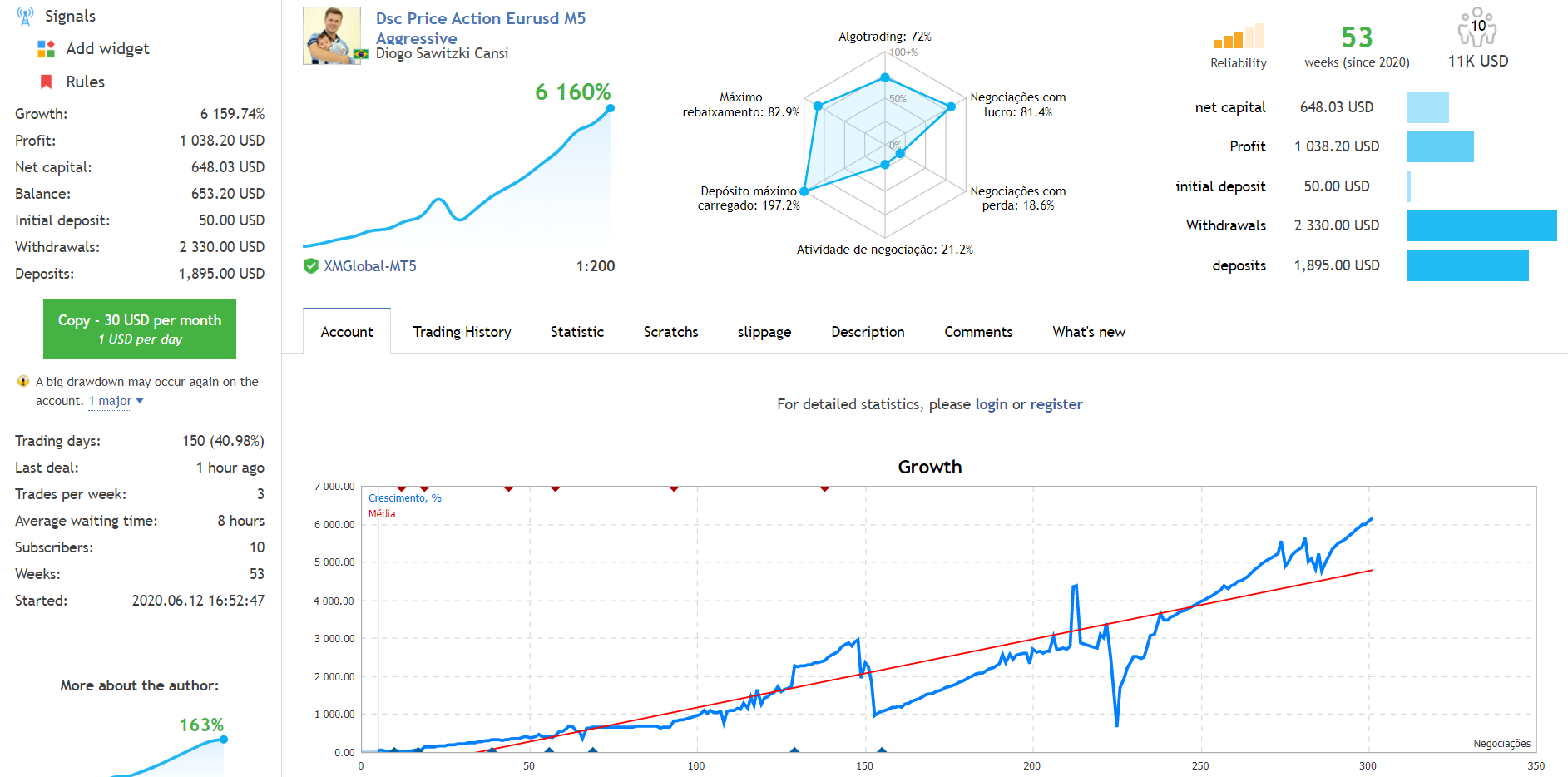 We have unverified trading statistics for Dsc Price Action. As we can see, the system has traded for 150 days, during which it has generated a total profit of $1038.20. A total of 301 trades have been placed, out of which 245 have been won, and this represents profitability of 81.39%.
It should be noted that the average loss exceeds the average profit and that the profit factor is 1.76. Since the results are not verified by a third-party website like Myfxbook, we cannot put too much weight on them.
Customer Reviews

We have several customer reviews for Dsc Price Action on the MQL website, but these do not seem authentic. In the absence of verified customer reviews, we can say that this robot does not have a decent reputation in the market.