This fully automated MT4 tool decides whether to BUY or SELL by identifying market trends. According to its developers, the robot provides a consistent return on investment and is easy to use for both experienced traders and newbies. The vendors try to convince us that Dynamic EA is capable of providing an ROI of 220%. To check out the veracity of these aggressive claims, we've prepared a detailed Dynamic EA review.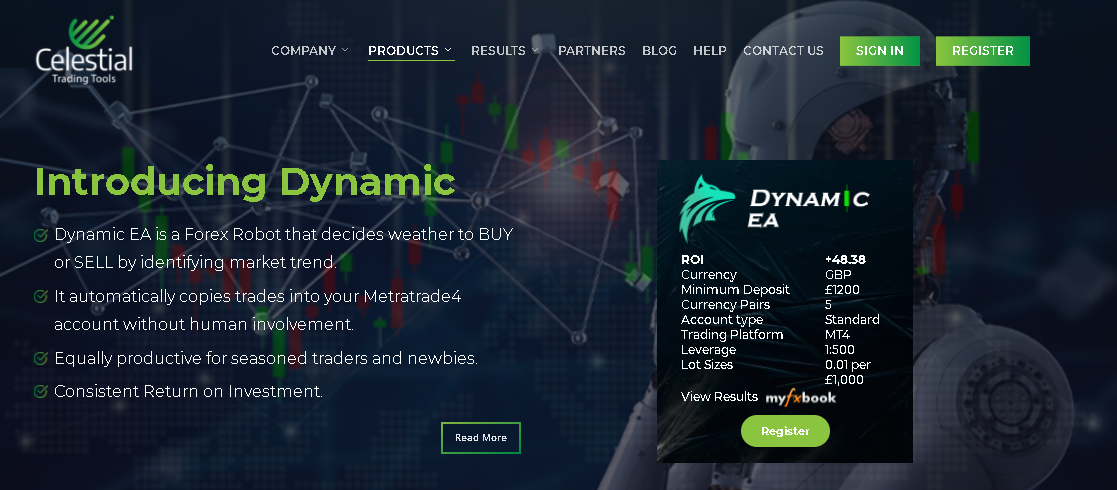 The company that responds to the product development and release is Celestial Trading Tools. It also has a Sirius EA in its portfolio. However, the trading results of this expert advisor look unoptimistic. The vendor failed to provide at least something about their team, headquarter location, or trading experience in the Forex marketplace. There is no reason to trust them.
To get in touch with the support we need to email [email protected] or send a message with a request via their online contact form. For queries regarding payments and fees, we have to send an email to [email protected].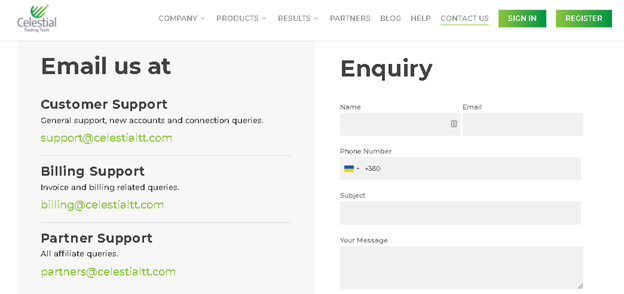 Dynamic EA Features
On the official website, we see the vendor making a brief presentation, highlighting all the main features of Dynamic EA. They have provided live trading results, a detailed product description, a screenshot of backtesting results, pricing details, and a video related to some of the important figures related to the product. They've also provided a short description for 5 currency pairs traded by the expert advisor: EUR/USD, USD/CHF, GBP/USD, EUR/JPY, and NZD/USD.
Pricing
This EA is sold only on a subscription plan. Interested in the robot traders have to pay £15/month, which is cheap compared to the other competitive services on the FX market. The minimum deposit is £1,200. This FX EA requires a £1000 margin to trade with a 0.01 Lot size.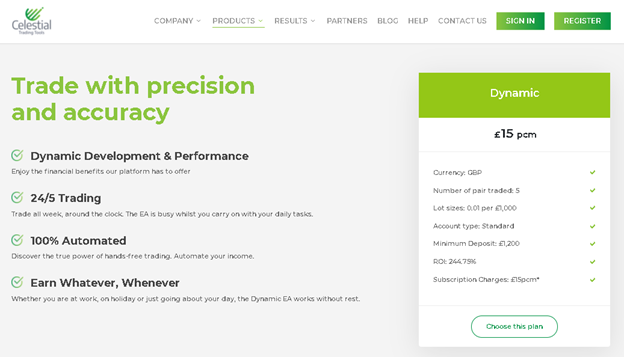 In comparison with average prices on the market, the price of Dynamic EA is quite competitive.
How it works
Their website presentation explains some details of how the system works:
It was designed to work on MT4 terminal
The robot trades fully automatically, 24 hours, 5 days a week
It takes decisions on when to buy and when to sell
It focuses on trading trends
Is easy to use for both experienced traders and beginners
It trades 5 symbols: EUR/USD, USD/CHF, GBP/USD, EUR/JPY, and NZD/USD
The robot trades breakout trends
It has a built-in money management system that responds for auto SL, TP, and trailing stop loss
It can trade multiple currency pairs at once
It comes with defaults settings and does not require additional customization
Trading Strategy
The dev claims the robot was tested 12 months in a row. However, it is false, as the dev failed to provide any backtest report to prove his words. He promises an ROI of 220%, but without facts, these are only numbers for us.
The devs try to convince us that these charts can look like proofs for us. However, without verified backtesting results, we cannot trust them.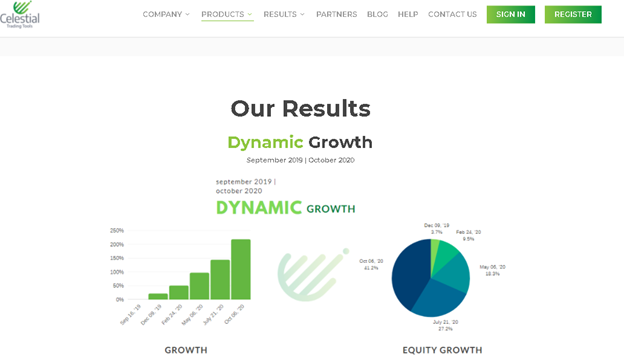 Trading Results
We are provided with a live Real account that trades under a well-known IC Markets brokerage. The account trades automatically, using technical indicators and trading with a 1:500 leverage on the MT4 terminal. From the date of its activation on myfxbook.com., August 25, 2020, the account has generated a total gain of 67,99% with monthly and daily gains of 5,66%, and 0,18 respectively. The peak drawdown was  9,28%.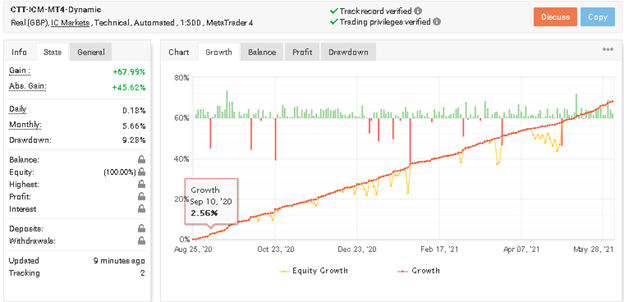 It placed 1024 trades and won 633 out of them, which represents a win rate of 62%. Oddly, but the vendor has decided not to reveal certain figures like balance, interest, equity, profit, deposits, and withdrawals. The profit factor is 2.06 and the average win is mostly the same as the average loss trade: 15.11 pips and -16.17 pips. The average trade length is mostly 19 hours.

The most profitable currency pairs are GBPUSD (892. 1 pips) and EURUSD (826.7 pips).

Customer reviews
Celestial Trading Tools has a page on Trustpilot and a 2,2 rate based on 141 reviews written by their customers: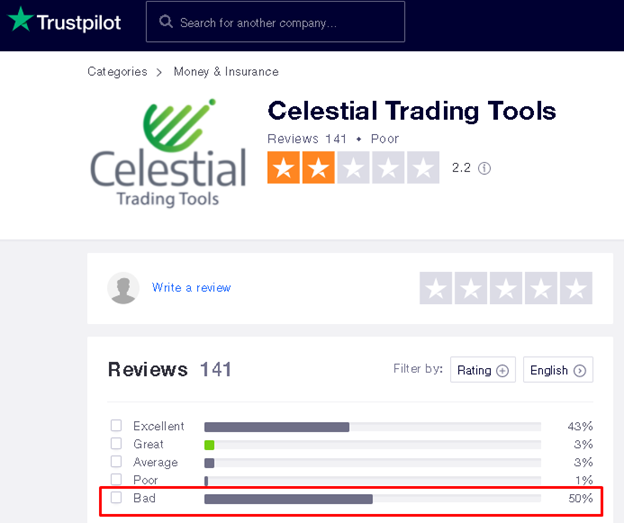 Over 50% of all traders who've already tried their services are dissatisfied.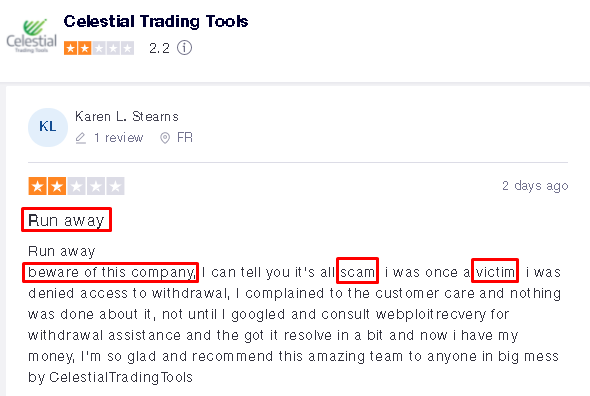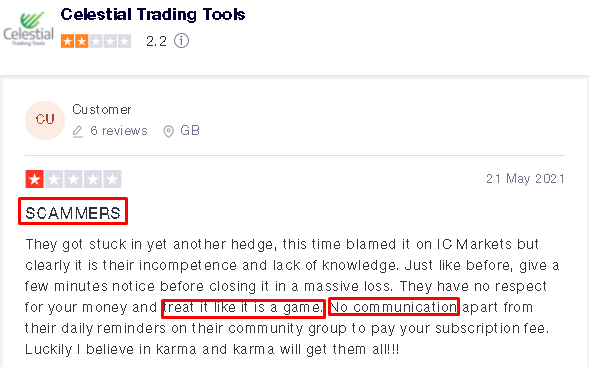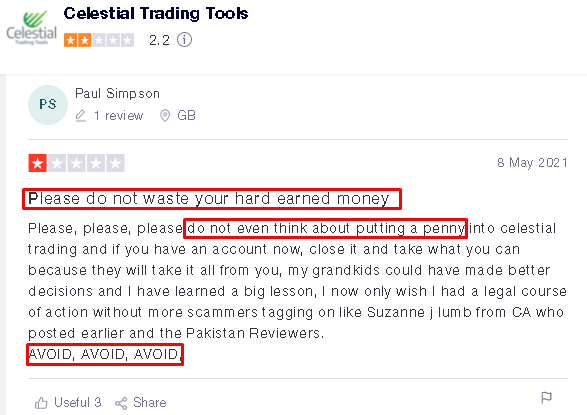 People warn us not to invest in Celestial Trading Tools. They say the company is a total scam and ask us to stand away from it.