Elemental EA is a fully-automated Forex expert advisor that can trade in multiple currency pairs. According to the developer, this robot has a minimum number of parameters, and this makes it accessible even for novice traders.
The developer behind this EA is called Evgeniy Machok. We have very little information on this person, apart from the fact that they are based in Russia and have more than eight years of experience. Due to the absence of background information, it is difficult to determine whether the developer has the required technical knowledge to develop a reliable trading system. They have developed other robots like Silent Master, SZ Scalper, South Night, and Yellow.
Choosing the best expert advisor requires careful research. You must look into things like vendor transparency, pricing, trading strategy, live performance statistics, customer reviews, etc. To know more, check out our best Forex robots list.
Elemental EA overview 
On the MQL5 product page, you can find information related to how this EA works and what it offers. The developer has shared some recommendations and described each of the trading parameters present in this robot. We also have a link to the live trading signals and screenshots showing the backtesting results. Elemental EA does not have any unique features that set it apart from other robots.
Pricing
The current price of Elemental EA is $199, and this makes it cheaper than most EAs on the market. If you wish to test the performance of the system using virtual money, you can download the free demo version. Unfortunately, the vendor does not offer a money-back guarantee for this robot.
How it works
Elemental EA is a night trading robot that trades in different pairs using just one chart. You can install it on any chart and specify the pairs in the EA parameters. With every order, the EA uses protective stop loss and drawdown parameters.
You can get started with any broker having fast order execution and small spreads. The minimum amount of deposit required to get started with this EA is $100. As per the vendor's recommendation, you can use it with pairs like EURUSD, USDCHF, USDJPY, USDCAD, AUDUSD, EURJPY, EURCAD, and CHFJPY. It is also recommended that you run it on M5 charts. Elemental EA is compatible with both Metatrader 4 and Metatrader 5 platforms.
You have the option of trading with a fixed lot size. Alternatively, you can enable the AutoLot parameter to let the EA calculate the lot size based on the account balance. You can also set the risk percentage, the maximum drawdown, take profit, stop loss, and trading direction.
Trading strategy
Elemental EA follows a strategy based on the idea that every trend has its current boundaries, after which the price reaches an equilibrium state. It determines the trend boundaries by dynamic support and resistance levels, which are updated at each candlestick. Night trading offers limited market liquidity, and for this reason, the EA performs trades with pending limit orders for additional slippage protection.
Trading results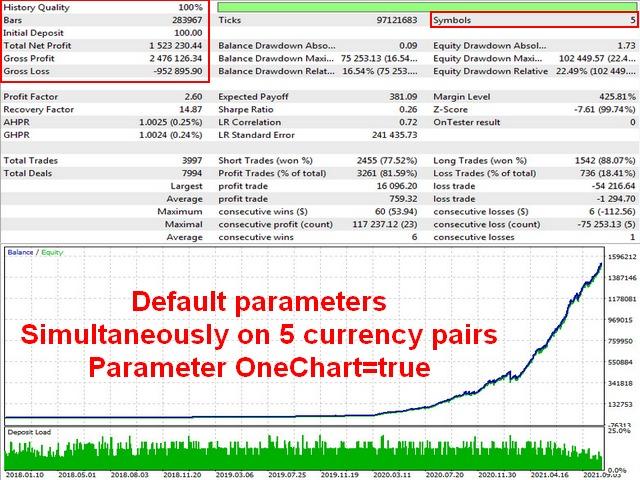 This backtest was conducted from 2018 to 2021 with an initial deposit of $100. The EA placed 3997 trades, winning 81.59% of them and generating a profit of $1523230.44. Compared to the live statistics, the win rate was slightly low. The relative equity drawdown was a bit high at 22.49%, and this means the robot was trading with high risk.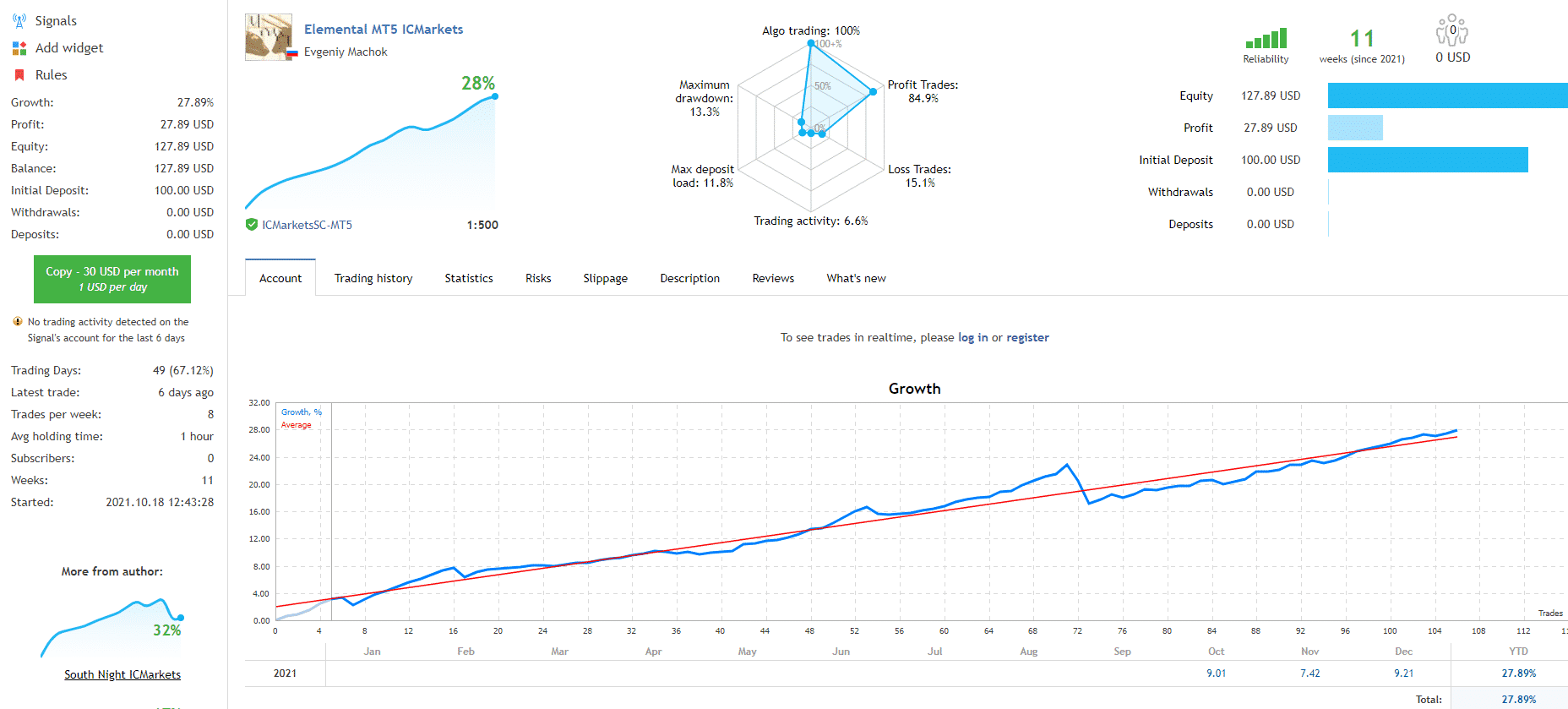 There are no verified trading results for this robot on third-party websites. The vendor has presented the results on MQL5, on an account that is only 49 days old. After conducting 106 trades, the profitability for this account is 84.90%, and the total profit is $27.89. To date, there have been 16 maximum consecutive wins and 2 maximum consecutive losses. The maximum drawdown is acceptable ‒13.3%, while the profit factor is quite high ‒ 3.36.
Customer reviews

We couldn't find any reviews for this EA on websites like Quora, Trustpilot, Forex Peace Army, and Myfxbook. While there are a few reviews on the MQL5 page, we cannot confirm their authenticity.