Today's review will be about Exynox Scalper. This software is designed by Karl Dittmann. It was introduced as a super-intelligent Forex tool that is a unique key to successful trading. Let's check it up if this is true.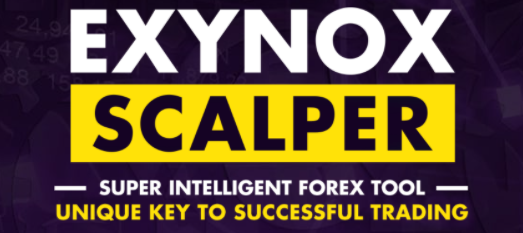 Exynox Scalper Features
There's a schema of Exynox Scalper features and advantages. It looks so familiar because we have seen it in the Onyx Scalper presentation.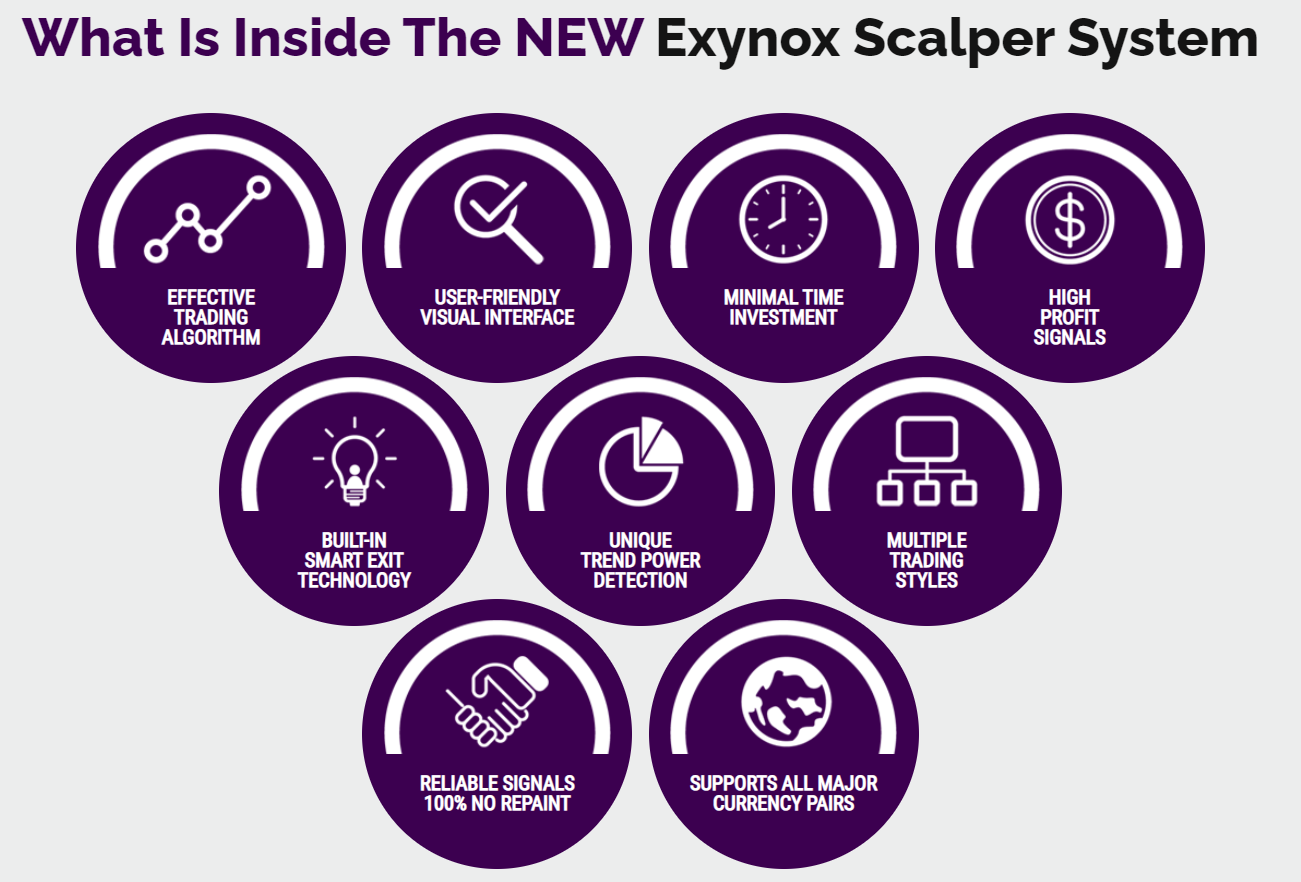 The software is semi-automatic. We have to execute trades manually.
This software has unique trend-power detection.
It unites multiple trading styles. We didn't find an answer to which ones.
The signals aren't repainted after providing.
It supports all major currency pairs. It'd be nice of the developer to tell potential clients which ones.
It has a user-friendly interface.
We don't need to spend much time to trade provided signals.
The developer claims that the signals are highly profitable.

The system is featured by three modes of trading: conservative, medium, and aggressive. The higher aggressive, the less accuracy. So, it would be putting an account balance at a high risk to trade all these aggressive signals.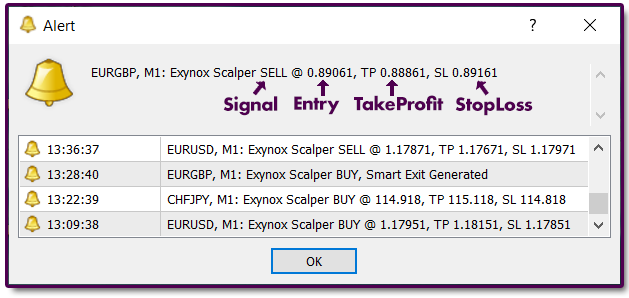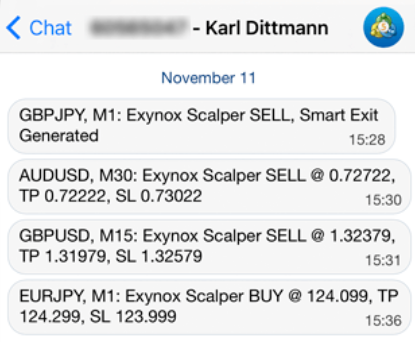 The system delivers signals via three ways email, terminal pop-ups, and Facebook Messenger.
They have the same format: cross pair, direction, Entry Price, Take Profit, and Stop Loss.
The software will receive all available upgrades and updates.
There's 24/7, welcome, and knowledgeable support.
We can use this software only on the MT4 platform.
The minimum deposit to start trading should be not less than $100.
The optimal deposit to trade with a 0.01 Lot Size has to be $250.
Pricing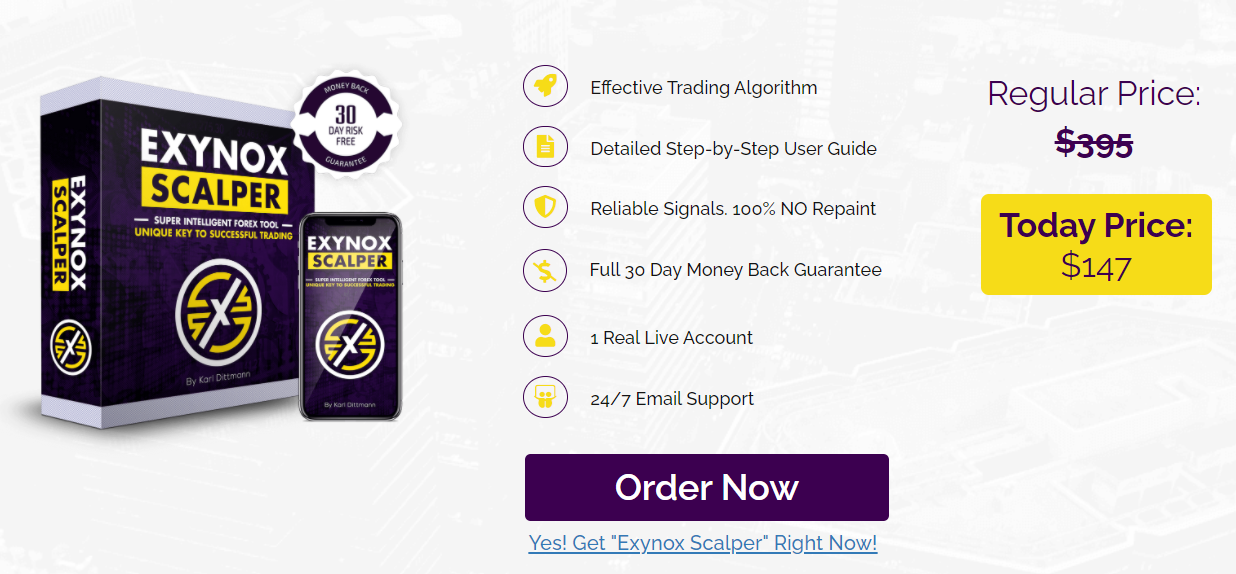 The Exynox Scalper indicator can be bought for $147. The offer includes $248 OFF. The package has an effective trading algorithm, a step-by-step user guide, a full 30-day money-back guarantee (was 60 days), a license for one real (live) account, and 24/7 email support.
How it works
Every indicator is simple in usage:
We have to copy an indicator in a proper MT4 folder.
We have to restart the terminal.
We have to attach the indicator to a proper chart.
We have to set time frames that the indicator works with.
We have to open a deal with parameters the indicator shows in a pop-up menu.
Trading Strategy
It's a trend-based indicator that works with all major currency pairs. Alas, we have no information about MT4 indicators that are used to generate these signals.
Trading Results
The developers, as usual, don't share with us backtest reports. It's a huge disadvantage because we won't be able to know how the system experiences various market conditions in the past to compare with the present.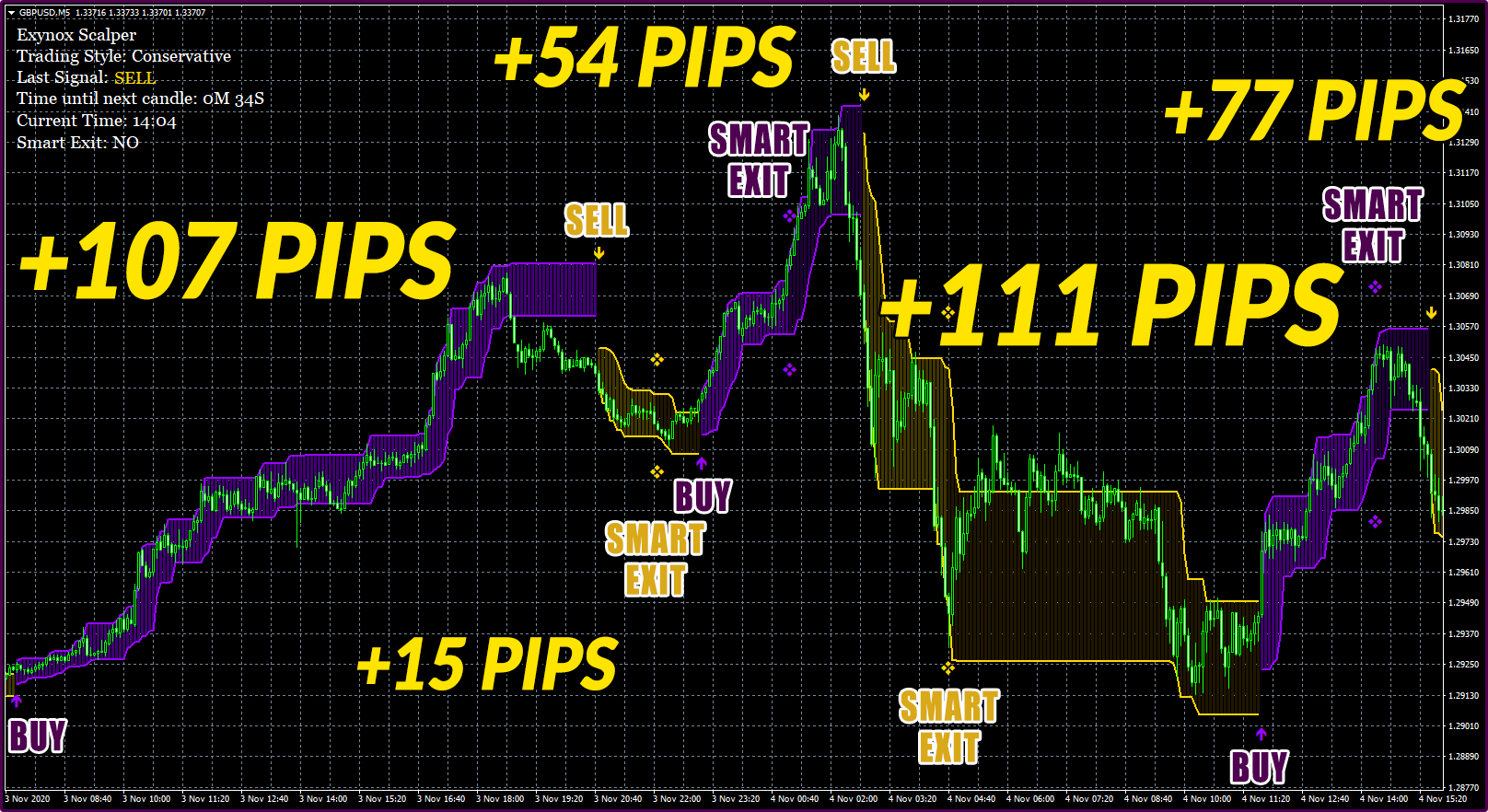 The presentation includes only photoshopped screenshots. We couldn't find any sign of verified trading results.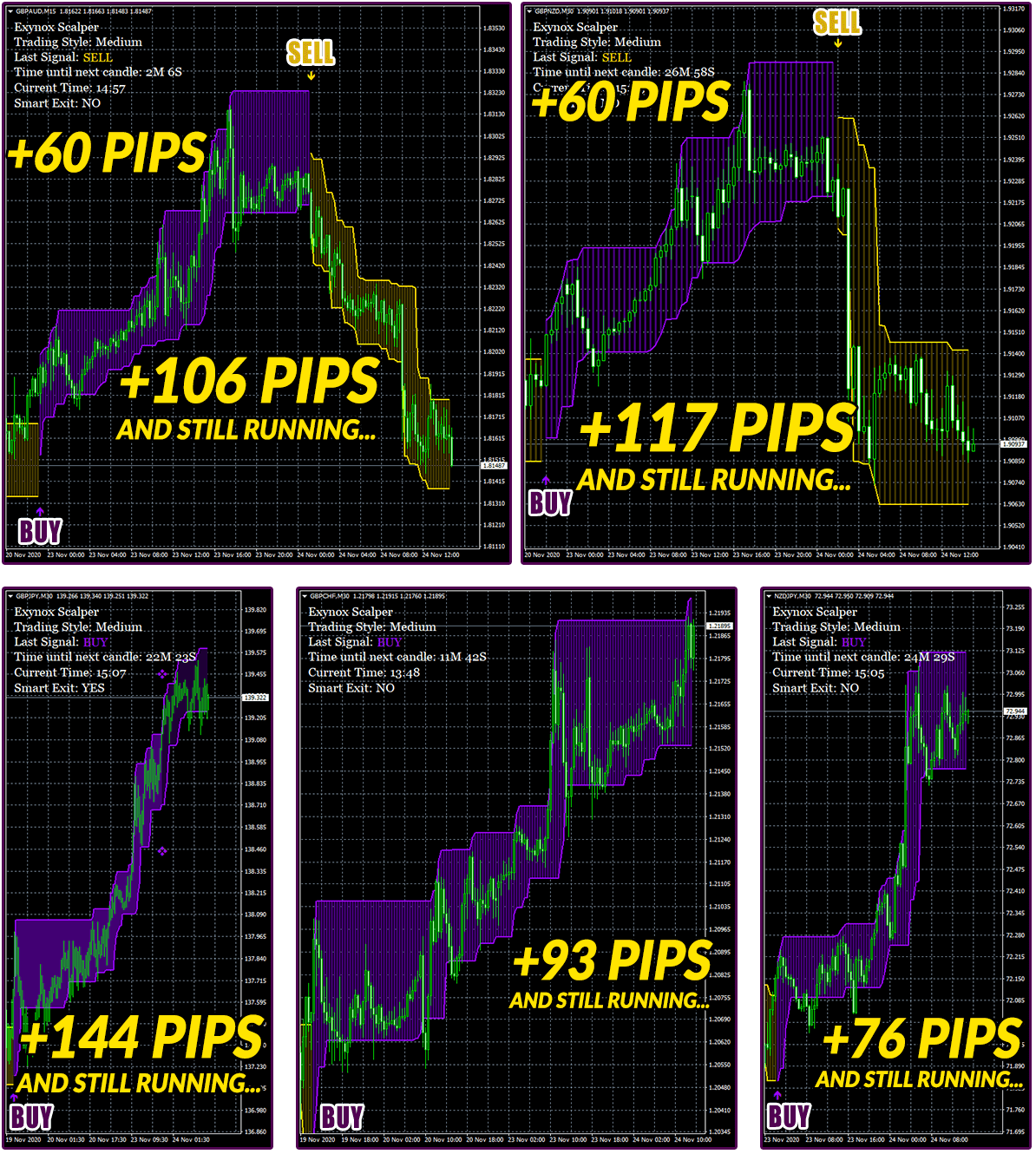 The developer claims all these profits were something real and something that the trader could obtain. It's not true in several ways. First, the top-left block looks photoshopped over screenshots. Second, we don't see any sign of any software attached to the chart in the top-right corner. There an icon with the name of the software can be seen.
Customer Reviews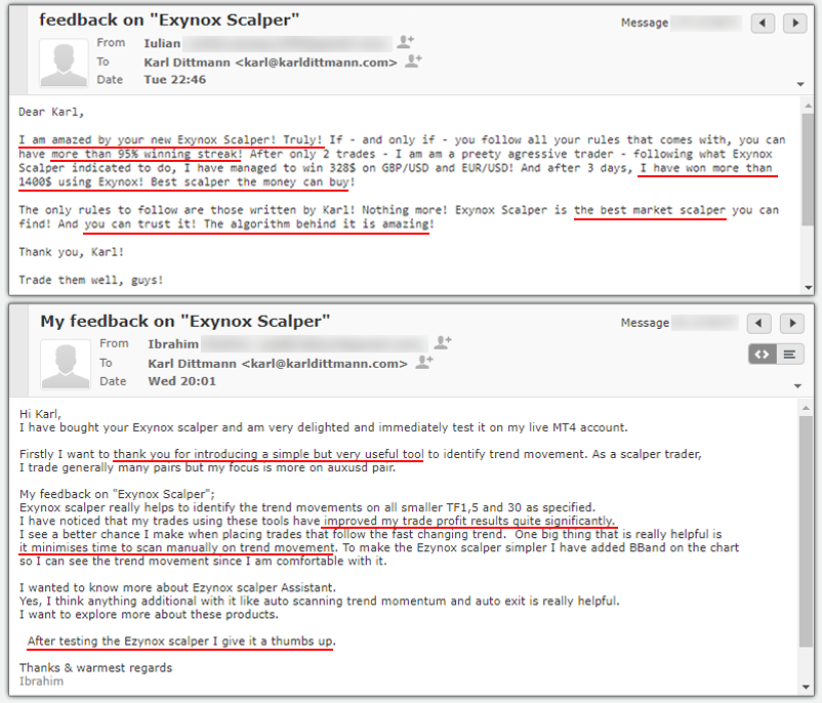 There are many positive testimonials on the site. All of them look fake. First, there are neither names nor dates. Second, the testimonials don't share users' experience. They just blindly repeat lines from the presentation. What does a common trader care about? It's pips, profits, monthly gains, drawdowns, what currency pair is better, and so on. If you see no, this it's fake feedback.
Other notes
It's noticeable that we don't know anything about the developer named Karl Dittmann. It seems for us this person doesn't exist.

We googled for his accounts on FB, MQL5, Twitter, and so on. In modern times, a sign is not enough to convince an audience you're a real person. So, he doesn't exist or hides from angry customers.