Falcor Forex Robot is an automated trading system that runs 24 hours a day and is capable of finding, managing, and closing trades without any manual input. The vendor claims that the robot has earned a profit of $1,151,850 so far this year. They also claim that the robot has advanced features and follows an advanced trading logic that has allowed it to emerge as a top performer.
The parent company behind this robot is known as Forex Robot Trader. It is a US-based company founded by an ex-gambler called Don Steinitz, although we don't know the exact year of foundation. This person works alongside MQL5 programmers but we don't know their identities. Other EAs developed by this team include Vader, Odin, Ganon, Reaper, HAS, Directional, and Pterodactyl.
To choose an efficient Forex trading system, we must conduct extensive research on our part. This involves analyzing the robot's trading strategy, features, live performance, pricing, and customer reviews. To know more, check out our best Forex robots list.
Falcor Forex Robot overview
The vendor has outlined the main features of the system on the official website. We have the live trading results from January 2009 to December 2021. The vendor has also explained the trading logic, the benefits, and shared the answer to some commonly asked questions. Lastly, there are some statistics related to the robot, along with some user reviews.
This is a fully-automated system that trades 24/7 and is compatible with multiple currency pairs. It works with micro, mini, and full-size trading lots. Compared to other Forex robots on the market, it does not offer anything special.
Pricing 
The current price of the Forex robot is $79. You can get it at a discount of 60% since the original price is $199. Compared to other providers, the price is quite reasonable. However, the vendor does not offer a money-back guarantee.
How it works
Falcor Forex Robot analyzes the current price levels in the market and places trades quite frequently. As a result, it typically has a trading position open all the time. In case the direction of price changes drastically, the robot performs an automatic stop and reverse.
Trading strategy
The vendor has not disclosed any details about the trading strategy other than mentioning that it is a price action scheme. We don't know what indicators this EA uses or how it identifies potentially lucrative trades. However, the vendor has mentioned that there are no lagging indicators involved. Without strategy insight, it will be difficult for traders to determine whether the robot will suit their trading style or not.
Trading results
The vendor has not shared the backtesting results for Falcor Forex Robot. This could mean two things. Either the system has not been tested with historical data or the vendor is not eager to reveal the results.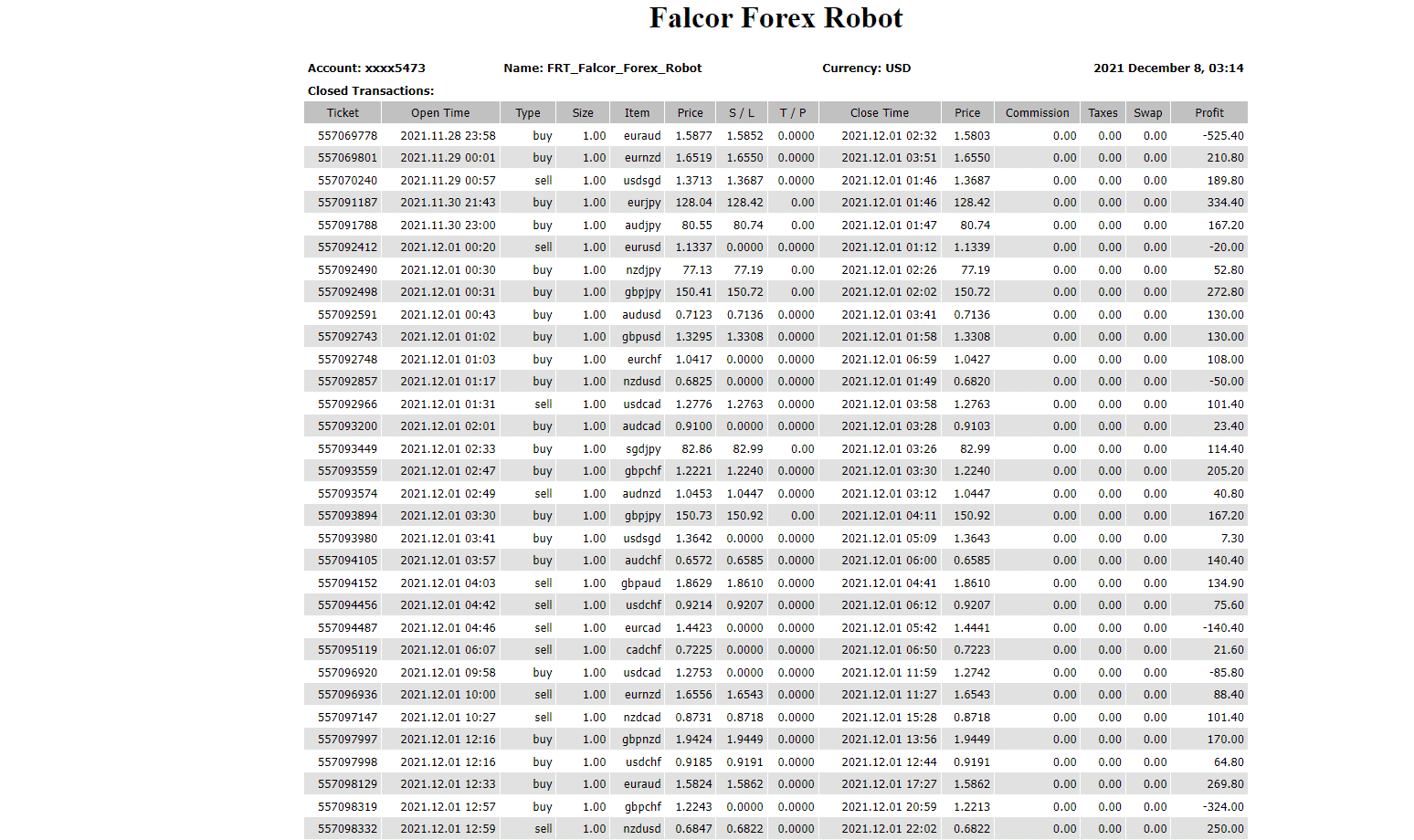 Here you can see the trading results for the month of December 2021. The vendor has shared the results in an odd format and there is no way for us to verify whether these are authentic. As a general rule, traders look for robots that are backed by live trading statistics verified by independent third-party sources. When the results are published on verified accounts, it is considered a sign of reliability, since the vendor has no opportunity to cherry-pick trades and manipulate the results.
Although these results show us the profit, stop loss, take profit, taxes, swap, and commissions, some of the important parameters are missing. These include the win rate, average daily gains, profit factor, and drawdown. Without the drawdown percentage, we cannot determine the level of risk for this expert advisor.
Customer reviews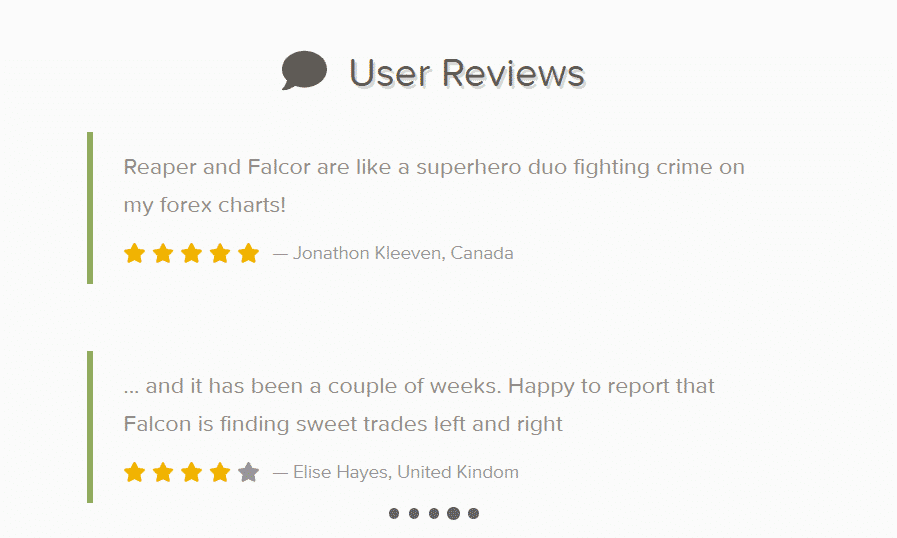 We were unable to find any user reviews for Falcor Forex Robot on trusted third-party websites. This tells us that not many people are currently using this system for placing live trades. On the official website, there are several reviews from customers around the world. However, there is no way for us to verify their authenticity.