Forex Cyborg is an expert advisor that can trade in multiple currency pairs. It runs on the Metatrader 4 trading platform and according to the vendor, it has a high win rate for multiple pairs as per historical tests carried out for over a decade. They also claim that the robot can adjust to different market conditions.
We have very little information on the parent company behind this EA. The vendor has not shared the history of the company and we don't have the official address for the headquarters. Also, we don't know if the team has built any other EAs in the past. The lack of vendor transparency tells us that this system cannot be trusted.
Choosing the best robot requires thorough research on your part. You need to analyze the different aspects like features, price, trading strategy, live performance, and customer reviews. Since there are so many scam services flooding the market these days, we need to be extra careful while choosing Forex EAs. For more information, check out our best Forex robots list.
Forex Cyborg overview
The presentation on the official website is not very detailed. The vendor has listed some of the features and shared several links to live trading results and backtesting data. However, we don't have a proper explanation for the trading strategy. The main focus seems to be on the historical performance, but as we know, traders often place more emphasis on the strategy and the live results. Compared to other EAs, this one does not offer anything special or unique.
Forex Cyborg is a fully-automated system that is compatible with all MT4 brokers. It does not use arbitrage, martingale, or hedging techniques. The robot has a money management setting that you can modify as per your trading style. There are two presets for this system, namely normal and conservative. You can use it to trade in 20 currency pairs, namely AUDCAD, AUDCHF, AUDUSD, CADCHF, CHFJPY, EURAUD, EURCAD, EURCHF, EURGBP, EURJPY, EURUSD, GBPAUD, GBPCAD, GBPCHF, GBPUSD, USDCAD, USDCHF, USDJPY, AUDNZD, and EURNZD.
There are no restrictions when it comes to the leverage and the minimum account balance. You can use any type of account and any broker. The vendor provides setup instructions and 24/7 support for all users.
Pricing 
There are two pricing plans for this EA, namely Gold and Premium. The gold plan costs 499.99 Euros and it provides you with a single account license. For the Premium plan, you get 3 licenses in exchange for 599.99 Euros. Compared to other EAs, the plans are quite expensive. The vendor provides a 30-day money-back guarantee for this product.
How it works
After completing your purchase of the robot, you will get a download link from the service team. Following the instructions, you need to install the system on Metatrader 4. Depending on the pair chosen, the robot will run from 5 PM to 11:30 PM GMT.
Trading strategy
Unfortunately, the vendor has not shared any data on the trading strategy. This makes it difficult for us to analyze the profitability of the expert advisor. Most traders look for strategy insight, so they might take this as a red flag.
Trading results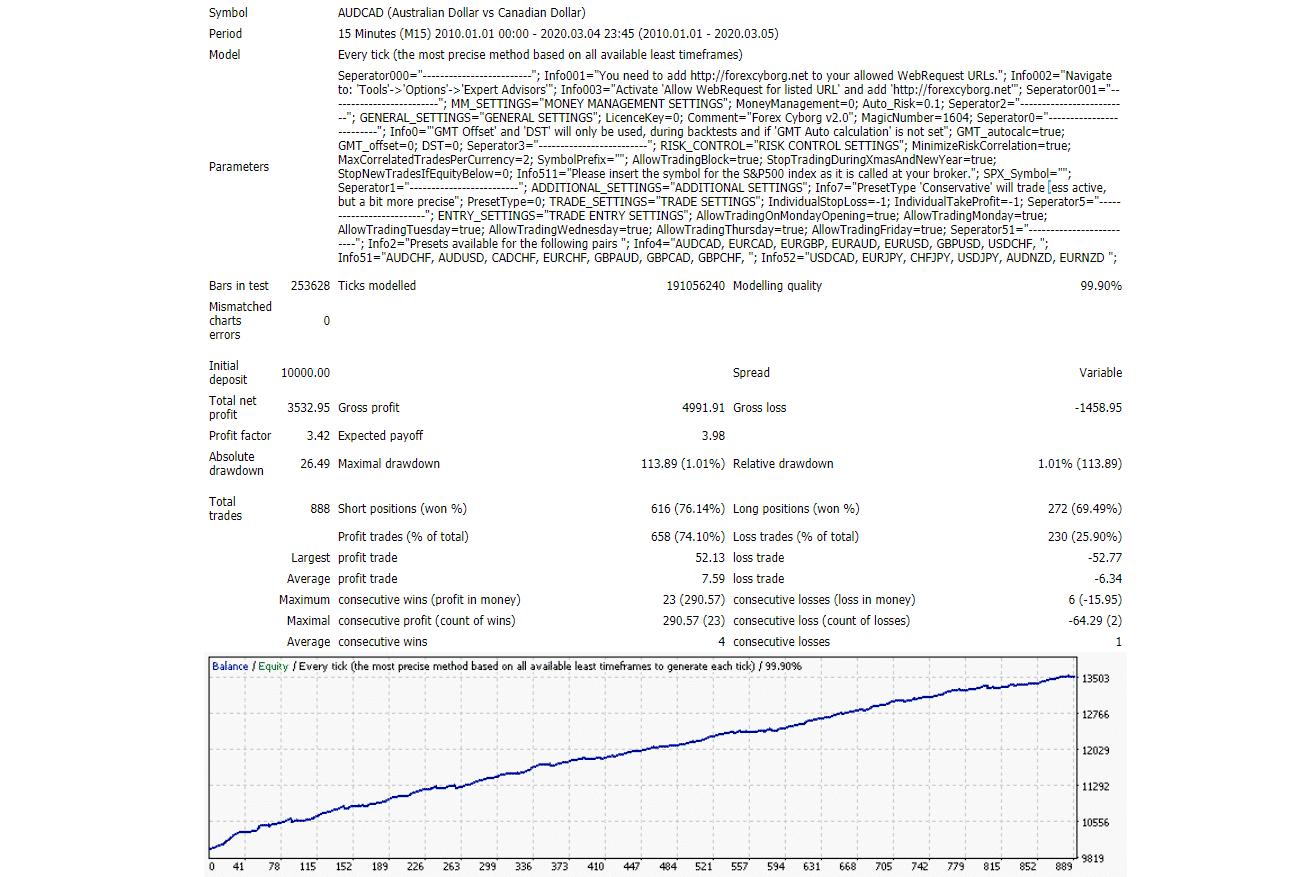 During this backtest, Forex Cyborg gained a profit of $3532.95 using an initial deposit of $10,000. It had a win rate of 74.10%, which was a bit higher than that of the live trading results. The profit factor for this backtest was 3.42.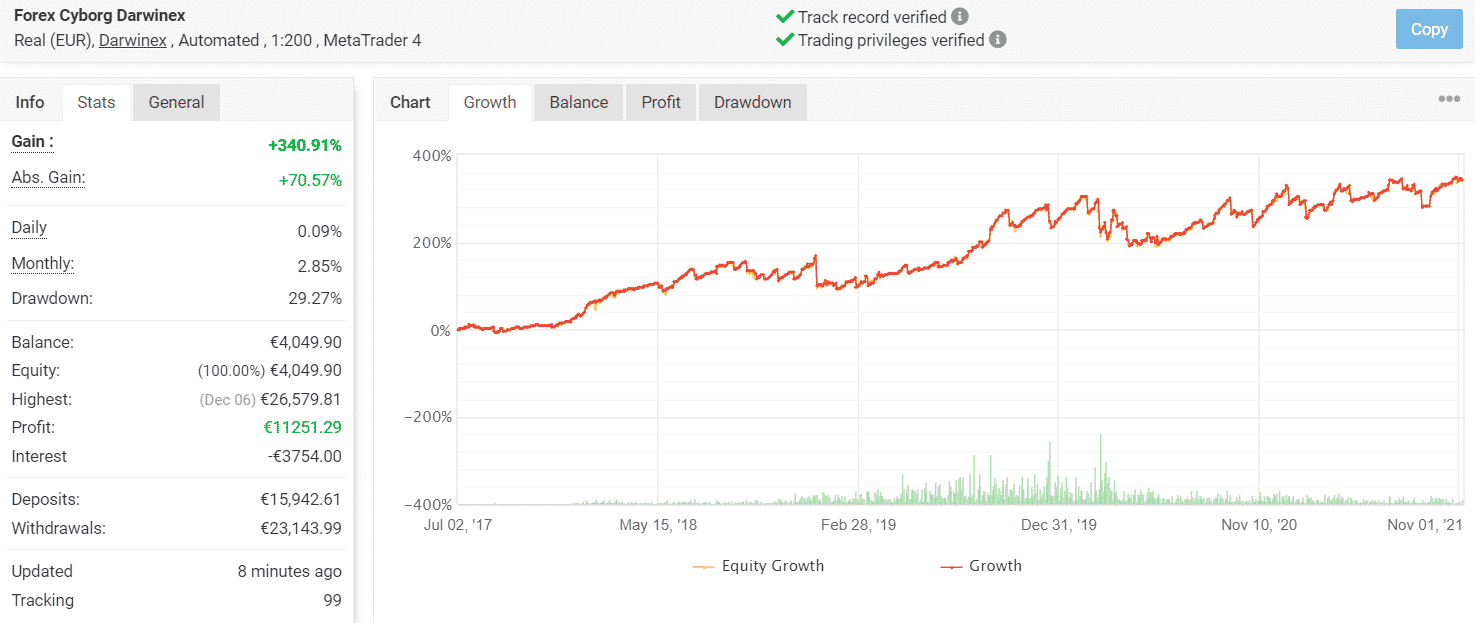 This live trading account on Myfxbook was launched on July 02, 2017. To date, Forex Cyborg has placed 3096 trades through this account, winning 69% of them. It has generated a total profit of 11251.29 Euros. It should be noted that the account has a high drawdown of 29.27%, which tells us that the EA follows a risky approach.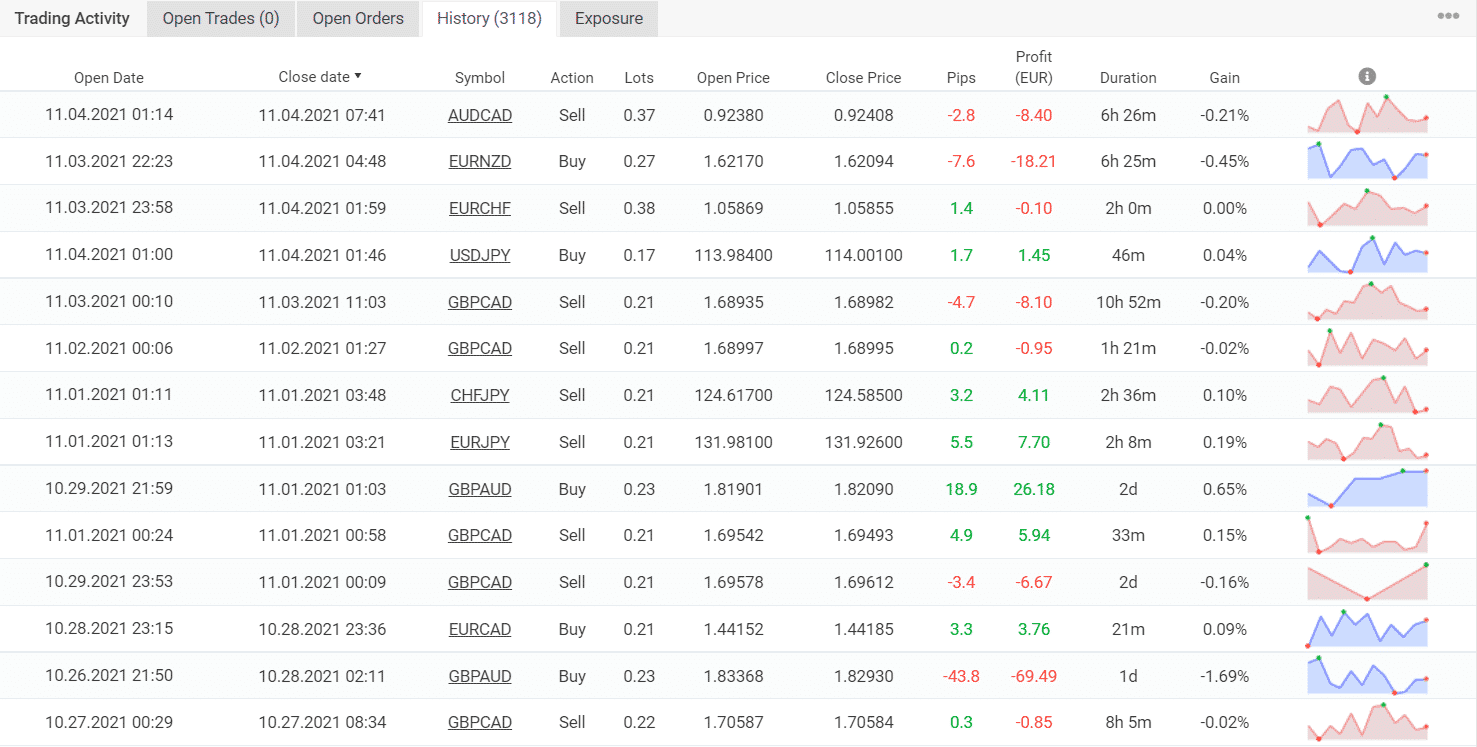 We can confirm this by looking at the trading history. The robot has suffered consecutive losses in recent times, and this makes it a risky trading system.
Customer reviews

There is only one user review each for Forexpeacearmy and Trustpilot. Forex Cyborg clearly doesn't have a decent reputation in the trading community.