Mostly every trader avoids ATS that uses martingale, Grid, or Averaging for placing orders. It is not a secret that such types of strategic approaches are risky for traders. They simply postpone or avoid losses instead of creating standalone profits. Sometimes they can even wipe out your entire investment and ruin your trading account. Forex Paris is an expert advisor developed by Ruben Octavio Gonzalez Aviles, who claims that his robot does not use any risky strategies in trading.

This EA is based on an adaptive and dynamic algorithm that can boast 99% of profitable trading positions in the historical backtest. To find out whether this FX tool is as good as the dev claims, we've prepared an unbiased Forex Paris review. Here we will help you decide whether it is a worthwhile investment solution for you. To know about the recommended Forex opportunities, have a look at our best Forex robots list.
Forex Paris Overview
There is no official website for this FX tool. On its mql5 page, Ruben Aviles provides us with the following information about the robot:
Forex Paris has a "2-in-1 adaptive and dynamic algorithm with more than 99% profitable trades in the historical backtest"
The system has not martingale, smart recovery, grid trading, or averaging in its algorithm
The dev promotes VanrageFx as a good broker to trade with the expert advisors he sells
The robot is optimized for trading 2 currency pairs: GBPUSD and EURUSD
We can also experiment with the other currency pairs. In this case, the default logic of the EURUSD algorithm is applied
The EA was tested and optimized with default settings for the period between January 1 2016 and March 23, 2020
Most vendors have similar offers, claiming that their trading systems are reliable and safe for traders' accounts. They convince their auditory of their system's reliability and make sure it does not use any risky approaches that could be dangerous for our hard-earned money. The devs are certain their trading systems are the best ones in the market and do their best to make us believe it is true. However, well-designed website presentations and attractive promises are not enough for us. We cannot trust blindly. As a rule, when we analyze the trading results, we find many interesting and useful factors that were untold by the vendors: high drawdowns, risky trading approaches like grid or averaging, hidden trading activity, x10 martingale, etc. This one is not an exception.
Pricing
The EA is sold for $349 on the mql5 market. Traders can also rent the robot, paying $199 monthly. Interested in the EA traders are provided with a free demo account, which allows them to try the system before trading on a real account.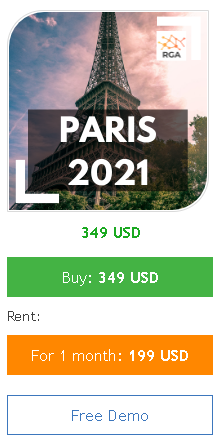 Taking into account that the package does not include a money-back guarantee, the pricing is too high and unconditioned.
How it works
It is a completely automated FX system
The robot can run on MT4 or MT5 platform (there are 2 versions of the robot)
It opens multiple trades per week and closes them the same day when opens
This expert advisor sets fixed levels of Stop Loss and Take Profit
You can customize eight parameters of this expert advisor

The robot performs irrespective of the timeframe you choose. The devs add that their EA will always be working in the same way
The robot does not trade more than 1 deal at a time
Trading Strategy
Unfortunately, we could not find any other info on the strategy used except for the dev mentioning that the robot does not use Martingale, Grid, or averaging. Lack of vendor transparency makes it difficult to carry out a proper analysis of the system's efficacy, reliability, and productivity.
Trading Results
The dev provides 2 backtest reports for GBPUSD and EURUSD currency pairs. Both the backtests have a modeling quality of 99% on the MQL5 site.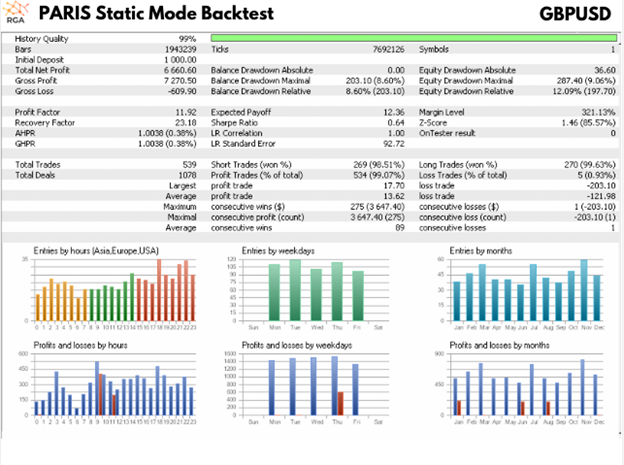 This is a GBPUSD static mode report based on 4 years' data. As per the developer, the backtesting started at the beginning of January 2016 and ended at the end of March 2020. The modeling quality is 99%. There were 1943239 bars in the test. With a deposit of $1000, the robot generated $6660, 60 of the total net profit. A profit factor was high – 11, 92. The maximal drawdown was only 8, 60%, which looks good and tells us that the robot traded with low risks to the account balance. This EA closed 539 trades with 99, 51% of the win rate for Short and 99.63% for Long trading positions.
The dev failed to provide verified trading results of Paris EA and now it's clear why. With a deposit of $450, the robot ended with a money loss of -$108, 95, and $341 of withdrawal on April 23, 2021. There were 10 deals performed, 7 out of which were won. The average loss (-63.93 pips/-$49.09) was x8 times higher than the average win (5.77 pips/$5.47), making trading with this EA risky and dangerous.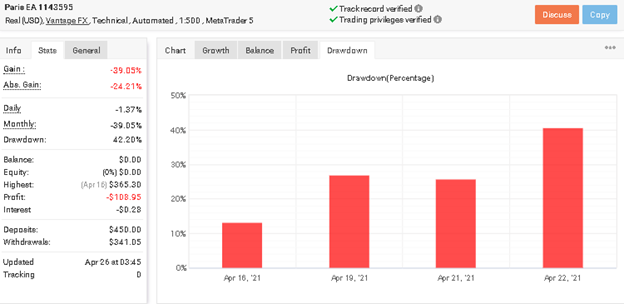 A deposit of $100 shows that the traders decided to give a chance to this expert advisor, but the last deal was closed with a huge loss that is x4 times higher than the average winning trade.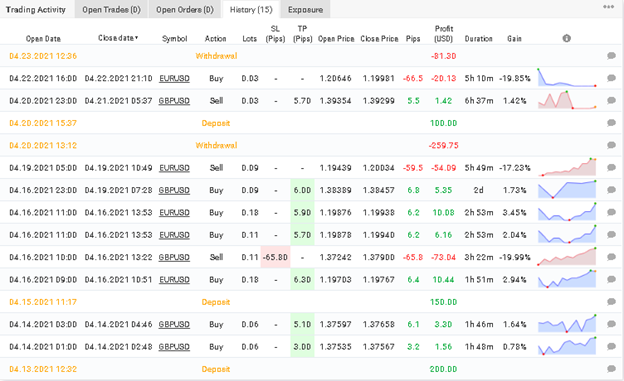 There is nothing to talk about. The account was ruined and $108 of the deposited funds were lost.
Customer reviews
There are 27 reviews from customers on the mql5 page. Based on these reviews, the EA has only a 1,5 out of 5-star rate. Most traders are dissatisfied with their trading results.