Brian Jones, the developer of Forex Sugar EA, promises that this robot can 'make 'trading more efficient and profitable for you.'

Although it's a good sign that the developer provided his full name, it would be much better if he attached his photo and provided some information about himself. We've also found that Brian has his blog on Medium, where he promotes his product. However, as you can see, the last post published was on July 12, 2020. What happened? Why has there been no new post published since summer last year?

Today we are going to provide our community with a detailed Forex Sugar EA review to let our readers understand all the strong and weak sides of this trading system.
Forex Sugar Features
To start with, we'd like to analyze their product presentation. It consists of live trading results of this EA, key features of the robot, strategy, and pricing details.
Here are the advantages of this EA listed:
It's 100% automated forex trading software
It was designed to trade on the MT4 terminal
Leverage of over 1:500 is recommended
The minimum capital requirement is $500 with a leverage of 1:500
M15 (Minute 15) timeframe is recommended
The robot is compatible with all MT4 brokers
The robot can trade different currency pairs, but the most recommended by the dev are EURGBP, XAGUSD (silver), XAUUSD (gold), AUDUSD
It works with Cent, Micro, and Standard accounts
The dev guarantees 5-20 trades for 1 currency pair daily
Traders can expect from 30%-100% of monthly profit
The robot is based entirely on smart calculations and technical indicators
Its settings can easily be adjusted to suit the individual needs and preferences of a trader
If needed or in case of high market volatility users can jump to manual trading
It does not use Grid or Martingale
It uses a Scalping trading approach, technical indicators, and mathematical calculations
The robot can trade excluding news release duration
Traders can easily set the duration in minutes, prior and post to a news event
The EA is optimized for Windows only
To run the robot on MAC OS traders need to use VPS service
No prior experience needed
The robot works 24 hours a day
It can be turned on or off for some days or weeks if needed
It' easy and quick to set up
Pricing
Users can buy a digital copy of this trading system on the official website of the developer. It is available to buy in 2 different packages:

The first package comes for $99 (instead of $375) and includes 1 real account and an unlimited number of demo accounts. The second plan costs $264 (instead of $999) and offers 5 real accounts and an unlimited number of demo accounts. The pricing of the robots is quite competitive as most EAs cost above $300. However, the robot comes without a money-back guarantee, which is a major con for this trading tool.
How it works
The robot used technical indicators with live news-events combo
Indicators send signals to the EA and tell it when to open and close a deal
SL and TP are dynamic and are not fixed in this expert advisor
It trades during low market volatility

Traders can also adjust the EA and let trade it or stop it during any News release
Trading Strategy
The robot uses technical indicators and news trading strategy combo. Thanks to its indicators, the expert advisor receives signals that tell it when it is the best time to open trades. It allows the EA to open new deals only during the most stable and profitable market conditions.

The robot can be stopped to trade during any News release. However, taking into account that it is the main aspect of their trading approach, we'd not recommend it.
The dev also points out that with the help of indicators and news impact combo, traders can:
Hide their Stop Loss as well as Take Profit from their broker
Gain more profitable pips in case of favorable market condition
Avoid big losses when trading

Trading Results
This is a live fxblue account trading XAGUSD currency pair. Deposited at $1000, this EA gained $1, 635 of the profit for 66 days of trading activity.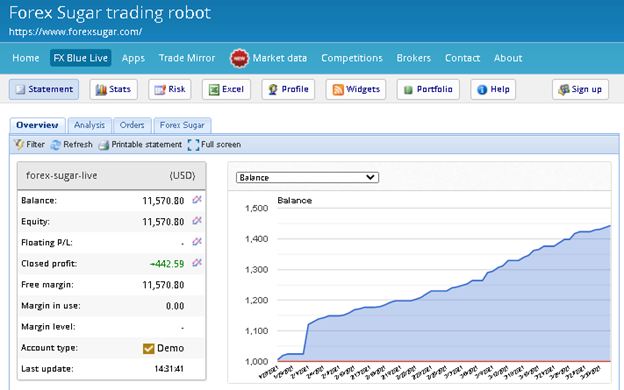 Its total net profit is $442, 59. The total gain is 44, 4%, average monthly return is – 17, 4%, and average weekly gain is 3,9%. The profit factor is 1, 37.


The system trades XAGUSD (gold). For over 2 months of trading activity, the robot has traded 205 trades and 157 trades were winning ones, which represent a win rate of 79.3%. It trades 3, 1 trades per day with an average trade length of 6.7 hours. The average loss ($-29.10 ) is twice larger than the average win ($10.42). It tells a lot about their trailing Stop Losses, and closing deals with little losses. The risk/reward ratio is 9.05.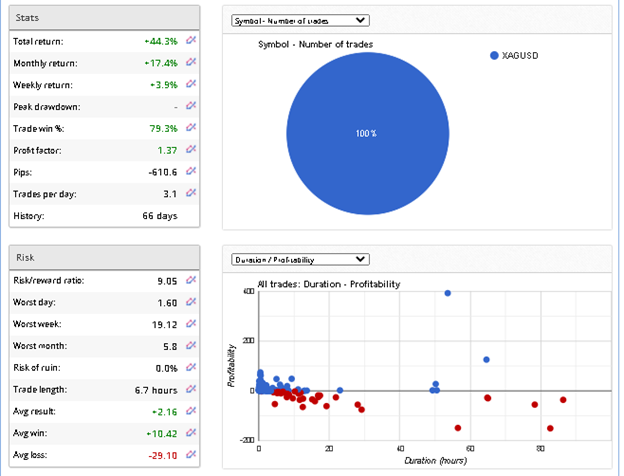 It trades both Buy (103 trades) and Sell (102 trades) directions equally by the number of trades:

February and March 2021 were successful months for trading. The robot traded 108 trades in March (generated $206, 54) and 81 in February ($204, 80).
Customer reviews
There are no customer reviews published on the website of the developer. Moreover, there is no people's feedback on third-party websites such as Quora, FPA, or TrustPilot.