FX Deal Club provides complete FC Deals Management for traders and investors.

The presentation includes some intel about who they are. From it, we have no idea who they really are. The developers try to convince us that they have been working on Forex since 2001. It's manipulation because they should have been rich if so.
FX Deal Club Features
We have almost nothing explained about the service.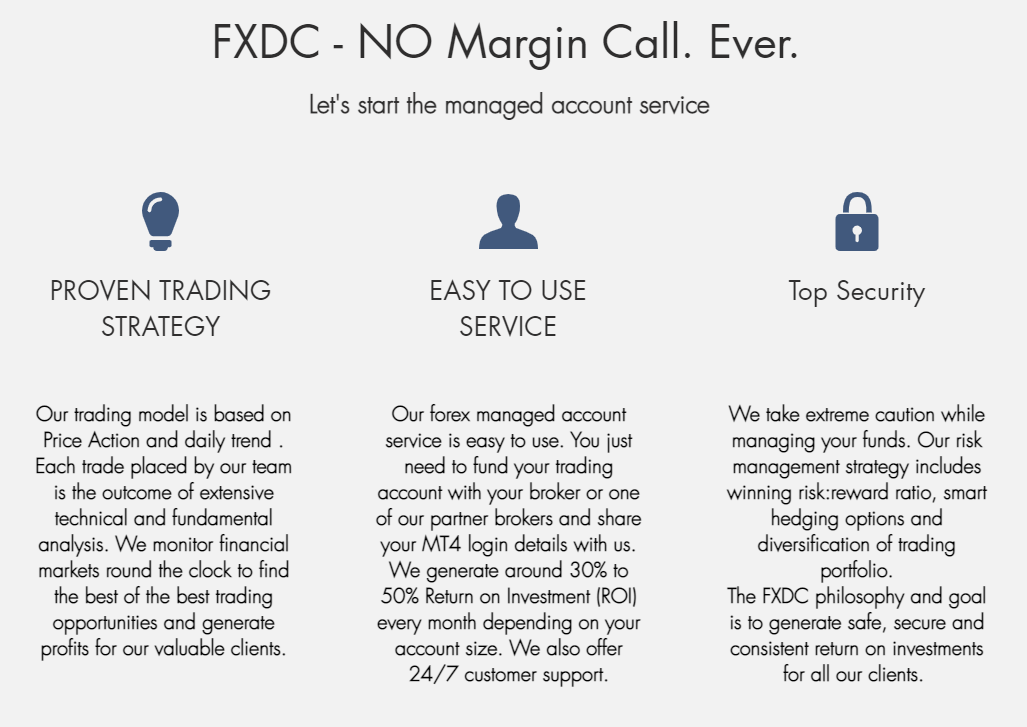 The system works with well-designed strategies only.
They have over 20 years of Forex-related experience.
The developers suggest we work with eighteen currency pairs.
Trades are based on analysis that takes into account technical and fundamental factors.
The system is seeking precise Entry and Exit points.
To start managing our account, the developers want us to share the login and password for the account.
The Risk to Reward Ratio can be from 30% to 50%.
We can rely on 24/7 welcome and knowledgeable support.
We are allowed to pay via Bitcoin, PayPal, and Scrill paid services.
They accept the accounts for managing if they are over $1000.
The suggested balance is $5000.
We may be asked to change a broker.
They ask for $250 as an advance payment.
They charge a 35% commission for winning orders.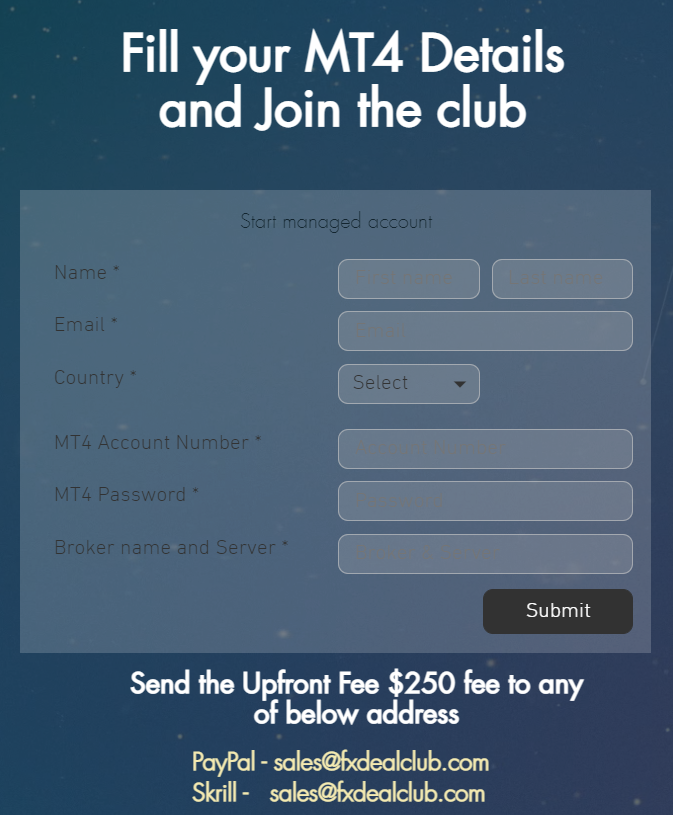 We have no way to avoid providing our account security data to them.
Pricing
The pricing has two parts. The first one is a $250 prepayment. The second one is a 35$ commission for won trades.
There's no refund policy.
How it works
They managed our account using our login and password. We have to do nothing in addition.
Trading Strategy
The main strategies the developers told nothing about are Hedge with aggressive Martingale.
The other strategies Price Action and Support and Resistance levels trading.
It has to trade, most likely, on the H1 time frame.
Trading Results
The developers provide us with no backtest reports. The system wasn't tested well, and this has triggered losing a real account.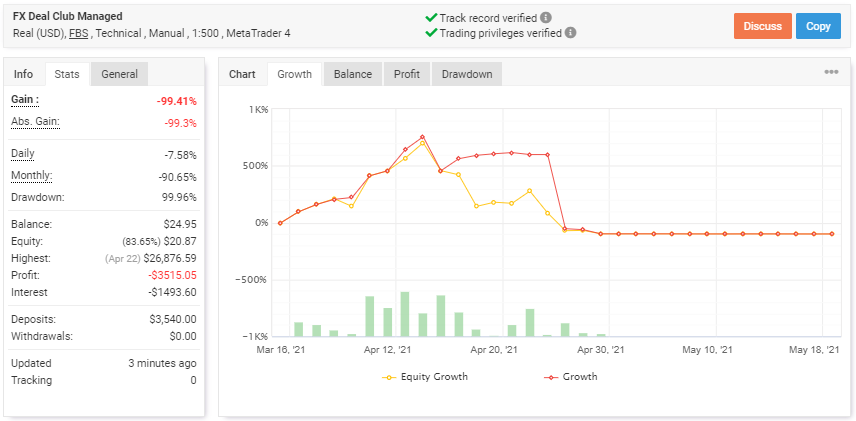 We've got removed from the presentation account where $26,876 has been burnt. It's still a real USD account on FBS. The orders are executed "manually." The leverage is 1:500. Trading goes on the MT4 platform. The account has a verified track record. It was created on March 16, 2021, and deposited at $3,540. Since then, the absolute gain has become -99.41%. An average monthly gain is -90.65%. The maximum drawdown was -99.96%. No one checks the trading results of it.

The advisor traded 159 orders with -2670.3 pips. An average win is 15.49 pips when an average loss is -112.83 pips. The accuracy rate is 75% (34/45) for Longs and 74% (85/114) for Shorts. An average trade length is 19 hours and 37 minutes. The profit factor is 0.91, so no luck for us.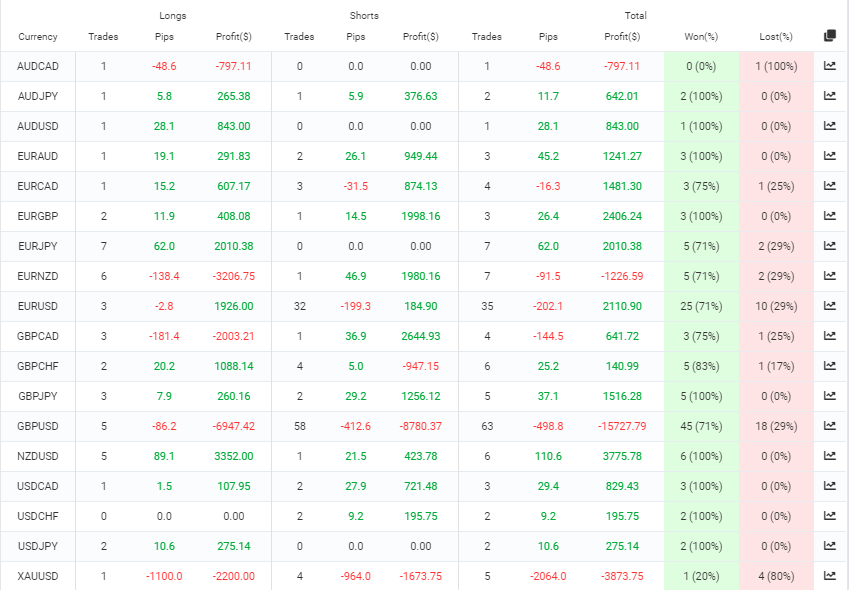 The advisor used aggressive Martingale. We may see this for lost pips on EUR/USD, but profits in total. So there's no great strategy behind the robot.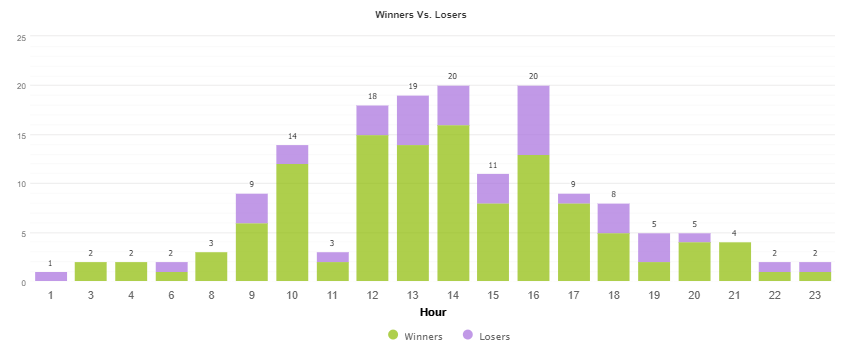 It executes orders on the European trading hours.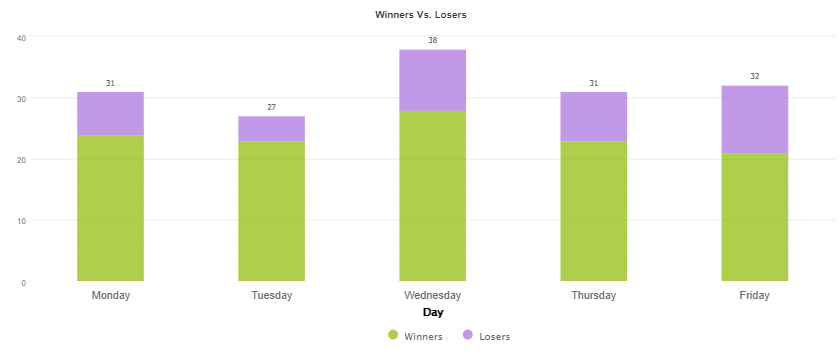 Tuesday (27 deals) is the less traded day.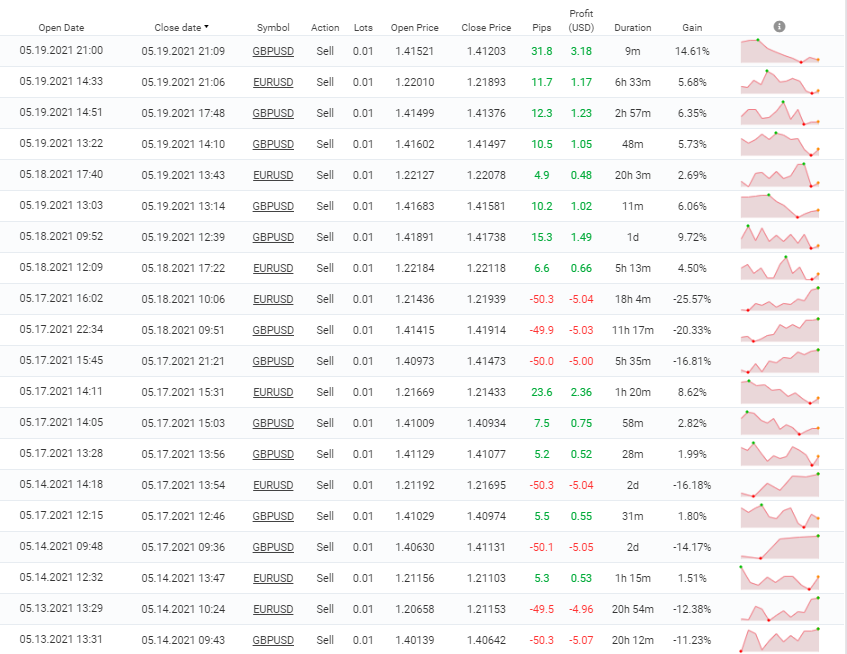 It keeps trading on a $24.95 account. It seems like there's automatic trading only.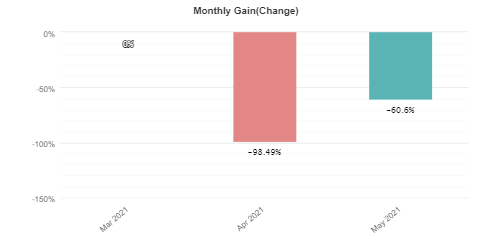 No month was profitable.
Customer Reviews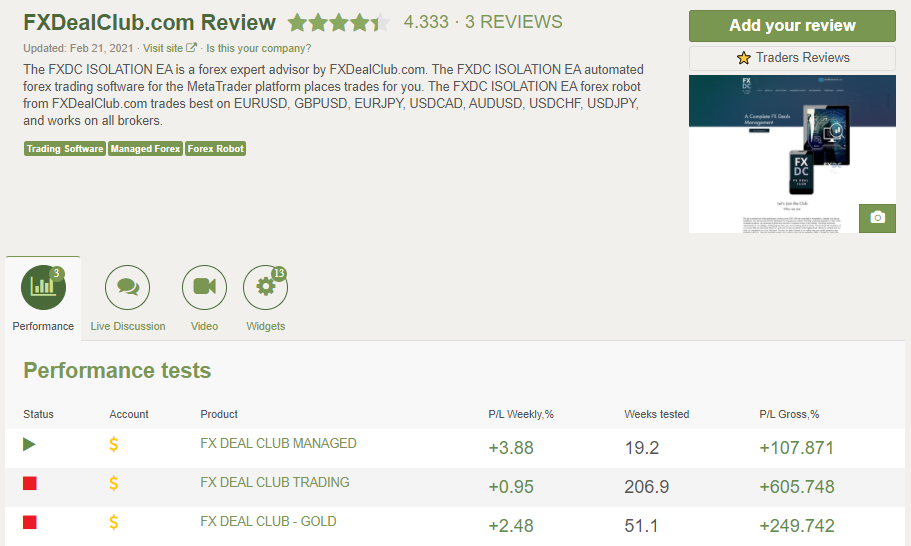 We've got a FXDealClub page on Forex Peace Army. The rate is 4.333 based on 3 reviews. There are three accounts connected to it where two of them were stopped for no reason. It's weird.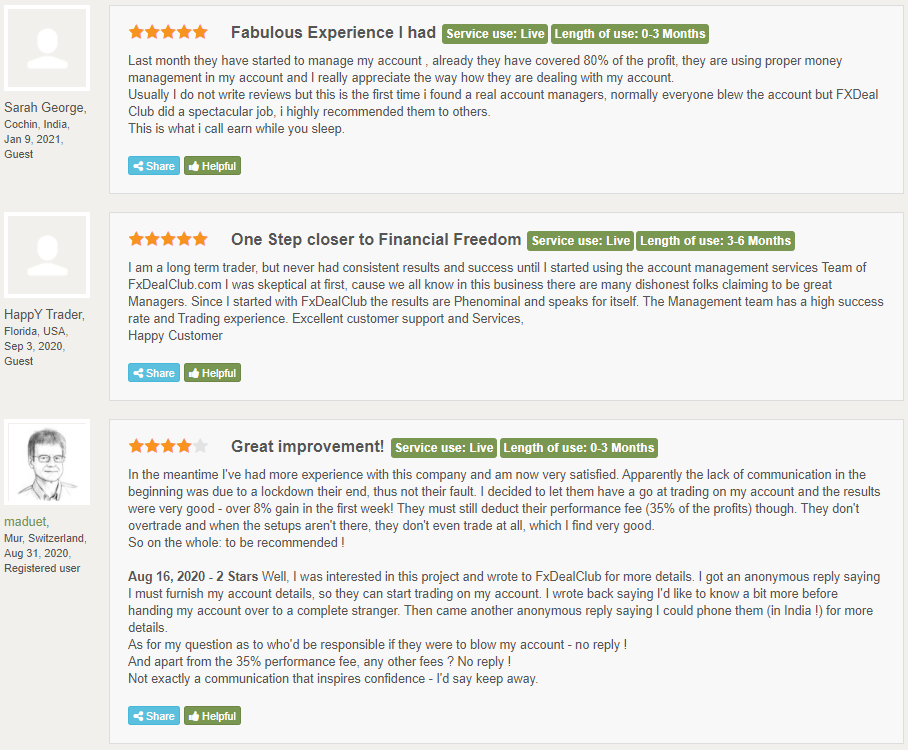 The positive testimonials after seeing a blown account look like a bad joke.