FX Oxygen is a Forex EA that promises 20% monthly profit as well as stable profit every week. According to the vendor, it is a qualitative and reliable robot that has a successful history of trading in a live account with real money. It has also been claimed that the system has shown excellent results during a 10-year backtest.
We have no information available on the parent company that is responsible for developing FX Oxygen. It is not known what kind of experience the developer team has or where the company headquarters are located. So from a vendor transparency perspective, we are not at all impressed by what this robot has to offer.
Choosing the best robot is no mean task, especially considering there are so many scam services flooding the market these days. As such, we need to carefully analyze all the different aspects of the system, namely trading strategy, features, price, live trading results, customer reviews, etc. For further tips on how to choose the best EA, check out our best Forex robots list.
FX Oxygen Overview
On the official website of FX Oxygen, we have the vendor giving us an extremely brief presentation. The main features of the robot, along with the money-back guarantee offer have been highlighted. There is a short paragraph detailing why this system was designed and for what purpose.
Next, we have the pricing details, as well as live trading statistics and backtesting data. In the end, we have a contact form using which you can send a message to the service team, after providing your name and email address. It doesn't appear like the vendor is offering something unique or special through this product.
Pricing
FX Oxygen is available for $210. This is pretty standard compared to the market average. The vendor provides a 30-day money-back guarantee for this product. This refund is provided only when the robot has had a drawdown exceeding 50% even after using the default settings.
How it Works 
When you purchase this EA, you get access to a single lifetime license. A detailed user manual is also provided to all traders, and the support team is always ready to assist you 24/7. Moreover, any future updates are provided for free.
This robot has two different modes of operation, namely reliable mode, and highly profitable mode. The former can be used for winning profits at a steady rate while keeping the risk low. You can use the highly profitable mode if winning large profits in a short span of time is your goal, but it also comes with a sizable amount of risk.
Trading Strategy
On the official website, the vendor does not even specify the trading strategy used by this robot. This comes as a disappointment because we can get some important details about a robot's profitability by studying the technical details of a trading strategy.
Trading Results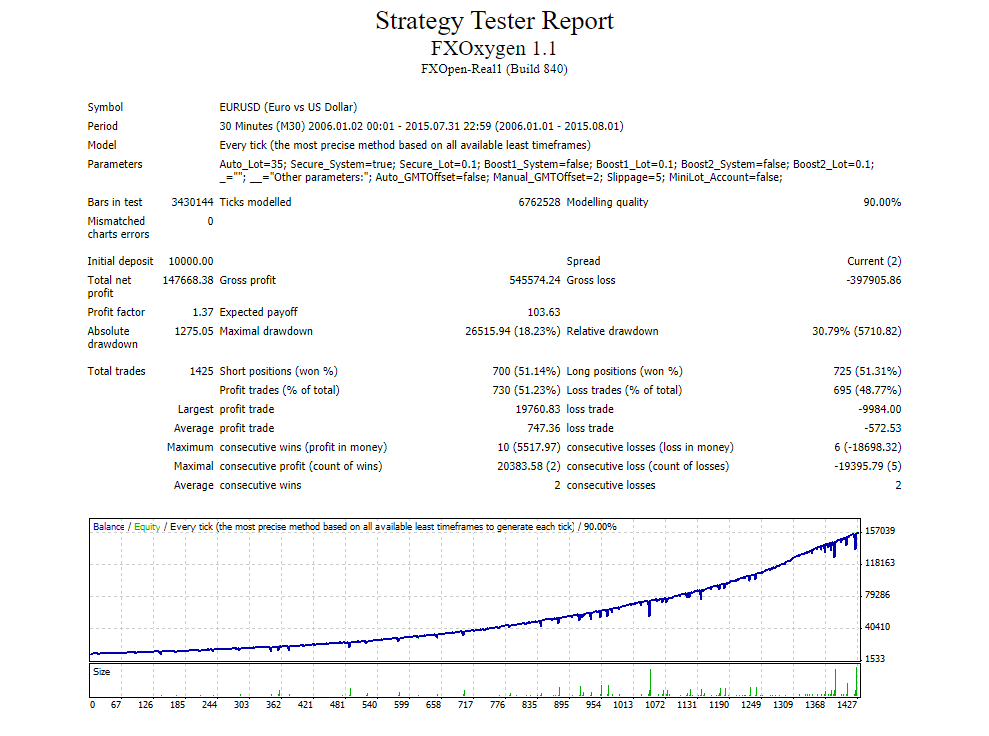 This is a backtest that was conducted for the EUR/USD pair starting from 2006 to 2015. Using an initial deposit of $10,000, a total net profit of $147668.38 was generated. The relative drawdown for this backtest was quite high at 30.79%, which tells us that the robot was using a high-risk approach.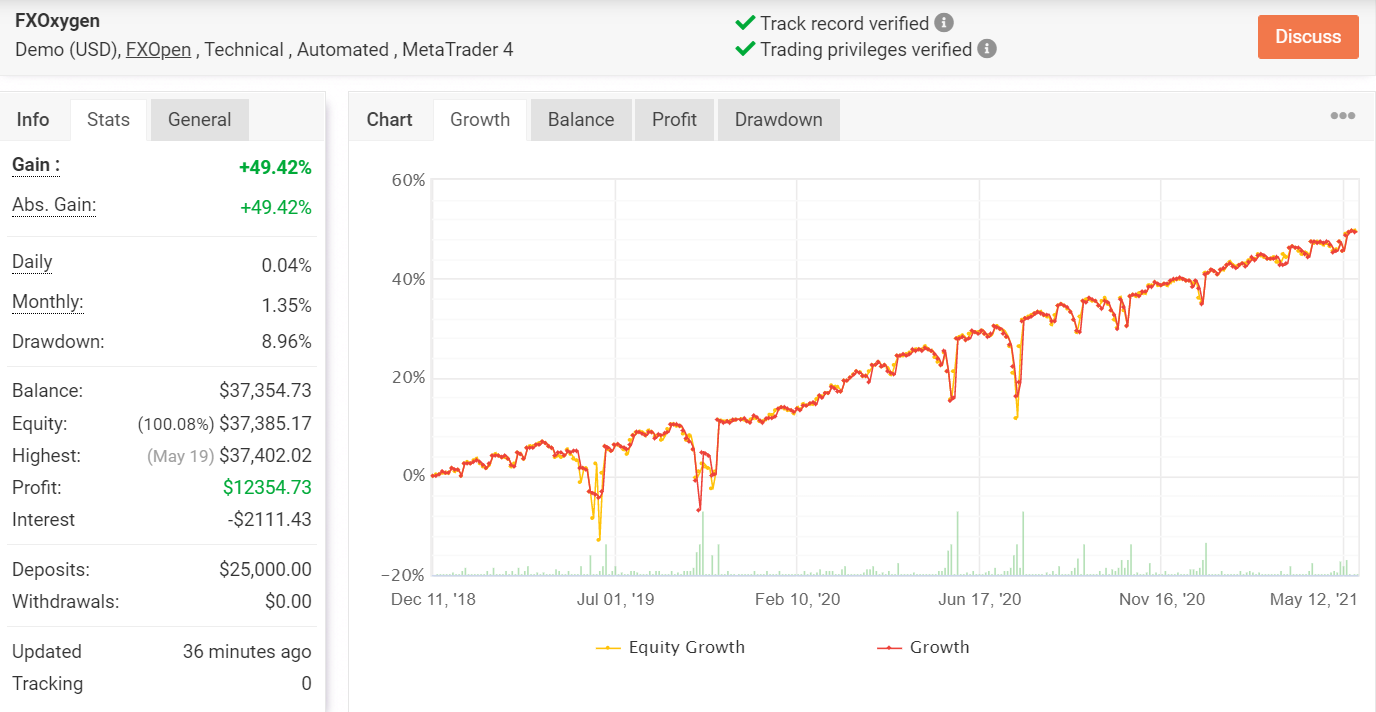 Here we have a live trading account for FX Oxygen through which 419 trades have been placed since December 2018. It only has a moderate win rate of 51%, and the monthly gain of 1.35% is much less than what the vendor had promised. To date, it has accumulated a total profit of $12354.73 and has a low drawdown of 8.96%.
The profit factor for this account is quite decent at 1.33. Although the results are not necessarily bad, they are not exceptional either, and there are several robots on the market with better live statistics.
Customer Reviews
We were unable to find any customer reviews for FX Oxygen on third-party websites like Quora, Forexpeacearmy, Trustpilot, and Myfxbook. It seems like this robot hasn't quite managed to build a reputation for itself yet.