FX Profit Signals focuses on providing signals for the Forex-related community. The presentation looks simple. The developers could spend a bit more time explaining everything to us. The claim is "Learn, Trade, and Profit with the Best Forex Signals." We are here to help you figure this out.
FX Profit Signals features
We have a list of explanations that we gathered about features, settings, and various details.
There are free signals provided for all clients.
The developers insisted that there's a "powerful Forex trading analysis tool that provides subscribers with Buy/Sell trading signals."
The system delivers signals ASAP.
They are able to help us to trade much better.
There are pairs and free signal packages.
The win rate of them should be high.
Developers provide us with welcome technical support.
The signals have the next parameters: Time, Entry Point, Direction, Cross Pair, Take Profit and Stop Loss.
We don't need to do anything in addition.
They "give us strategies for all market conditions (trend following, for trend reversal, or counter-trend trading)."
There are "the critical areas."

The system generates "clear entry and exit points."
The developers provide innovative trade ideas for Forex.
They can share thoughts about risks.
We can enjoy copy trading software that can help us with filling signals on the terminal.
"Everything was developed only by professional traders, developers, and analysts."
The developers behind the system have over 14 years of trading experience.
We can download or watch training videos on the account page.
Pricing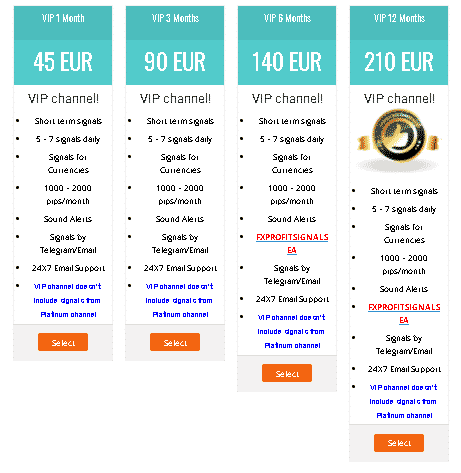 There are four VIP packages provided. The one-month package is available for €45 and the three-month package costs €90. We can rely on 5-7 short-term signals daily, 1000-2000 pips monthly, a telegram channel, and 24×7 support. The developers ask €140 for a six months pack. The annual pack costs €210. There is an FXProfit Signals EA provided.
The developers explain to us the next about the packages:
We can receive more trading opportunities to achieve better results.
They analyze signals quite well before providing.
They are provided for Gold, Silver, and WTI in addition.
If the market changes its direction, we are informed by the devs ASAP.
"The premium members exit the market profitably twice as often."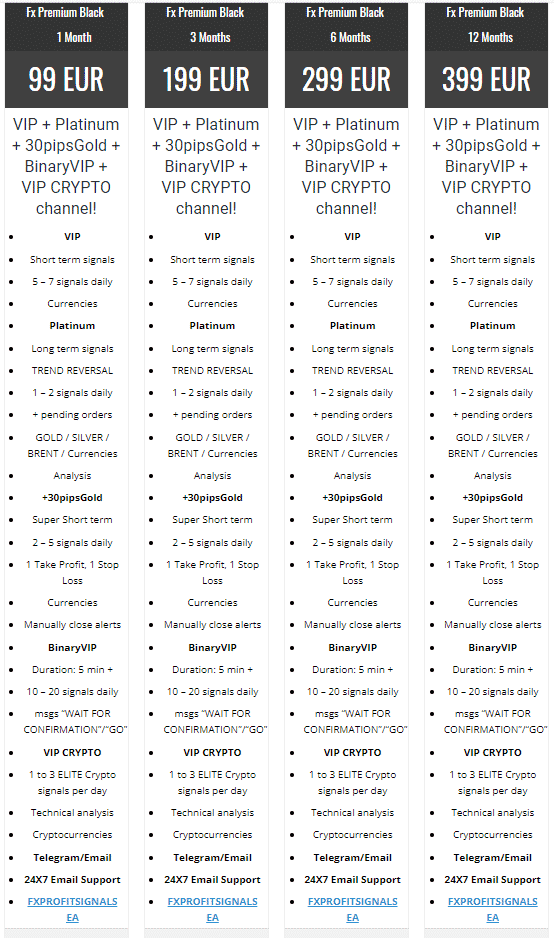 The developers have four platinum packages that vary by the length: 99 EUR a month, 199 EUR for three months, 299 EUR for half a year, and 399 EUR annually.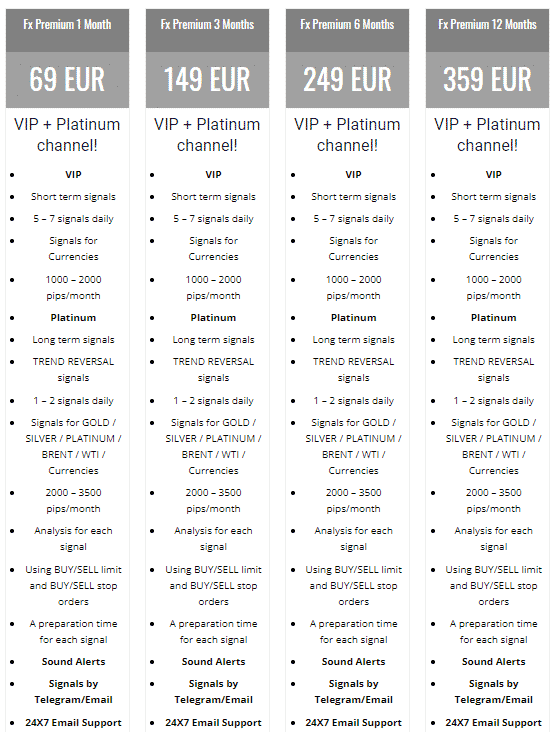 There are four premium packages that cost 69 EUR a month, 149 EUR for three months, 249 EUR for half a year, and 359 EUR annually.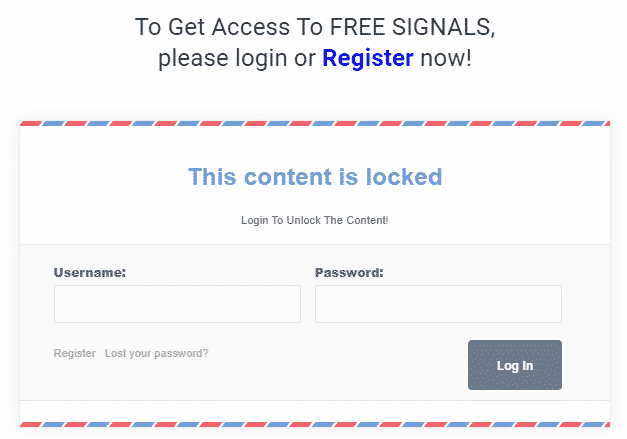 We have to complete registration to get free signals.
How it works
We can fill signals manually.
The copy trading software can copy them from the master account to ours.
On the expensive packs, we can use an automatic advisor to trade for us.
Trading strategy
We don't know details about trading strategies.
There's no intel about currency pairs.
The devs don't provide details about time frames.
Trading results
The presentation isn't featured by backtest reports. It's a huge con because we don't know how the system worked with the past data. We have no intel about what the win rate was, how deep drawdowns were, what broker was chosen, etc.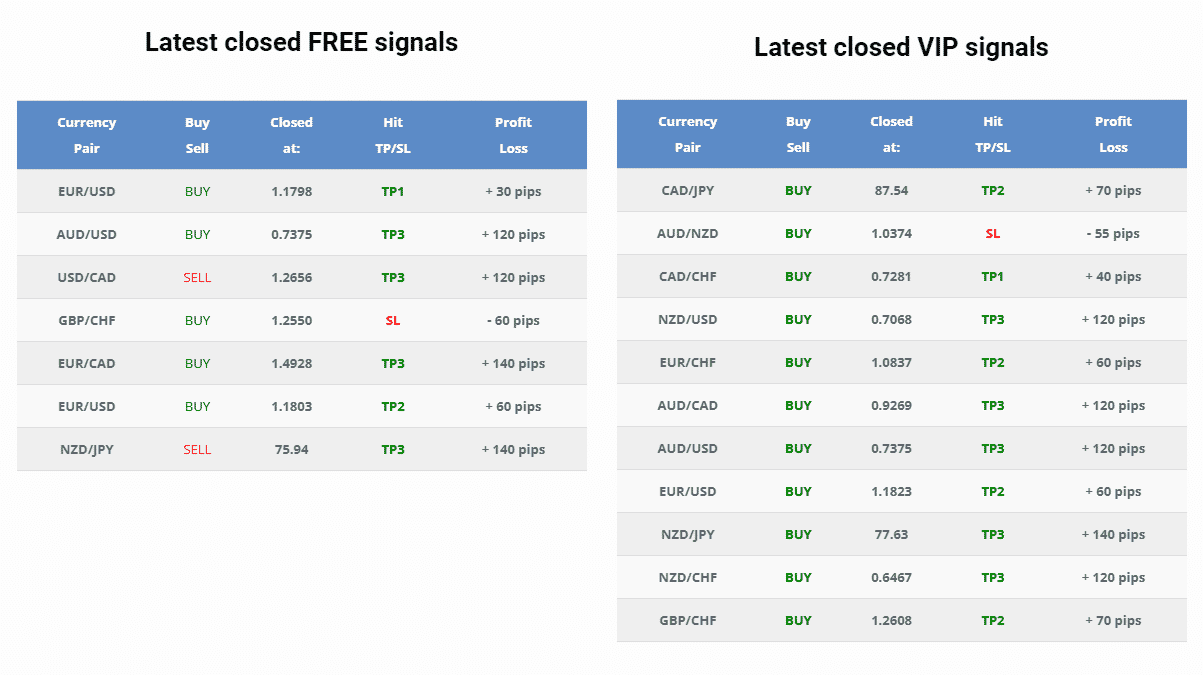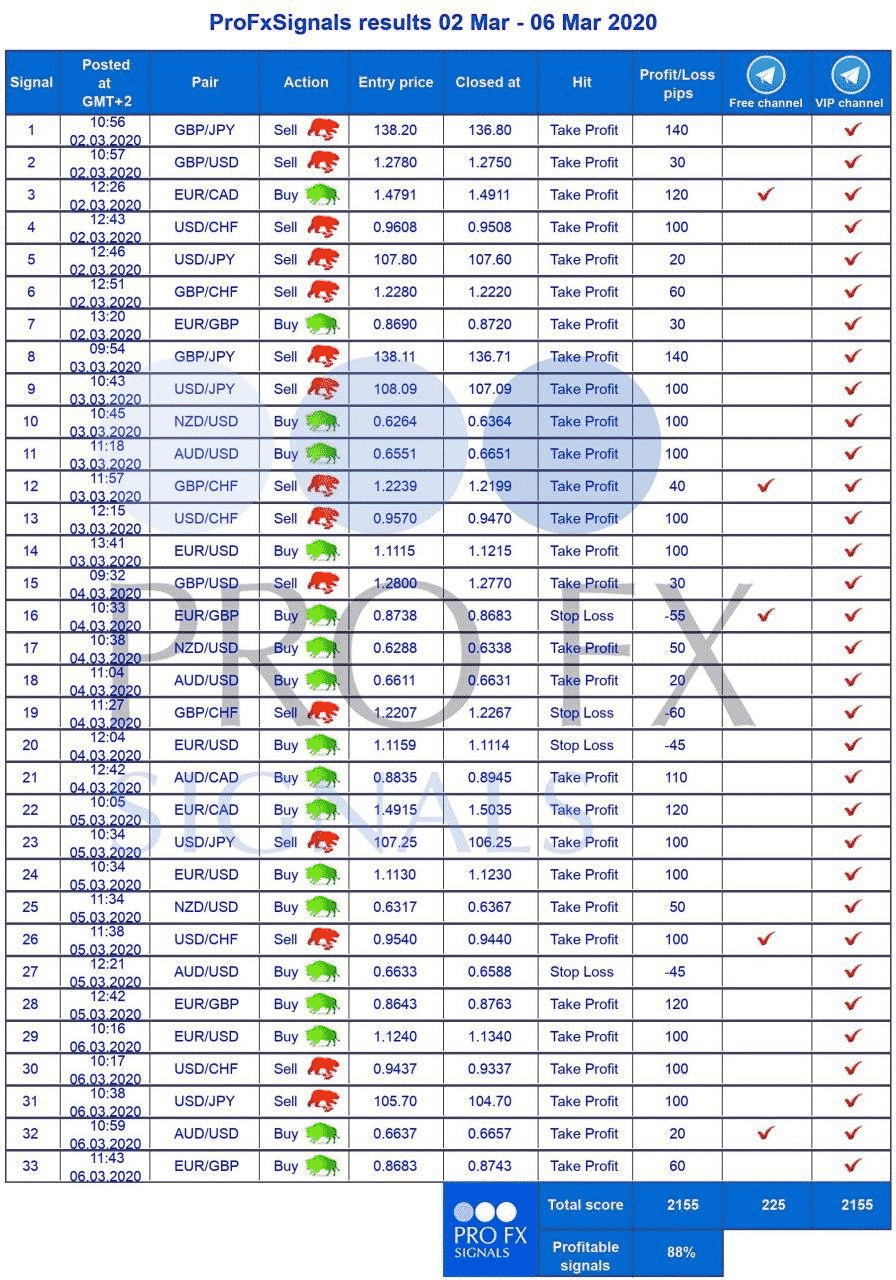 The developers decided not to provide us with relevant trading results that were verified by Myfxbook. We have some data that can be easily changed. There are no shirts and details like accuracy, profit factor, growth, drawdowns, average win and loss, trade length, and so on.
Customer reviews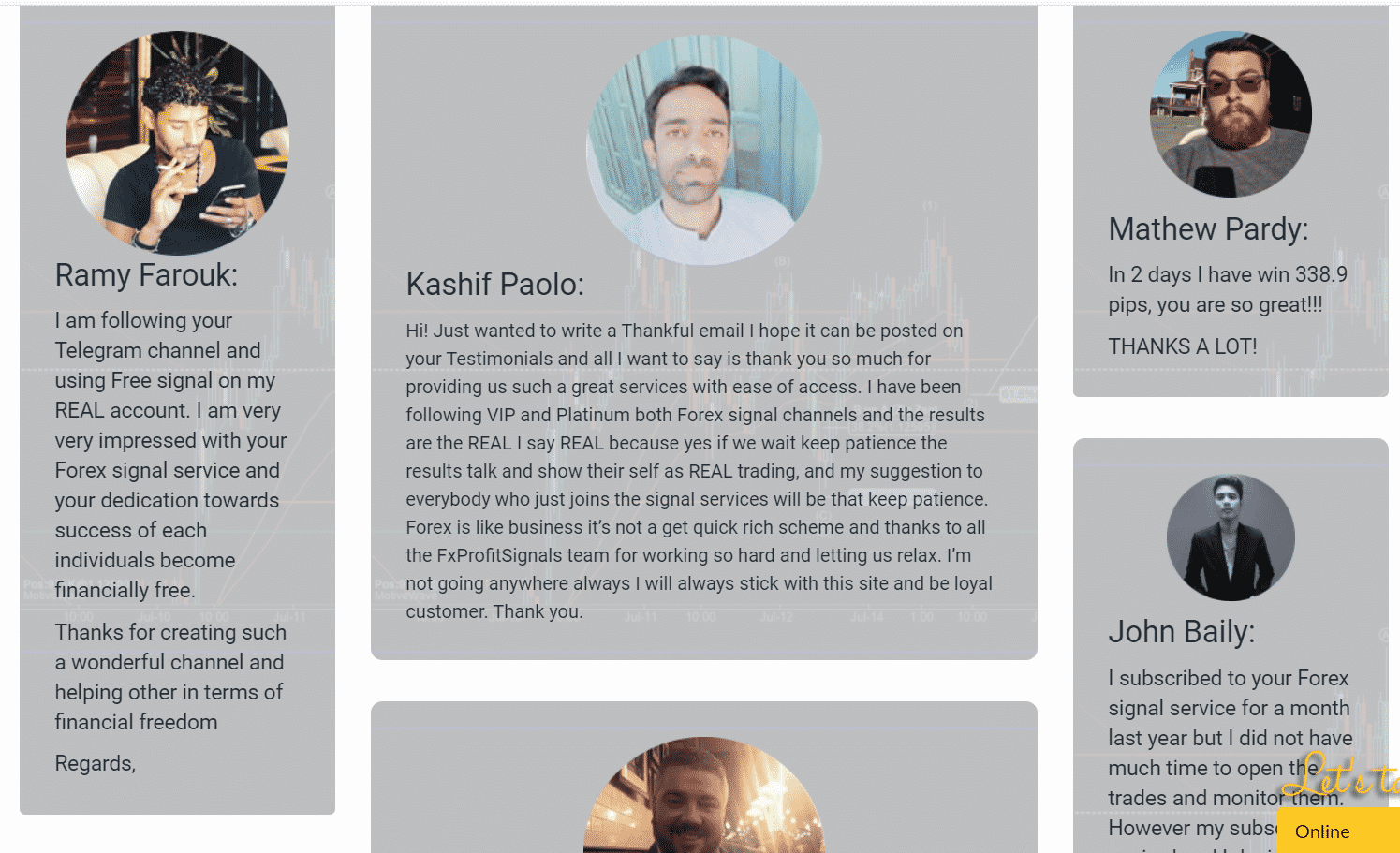 We can find some testimonials on the site. Alas, there are no similar testimonials on Forex Peace Army or Trustpilot.