FX Stabilizer is a powered-by-Forex-Store trading solution. As for these robots, the presentation looks unprofessional with a huge lack of details.
FX Stabilizer Features
We have grouped up all features and settings in the list:
FX Stabilizer trades automatically.
The trading is allowed on six or eight pairs.
The system has two trading modes: Durable and Turbo.
There's a hard drawdown control feature.
The robot is designed for both terminals: MT4 and MT5.
We can use it on any broker we want.
We can buy a Pro version which we can customize as we need.
The drawdowns will be little and short-term.

As we can see, the presentation is featured by manipulations.
Pricing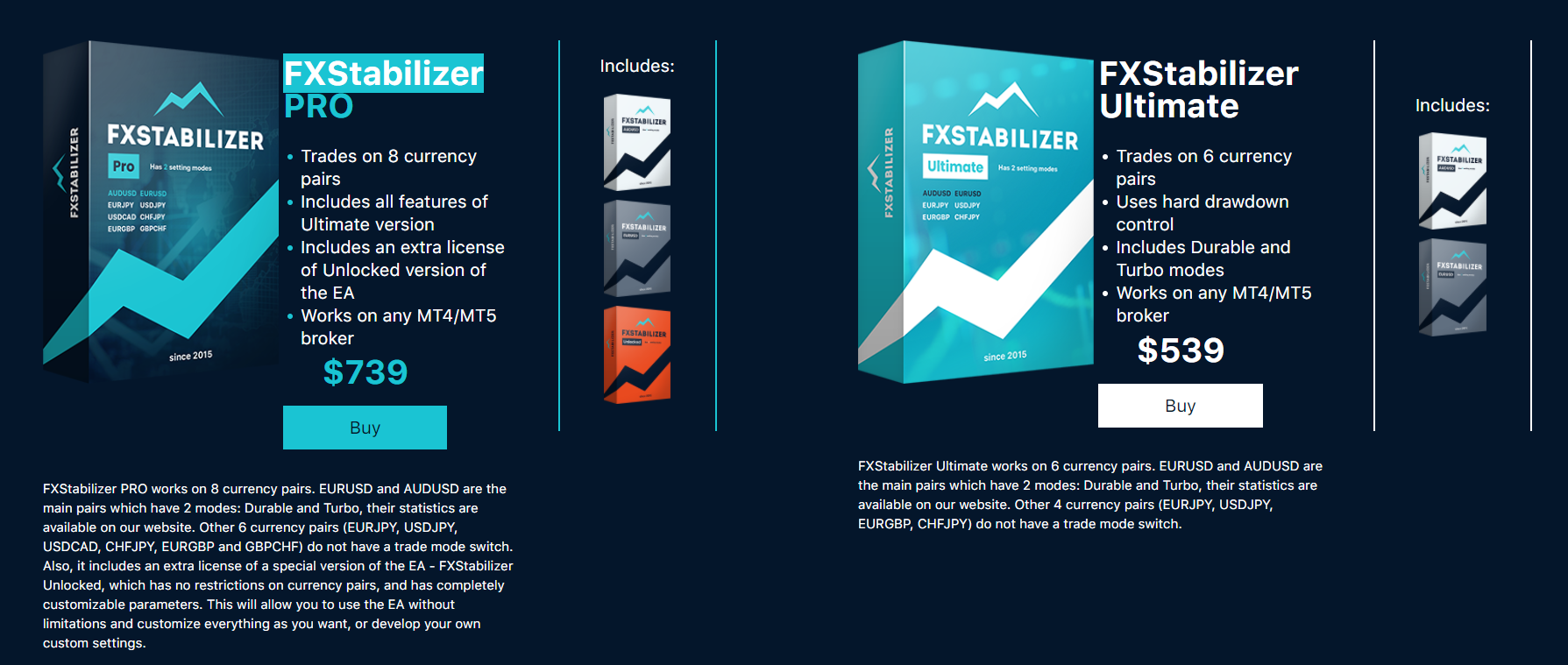 There are two packages: FX Stabilizer Pro that costs $739; FXStabilizer Ultimate that costs $539. Pro version allows trading on EUR/USD, AUD/USD, EUR/JPY, USD/JPY, USD/CAD, CHF/JPY, EUR/GBP, and GBP/CHF. The Ultimate version has the next symbols to work with EUR/USD, AUD/USD, EUR/JPY, USD/JPY, EUR/GBP, and CHF/JPY. We can rely on a 30-day refund policy. There should be free updates, upgrades, and support.
How it works
The system works fully-automatically for us on the MT4 and MT5 platforms.
Trading Strategy
It performs Grid and Martingale strategies.
EURUSD and AUDUSD are the main pairs.
All pairs are EUR/USD, AUD/USD, EUR/JPY, USD/JPY, USD/CAD, CHF/JPY, EUR/GBP, and GBP/CHF.
According to trade length from the trading results, the robot should trade on the H1 time frame.
Trading Results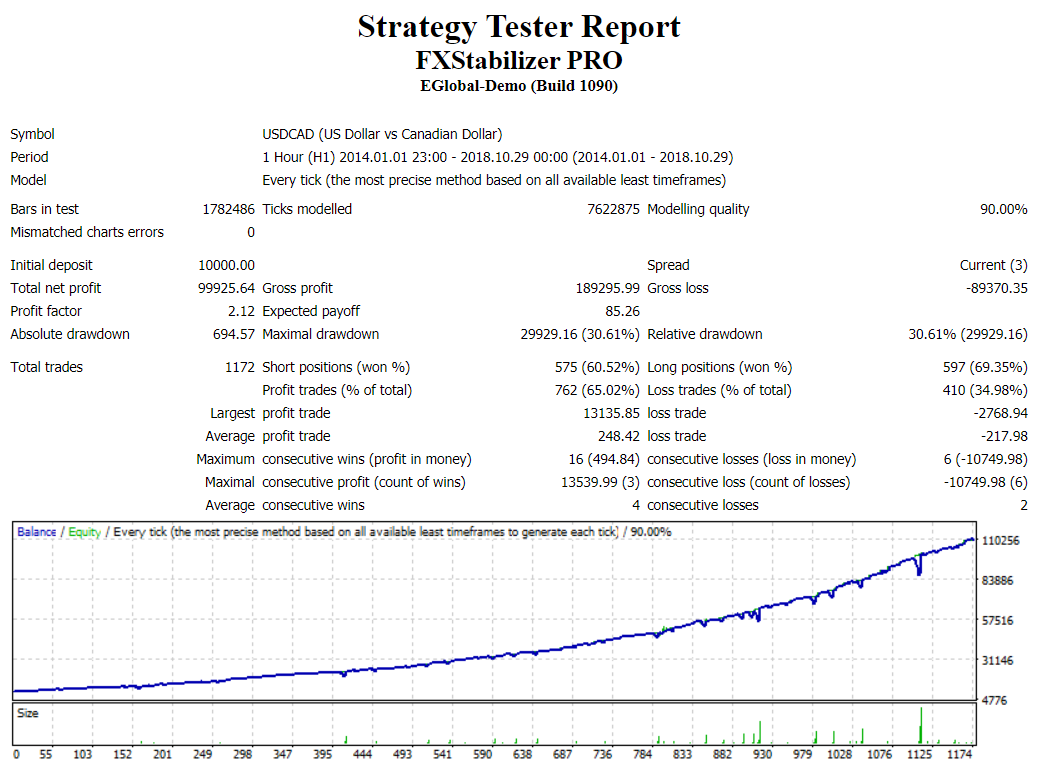 We have got a USD/CAD backtest on the H1 time frame. The data was chosen from 2014 to 2018. The modeling quality was 90.00%. The spread was set at three pips. An initial deposit was $10,000. The total net profit amounted to $99,925.64. The Profit Factor was 2.12. The maximum drawdown was quite high – 30.61%. FX Stabilizer closed 1172 trades with a 60.52% win-rate for Shorts and 69.35% for Longs.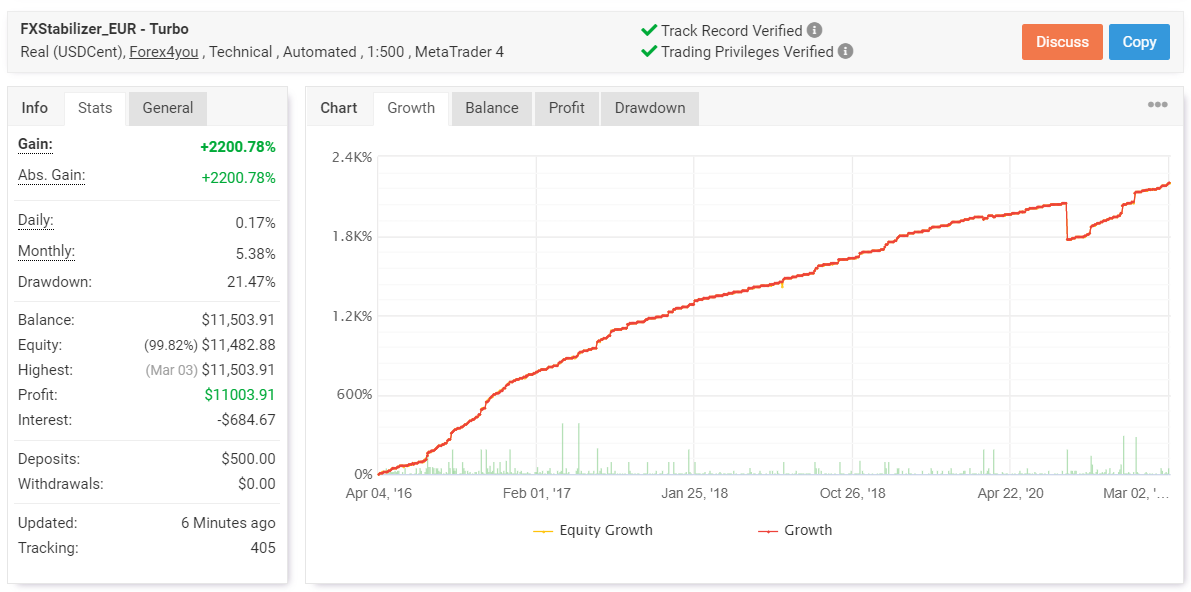 FX Stabilizer works on a real USDC account on Forex4You. It trades automatically using technical indicators from the MetaTrader 4 platform. The leverage was set at 1:500. The account has "verified track record" and "verified privileges" badges. It was created on April 04, 2016, and deposited at $500. Since then, the absolute gain has become $2200.78%. An average monthly gain is 5.38%. The maximum drawdown was 21.47%. The account is tracked by 405 traders.

The EA has traded 2106 deals with 8108.7 pips. An average win is 29.62 pips when an average loss is -43.63 pips. There are 80.22 Lots traded. The win-rate is 63% for Shorts and 66% for Longs. An average trade length is one day. The Profit Factor is 2.19.

The system trades in both directions equally by the number of trades and profits.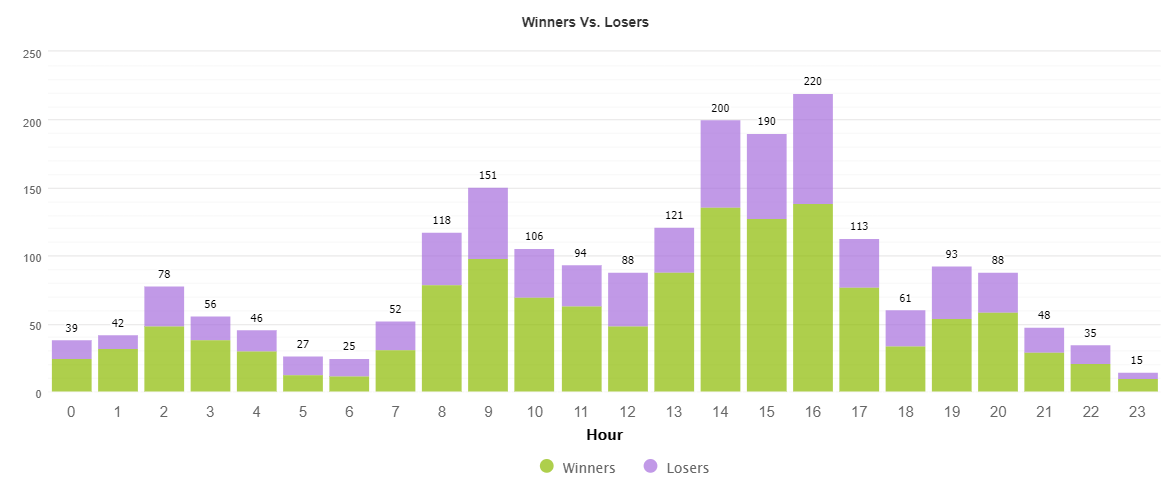 The robot focuses on trading during the European and the opening of the American trading sessions.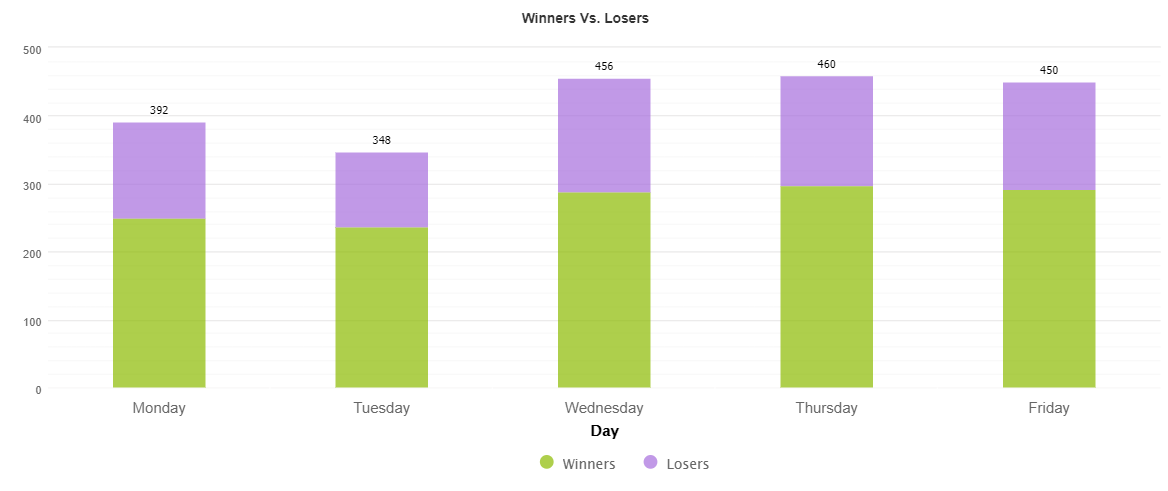 Tuesday (348 deals) is the less traded day.

The system works with little risk to the account balance.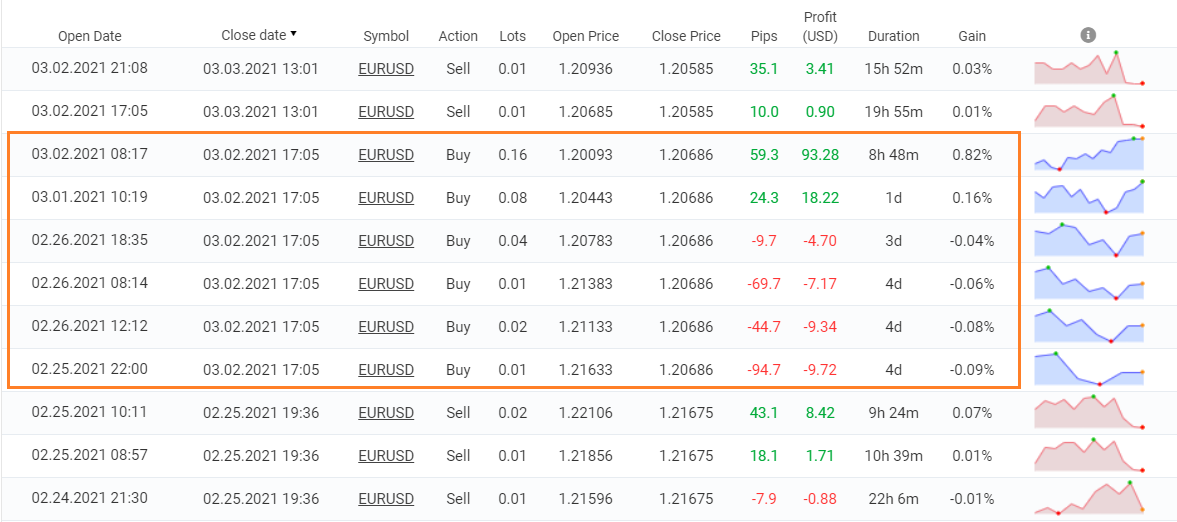 FX Stabilizer uses a Grid of Martingale orders. It's so risky to make a profit.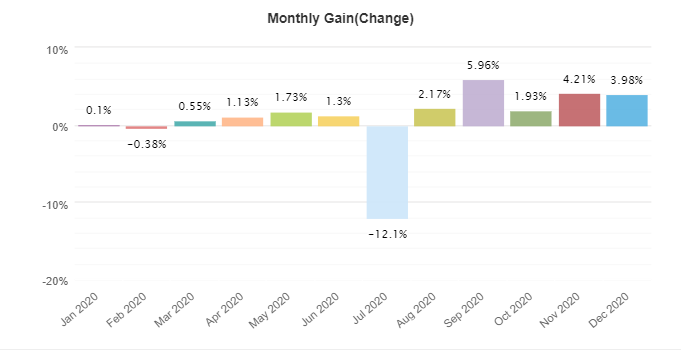 In 2021, the system shows almost no profits.
Customer Reviews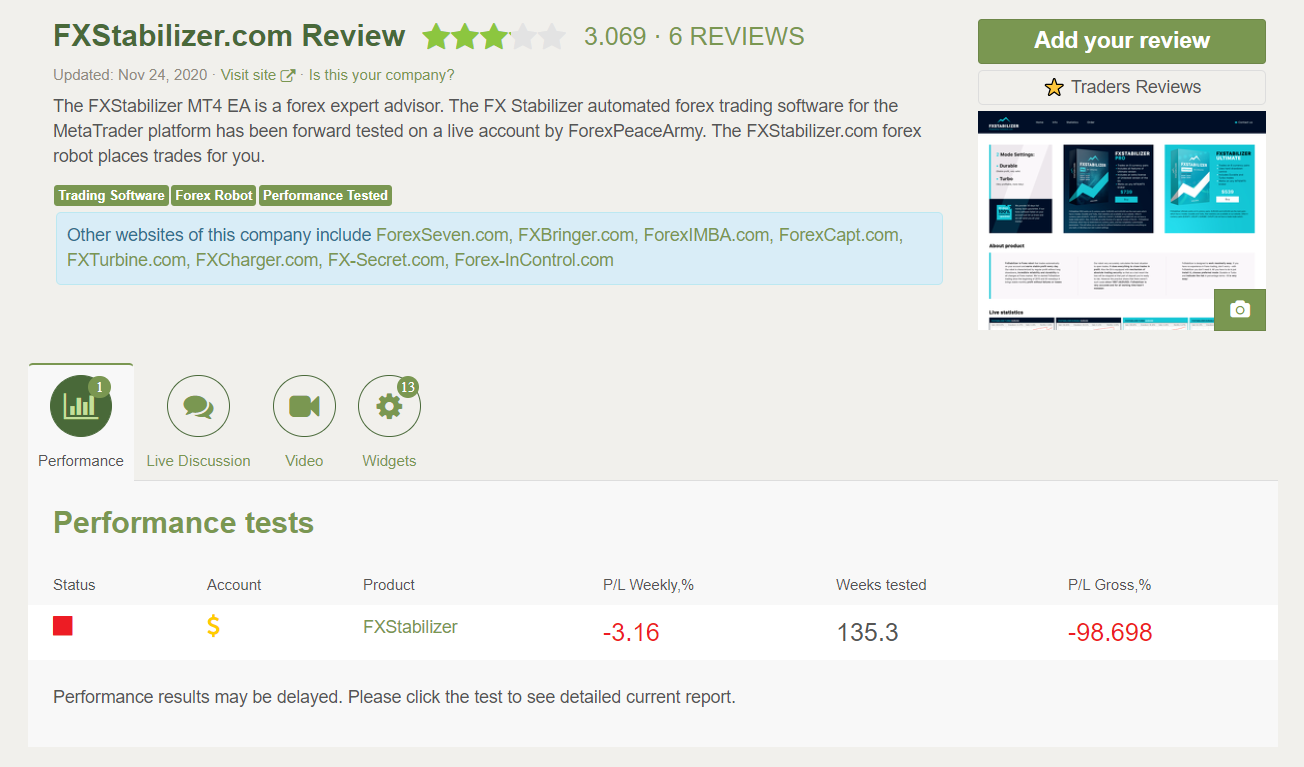 We have a page of FX stabilizer on Forex Peace Army with a 3.069 rate based on six reviews.

The last account was zeroed two years ago. That's why Grid with Martingale together is a risky combo to trade it live.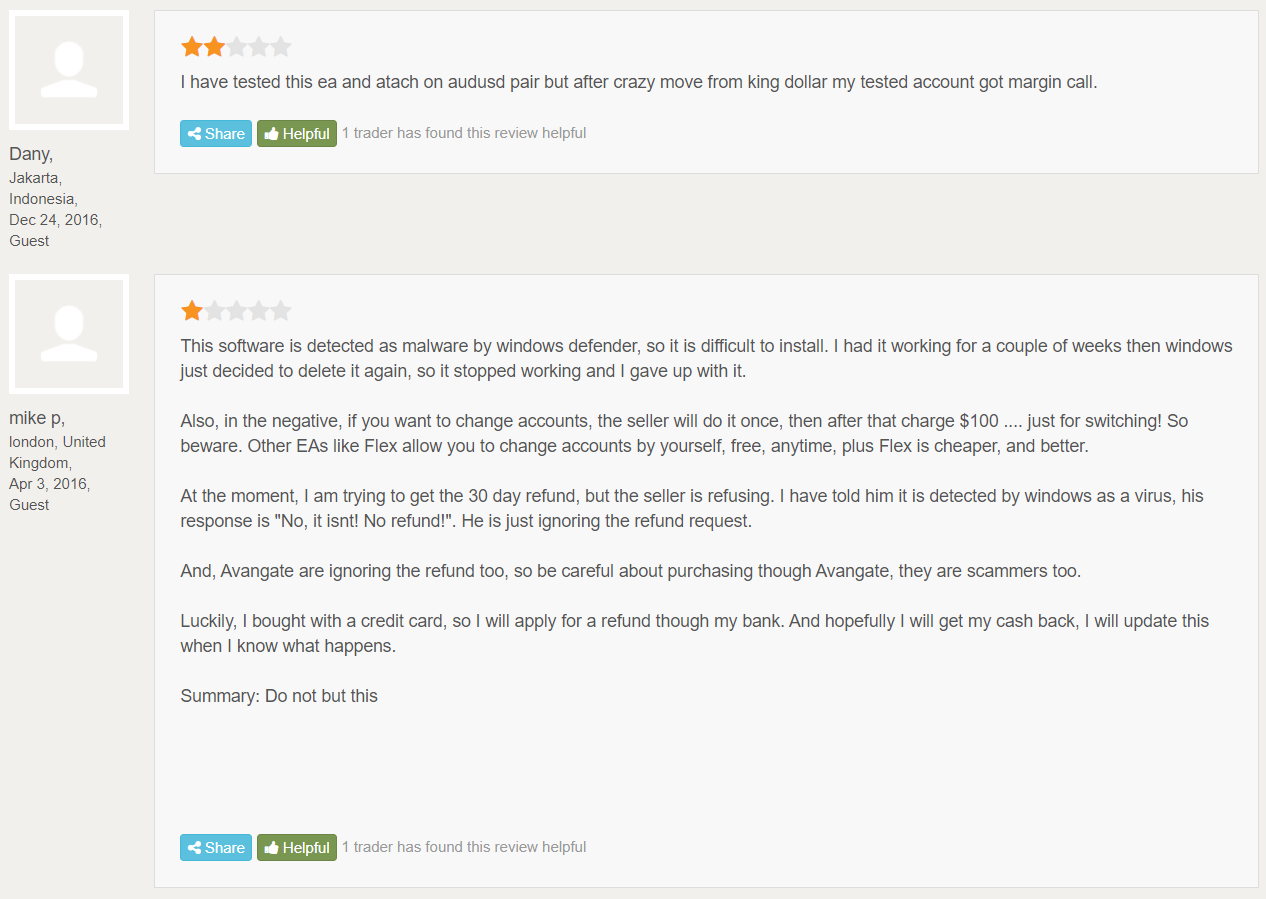 Many clients weren't satisfied with its performance in the past. Wasn't anything fixed? We don't know.