FXDC HEDGER EA is a 100% automated Forex EA that trades on a 24/7 basis and promises to shield your account from high drawdowns. As per vendor claims, it makes a daily profit of 10% by using some potent trading techniques.
This robot has been developed by the FX Deal Club team that was established in 2001. Apart from this robot, they also have a managed account service. The company is located in Dubai, UAE, but no information is available on the actual developers and traders working for the company.
Choosing the best Forex robot is not as easy as it seems. There are numerous unscrupulous companies trying to sell their scam services on the market. As such, all the system aspects need to be analyzed thoroughly before a purchase is made. To know more, check out our best Forex robots list.
FXDC Hedger Overview
On the official website, the vendor presents us with a short introduction about the robot and how it functions. There is a lot of focus on the backtests and multiple results have been provided for the same. We also have the details of the pricing plan, and a contact form using which you can send a message to the service team. As per our understanding, the vendor is not offering anything new or innovative with this product.
Pricing
FXDC HEDGER EA is available for $499. By purchasing this, you get access to an unlimited number of accounts. This is quite expensive compared to the other systems on the market, and on top of that, the vendor does not provide a money-back guarantee.
How it Works
This robot trades in the EUR/JPY pair for the 1-hour timeframe. The vendor recommends using a minimum balance of $1000 but also mentions that the EA also works with a deposit of $100. You should use a leverage of 1:400 or more while trading with FXDC HEDGER EA.
This is not a broker-sensitive EA, so you can use it with any broker of your choice. The vendor warns about using this system in combination with others, as that can lead to disastrous consequences. You are also advised to close any open trades prior to working with this robot.
Trading Strategy
This Forex EA employs a strategy that is based on support and resistance levels. It uses a special edge trading technique that consists of simple and complex mechanisms. The robot places hedge trades to shield the system from extreme drawdowns.
No, we don't think this information is sufficient when it comes to strategy insight. The vendor should have mentioned the indicators used by the robot and revealed some further details about how the market is analyzed. The dearth of information in the strategy department might serve as a deterrent for many investors.
Trading Results
We were not able to find the live trading results of FXDC HEDGER EA on websites like Myfxbook, FXBlue, and FXStat. Thus, we have no way to verify the vendor's claim of 10% daily profit, and at this stage, this claim does not carry any weight. In the absence of live statistics, it becomes difficult to trust this system, and we cannot say with confidence that it is capable of generating consistent profits.
Customer Reviews
There are no user reviews for FXDC Hedger EA on the web. This tells us that not many people know about this system as of now. It is not surprising, however, given the fact that the vendor does not share the live trading statistics for this EA, without which most traders won't consider investing in a robot.
Backtests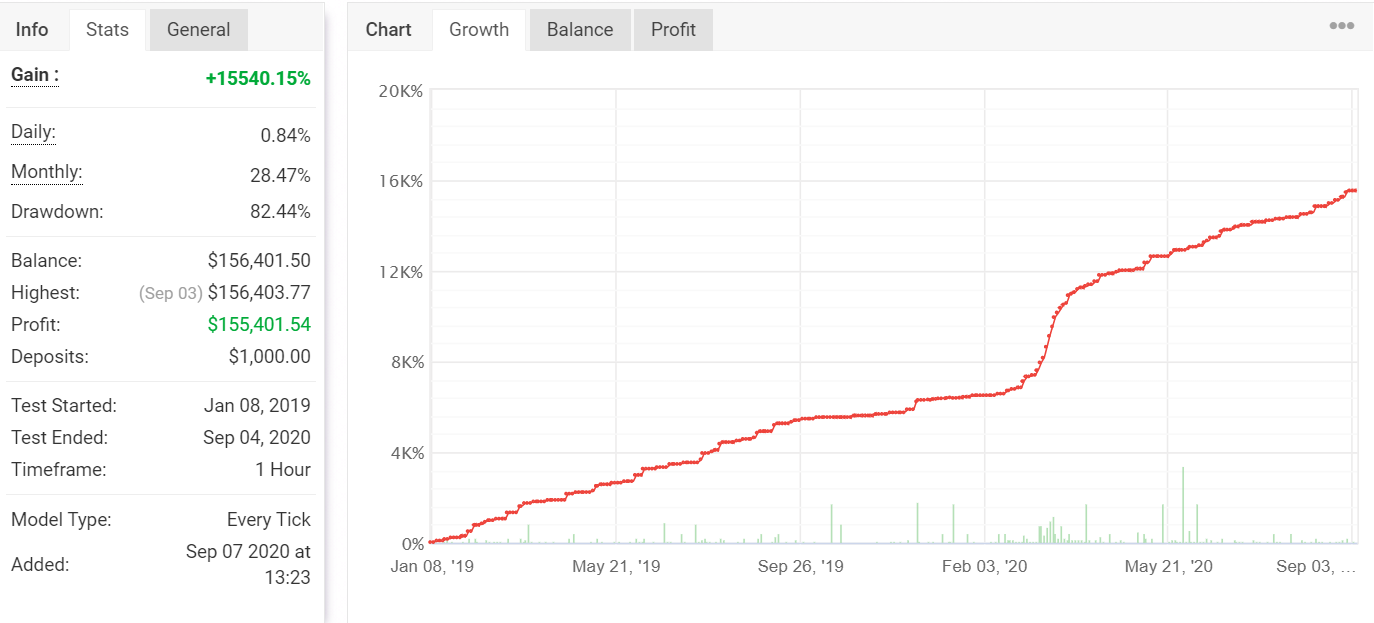 This backtest was conducted for a period starting from 8th January 2019 to 4th September 2020. It should be mentioned that most backtests are carried out for a longer period of time. An initial profit of $1000 was made for this test, and the total profit generated at the end was $155,401.54.
The daily and monthly profits for this backtest were 0.84% and 28.47%, respectively. This is not even close to the daily 10% profit claimed by the vendor. The drawdown is astonishingly high at 82.44%, and this tells us that the robot uses a risky approach.