FXTrends claims to be the best Forex copier in the world since its inception in 2010. It claims to possess more than 10 years of trading experience in the Forex market and to have provided more than 100,000 pips for its users. It is said that with this Forex robot you will never miss a trade and will be able to keep earning profits at a steady pace.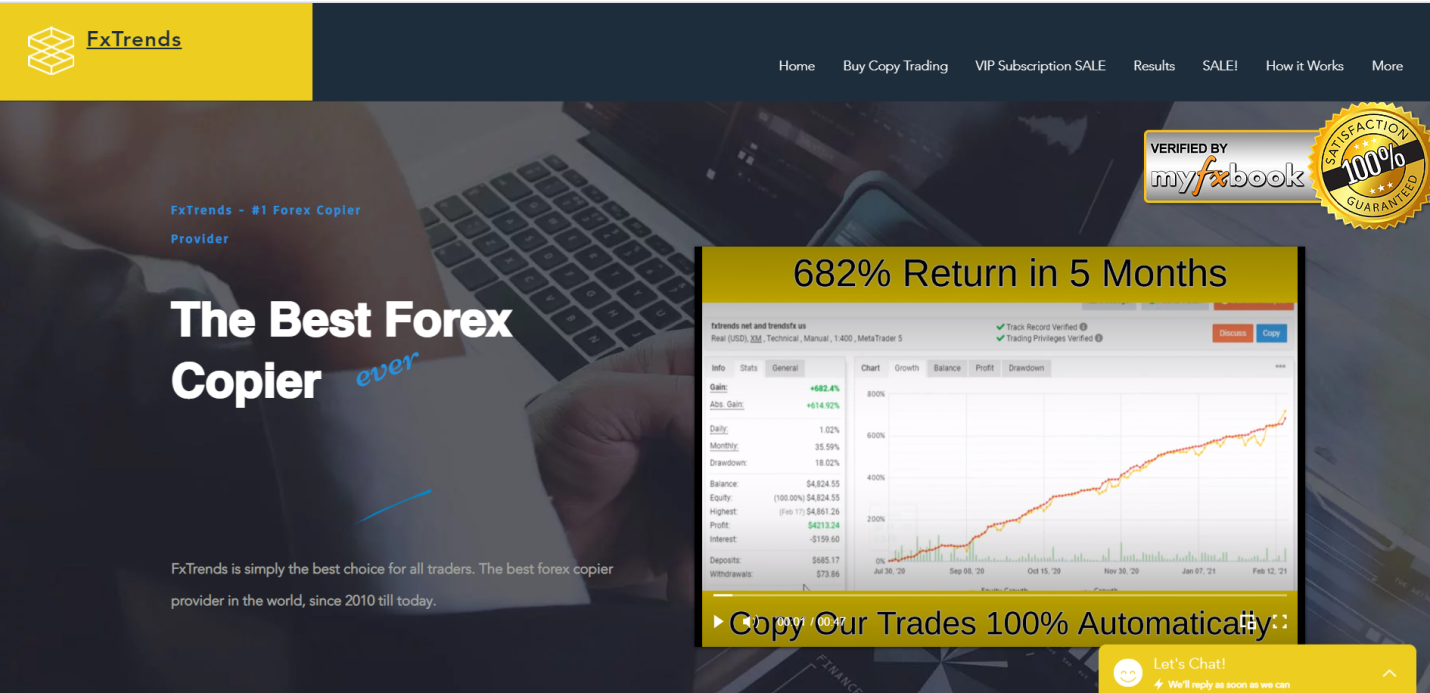 FXTrends Overview
This is a fully-automated Forex EA with a monthly target exceeding 2000 pips. It has a learning channel and a complete trading course where novice traders can know the ins and outs of the Forex market. As per vendor claims, several experienced and new traders have accessed the strategies used by the top traders, thus drastically improving their success rate.
With this copy trader, you can receive signals all throughout the day, during both the London and New York sessions. A minimum of three signals are sent every day and 8-19 trades are placed daily. The vendor claims that the system has an average win rate of 90% and that support is provided to all users on a 24/7 basis in both Spanish and English languages.
Pricing
You can use FXTrends by making a recurring payment of $29.99 every month. This is a discounted price, with the original being $59.99. The vendor states that the price is low since the signals are of high quality which results in most members renewing after the initial month.
How it works
In order to benefit from the services of FXTrends, you first need to download the software from the link received via email after you subscribe. Then, a new account will be created in your name and you can use the credentials provided in the email to register. It takes less than 5 minutes to install the system, and you'll only need a VPS or a PC and a Metatrader platform to work with it.
After the installation is complete, the trades will be opened in your account automatically. So, you can sit back and relax while the system trades on your behalf. You also get access to the trades placed by other, more experienced traders, thus enhancing your trading knowledge.
Trading Strategy
The vendor has not provided any explanation for the trading strategy used by FXTrends. For some Forex traders, this is an extremely crucial piece of information, since it allows them to gauge the profitability of a system. Without strategy insight, many individuals would not consider investing in a copy trader like this.
Trading Results
We don't have the backtesting results available for FXTrends. By analyzing backtesting data, we can get an idea about the copy trader's profitability, and how it handles itself during an adverse market condition. Since backtesting is usually carried out over a long period of time, it tests the system against different market situations, and this is why seasoned Forex traders place such emphasis on it.
On the official website, the vendor has highlighted the live trading results that are verified by Myfxbook, while also claiming a 90% average win rate. However, we can see that the trading account no longer exists on Myfxbook. It is odd that the vendor would choose to delete a trading account showing profitable results, and this deals a severe blow to the company's credibility.
Without live trading results, we cannot assess the reliability of this trade copier. Most Forex traders would shy away from investing in a system that shares neither backtesting data nor live trading results.
Customer Reviews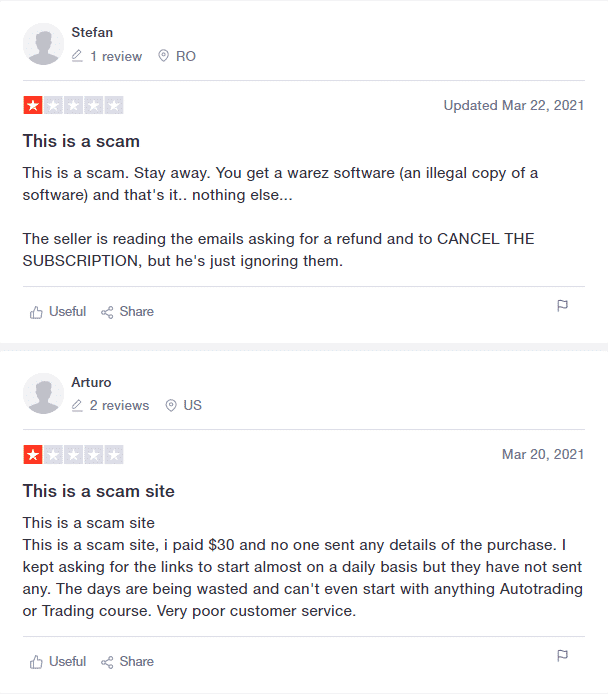 We found some customer reviews for FXTrends on the Trustpilot website. As you can see, more than one user has stated that this is a scam website. One user has said that the company sends you an illegal copy of the software and does not entertain requests for subscription cancellation and refunds. Another user has claimed that they did not receive the email containing the download link even after paying the subscription fees.
FXTrends Reputation
FXTrends is a trading name of Traders for Fair Trading Ltd, a company that is registered in Wales and England. Its headquarters are located in Moulton Park, Northampton, UK, and it was founded on 19th August 2014. It is a private company headed by a person called Robert Guymer.
It should be said that we don't have any further information on this person and his background. We don't know whether he has the required trading experience, or if he has any other individuals working alongside him.