FXZIPPER is a Forex EA that claims to earn an average of 6-12 pips with every trade while allowing you to deal in eight different currency pairs. The vendor mentions that the system can earn profits with both demo and live accounts.
There is no information available on the website regarding the company's background, its location, or when it was founded. We also don't know who the developers behind the system are and if they have any history of trading in the Forex market. Some traders do not tend to trust companies that lack vendor transparency and they might find this to be disappointing.
In order to assess the efficacy of an automated trading system, we need to do some further investigation, delving deep into the various aspects of the software. Check out our best Forex robots list for general recommendations.
FXZIPPER Overview
The official website of FXZIPPER features a pretty brief, but informative presentation. We have some details about the strategy employed by the expert advisor for generating profits, along with the top features, pairs, and pricing information.
The vendor seems to focus on the scalping strategy used by the system and talks about how it is possible to gain profits using this scheme. Moreover, there are backtesting results available that date back to 2015, along with a link to a live trading account verified by Myfxbook.
Pricing
FXZIPPER is available for $345 and there are different software versions available for MetaTrader 4 and MetaTrader 5. Additionally, the customer gets access to a user manual, a 30-day money-back guarantee, free updates, 24*7 customer support, and one-lifetime license.
Compared to other Forex robots, $345 for a lifetime license is quite standard, considering the fact the vendor provides us with live statistics showing profitable outcomes. In fact, many systems ask for more without showing any trading proof.
How it Works
FXZIPPER is fitted with a special technology that lets it delay a trade entry if, due to some reason, there has been a drastic change in the price levels. It always aims to extract the maximum amount of profit from a trade and so it looks for the best possible price. This means, if a certain trade is not that lucrative, it can skip it.
Of course, you can enable or disable this feature from the Forex EA settings. This is broker-friendly software, unlike other scalping bots that only work with certain brokers.
Trading Strategy
FXZIPPER uses a scalping scheme while placing its trades, extracting a small number of pips from each. Thus, the trades opened by this Forex EA do not stay open for too long and they are almost always closed in profit. The timeframe used by this system lies between 15 minutes and 3 hours.
Although the vendor mentions the scalping strategy, there are no further details provided regarding how the trades are placed. Some of the more technically-inclined traders want to know the core details of the strategy because it lets them assess whether it's profitable or not. The absence of technical details may serve as a red flag for these individuals.
Trading Results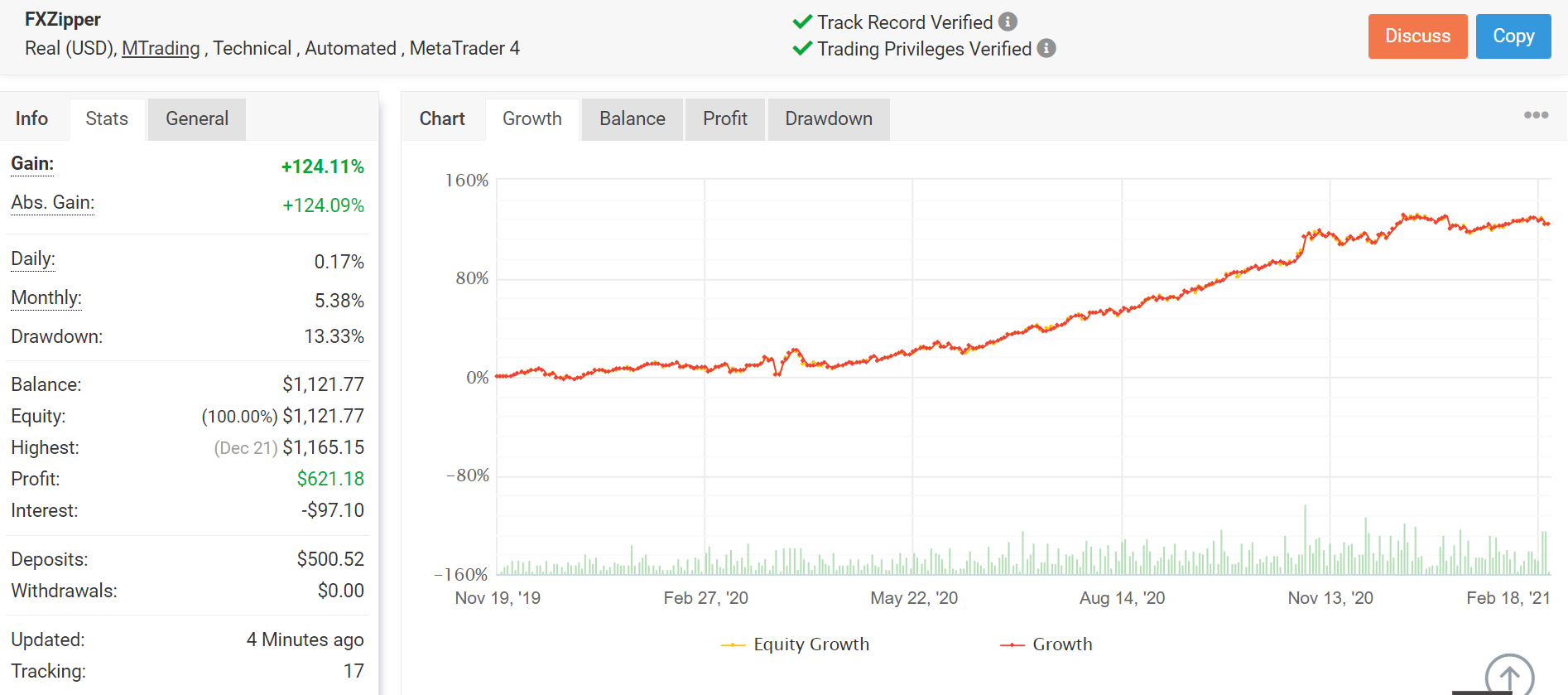 Here we have the live trading results for FXZIPPER verified by Myfxbook. The account was launched on 19th November 2020, and to date, 731 trades have been placed through it. We can see that the win percentage of this Forex EA is quite high and it has won a total of 602 trades, representing a profitability of 82%.
The time-weighted return and the absolute gain of this account are 124.11% and 124.09%, respectively. While the daily and monthly gains of 0.17% and 5.38% are quite standard, we think the low drawdown of 13.33% is quite remarkable for an account that has been functional for so long.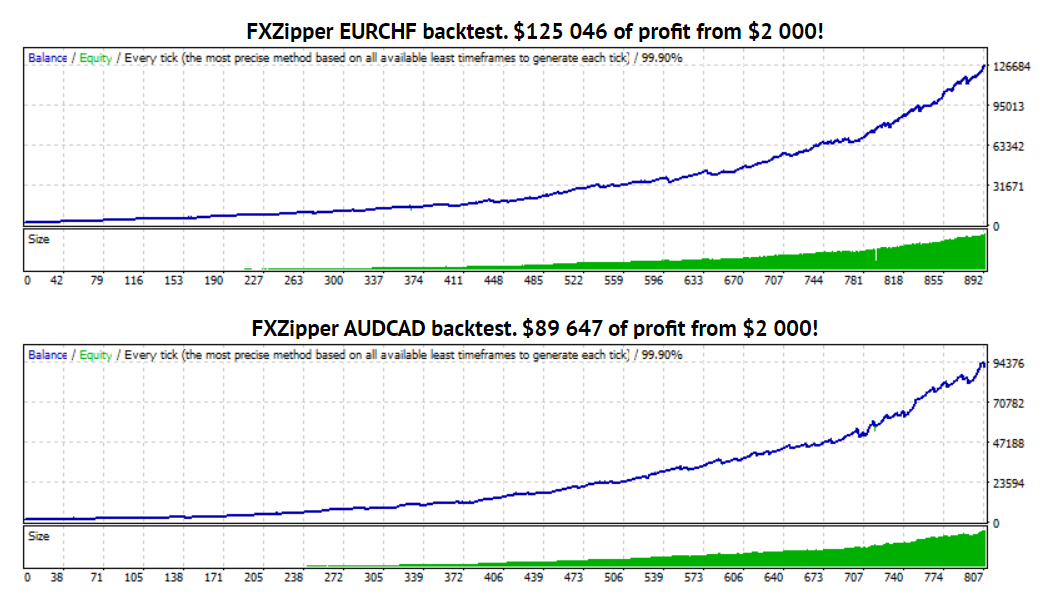 We also have backtesting data provided on the official website for all the different pairs. Those for the EUR/CHF and AUD/CAD pairs look to be particularly promising. For the former, a profit of $125046 was made from a deposit of $2000, while for the latter, the profit was $89,647. Both the live trading and backtesting results tell us that FXZIPPER is a system that's capable of generating consistent profits.
Customer Reviews
There are no customer reviews available for FXZIPPER on third-party websites like Forexpeaceamy and Trustpilot. This comes as a disappointment since it tells us that the company does not have much of a reputation.