Gold Miner is a Forex EA based on the MT4 and MT5 platforms that looks to trade for the short-term. Launched on 21st December 2020, this system promises to recover the trading account of Forex dealers and is said to be resistant to long drawdown periods.
This Forex robot is sold on the MQL5 website by a person known as Nguyen Nghiem Duy, who is based in Vietnam. Mr. Duy has a history of developing Forex automated systems like Bear vs Bull EA, The King EA, Red Dollar EA, Blue Dollar EA, Forex Miner EA, etc. On his MQL5 profile, there are links provided for signals, Forex brokers, trading strategies, etc. We don't know whether this person works alone or as a part of a team, since no other information is provided.
Choosing a reliable Forex EA is not as easy as it sounds, since we need to assess several factors like features, pricing packages, trading strategy, trading result, customer reviews, etc. If a system scores well in the majority of the mentioned departments, we can deem it trustworthy. Take a look at our best Forex robots list to know more.
Gold Miner Overview
On the MQL5 page of Gold Miner, the vendor has focused on the system's functionalities, highlighting the main benefits offered by it. We also have a list of key parameters related to Forex trading that we can modify to suit our trading style. While most other services share some proof of their trading outcomes in the form of backtesting or live trading results, we cannot find anything of that nature for this particular robot, which is quite disappointing.
Pricing
Gold Miner can be purchased at a cheap price of $49. The majority of Forex EAs have higher price tags, and it makes us wonder why this system is so cheap. Nevertheless, you can rent it on a monthly basis for $30. The vendor also offers a free demo version, so you can check the robot's performance before using it for live trading. There is no promise of a money-back guarantee, but that can be excused given the cheap price tag.
How it Works
Gold Miner trades in gold as well as pairs like GBP/USD, USD/CAD, EUR/USD, NZD/USD, USD/JPY, USD/CHF, and AUD/USD. It searches for areas in the market where the prices of major Forex players are concentrated. Among its many functions is the exiting of orders on Fridays due to a profit or loss target being reached.
It is a semi-automatic system that can be used in combination with Buy Sell Signals, another system developed by the same vendor. Here are some of the options for the Forex EA that the user can modify.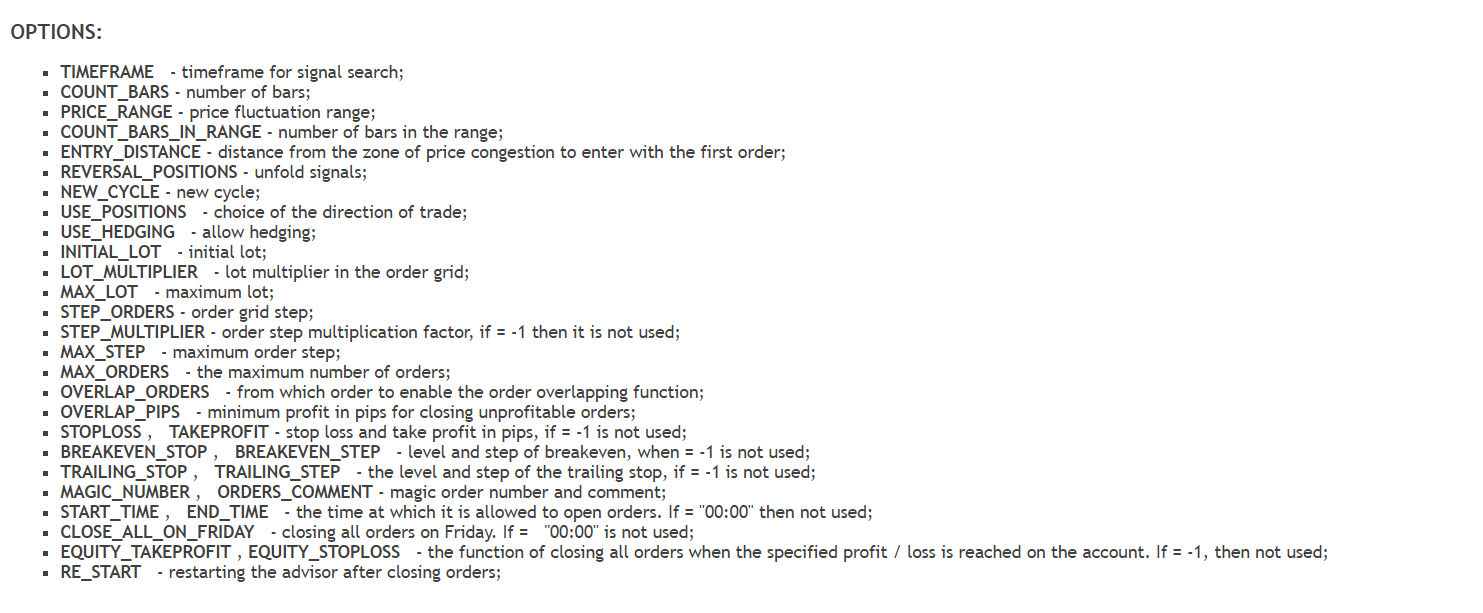 Trading Strategy
This Forex EA uses a grid strategy where a fixed number of orders are placed at regular intervals beneath or above a fixed price, in order to gain profits from ranges and trends. As per vendor claims, the system is able to deal with large drawdowns due to the function of overlapping unprofitable orders. There is no explanation on how the system exactly utilizes this strategy. Therefore, we would have liked the vendor to provide some additional technical details.
Trading Results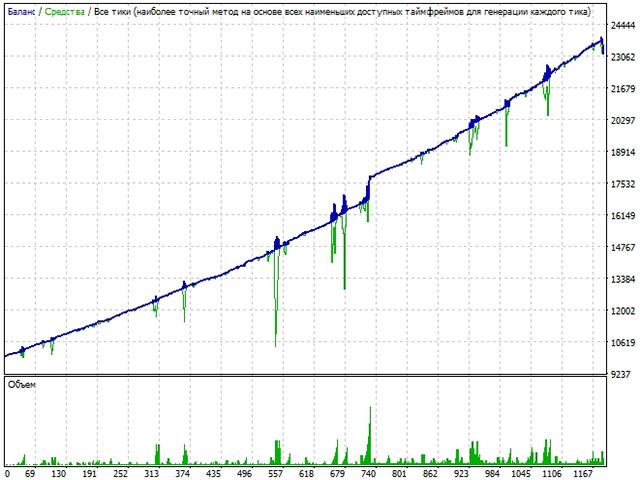 The trading results for Gold Miner have not been shared by the vendor on the MQL5 page, and for us, this is a major red flag. No serious Forex trader would consider purchasing a robot that does not share verified statistics of its trading outcomes. Since there are so many scam services in the market these days, it is imperative to look for trading results that are verified by third-party sources, in order to gauge a system's profitability.
Customer Reviews
There are no customer reviews for Gold Miner on websites like Forexpeacearmy, Quora, Myfxbook, and Trustpilot. This does not come as a surprise, however, since it is a relatively new system that does not furnish verified proof of its performance. Clearly, not many people trust this robot as of now.
Backtests 
In the absence of live trading results, traders often look for backtests to evaluate a system's performance. This type of test is based on historical data and it runs the system against a variety of market conditions. Although decent backtesting performance does not always translate to satisfactory performance in the live market, it helps traders decide whether the robot is worth testing in real-time. Since backtesting data is not available for Gold Miner, there is no way we can gauge its performance.