GRID Trading Bot is a 24/7 auto swing trading machine that uses its complex algorithm to make your market decisions. The algorithm aims to generate stable profits in a volatile crypto market. It allows traders to set up custom risk management or use the AI settings for trading on Pionex. We will go through all the vital points of the platform to see if traders can generate good profits while maintaining a solid drawdown.
What is GRID Trading Bot?
GRID Trading Bot uses the noted averaging strategy to place multiple buy/sell orders as the market moves against the direction of the initial trade. It is a fully automated product that works on the Pionex Exchange.
| | |
| --- | --- |
| Price: | The system is free to use. It only charges a 0.05% maker/taker fee |
| Payment Options: | Credit Card |
| Supported Exchanges: | Pionex |
| Cloud-Based: | Yes |
| Strategies: | Averaging |
Is it easy to use GRID Trading Bot?
Investors do not require any pre-market experience while using GRID Bot. All the trades are carried out automatically on your funds without needing 24/7 monitoring. Traders can start with the platform in the following steps.
Sign up on the Pionex exchange
Deposit sufficient funds
Select grid trading bot from the platform
Set your strategy or use the one recommended by the platform
Main features of GRID Trading Bot
The main features of GRID Trading Bot are:
Custom settings
Traders can set up the stop loss, take profit, upper/lower limits, etc. while configuring the system.
Automated
There is no need for any manual intervention while the algorithm is trading.
Cloud-based
All the trading activity is carried out on the servers of the Pionex exchange. Traders should not download any software.
Strengths and weaknesses of GRID Trading Bot
The advantages and drawbacks of trading with GRID Trading Bot bots are:
| | |
| --- | --- |
| Strengths | Weaknesses |
| Featured on the noted Pionex exchange | Uses risky averaging strategy |
| No monthly costs | |
| Automatic and manual trading approach | |
Is GRID Trading Bot good?
GRID Trading Bot is suitable for professional and beginner traders looking to benefit from averaging strategy. It helps avoid emotional decisions which are prevalent while trading manually.
Is GRID Trading Bot safe?
GRID Trading Bot is excellent for ranging markets. It will allow investors to earn profits on both long and short trades with a good profit factor and high win rate. Professionals can also add some manual touch to enhance the platform's performance.
As the funds are kept within the exchange, there is no need to worry about your deposits and withdrawals. 

Customer support
Pionex is a step ahead of other crypto trading services regarding customer support. It has multiple blogs and social media channels that provide answers to your questions. Traders can also use email and live chat services to get instant responses.
Reputation
Pionex has an excellent reputation on TrustPilot with a 4.2 rating for 289 reviews. A trader comments that the GRID Bot is extremely easy to use. He further states that Pionex is a good platform for trading the crypto market.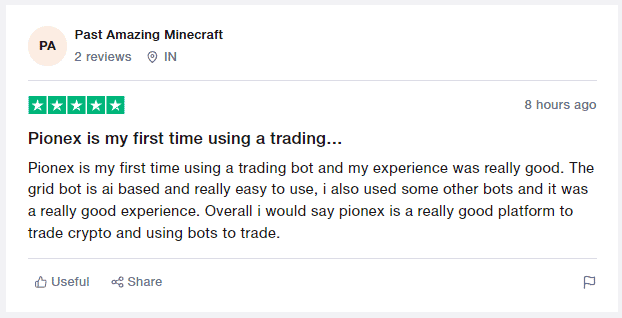 Another investor comments that they have been using the platform for some time and are unwilling to leave it due to the user-friendly interface. Advanced information is available on the website.