Growex is an expert monitored automated trading system that promises a daily profit of 0.48%. It also provides free VPS hosting and publishes the live trading results on Myfxbook. According to the vendor, this EA follows a powerful strategy that has led to large profits since 2020.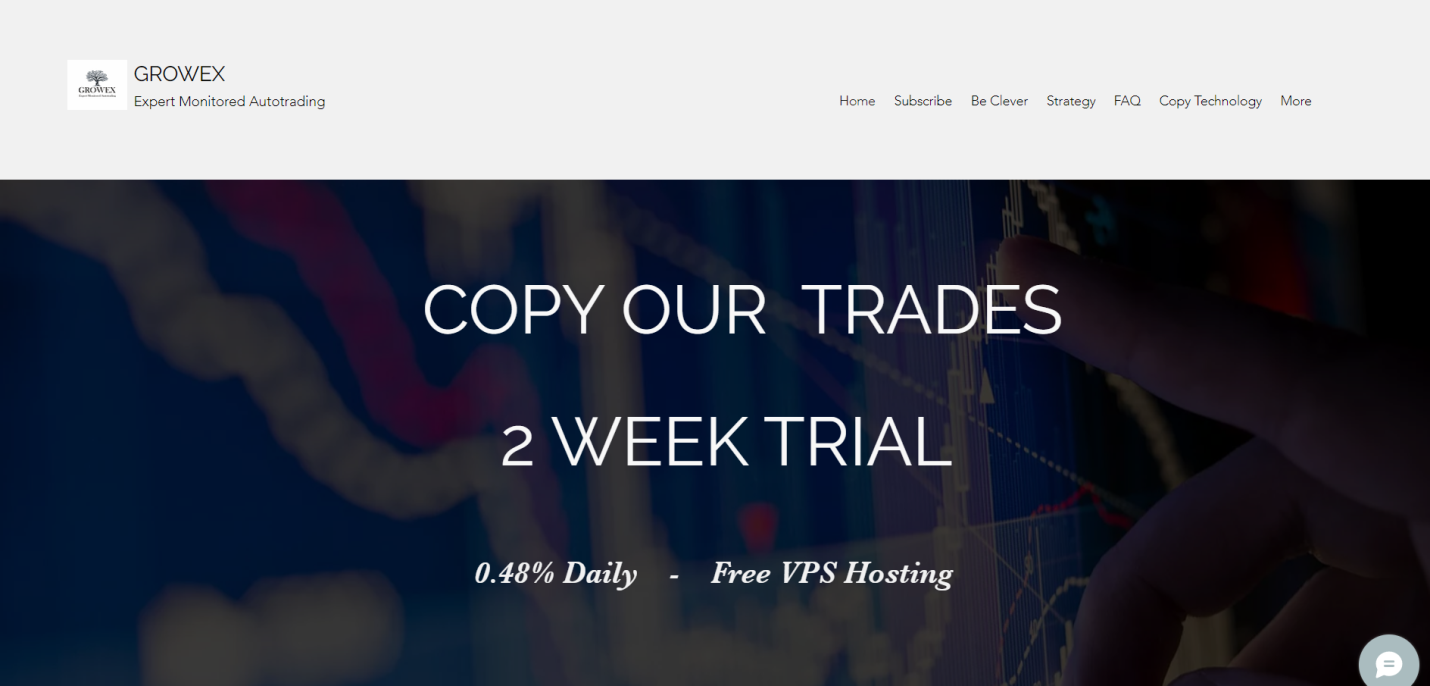 This robot has been developed by a company that has offices in London and Cape Town. We don't know when this company was founded, however, and no information is available on its background. The chief trader working for Growex is a person called Val who is based in the UK.
He provides trading insights and advice through the official Telegram channel. The client service department is handled by Ed, who is based in Cape Town, South Africa. We have no way to verify the trader's credentials, so from a vendor transparency perspective, we are not impressed.
Choosing the best Forex robot is not as easy as it seems, since there are so many scam robots being sold on the market these days. You need to analyze each and every aspect of the system thoroughly to determine its reliability. For further information, check out our best Forex robots/signals list.
Growex Overview
On the official website of Growex, the vendor has listed all the main features and described each of them in detail. We also have the investment plans available for this EA, the links to Trustpilot and Myfxbook, as well as the contact information. The main focus seems to be on the features, but as per our understanding, the vendor is not offering anything unique or special through this EA.
Growex has a balance protection feature that, according to the seller, lets you copy the trades while keeping the drawdown minimal. The master account for this robot is hosted in the same local server and as per vendor claims, this ensures the high quality of the signals. With Growex, you can copy the trades to your own brokers. The vendor recommends using the IC Markets broker because it offers decent liquidity.
Pricing
There are three investment plans for this Forex EA, namely Conservative, Moderate, and Progressive. These plans have different growth rates, and the Moderate and Progressive plans carry high risks. You need to pay $39 per month for all of these plans, but you can get a 2-week free trial by signing up with the IC Markets broker. There is no refund provided by the vendor for this product.
How it Works
Before trading with this robot, you must make sure you have access to a True ECN account. The minimum recommended balances for the Conservative, Moderate, and Progressive plans are $5000, $2000, and $1000, respectively. The leverage should be between 1:500 and 1:100. For US brokers, you can use a 1:50 leverage, but this will only let you use the Conservative and Moderate plans. The vendor advises traders against making withdrawals while trades are open, as it can enhance the risk.
If you wish to invest in a large portfolio, you can choose the Conservative plan that carries a low risk. Here, the safety stop loss is at 4.8% and the maximum historic drawdown is 1.9%. The moderate plan is for balanced growth and here the stop loss is kept at 14%. Although a bit riskier, the Progressive plan promises accelerated growth with a safety stop set at 35% and a maximum historic drawdown of 19%.
Trading Strategy
This Forex robot uses a grid system for placing its trades and this means you have to keep an eye on the technical and fundamental factors that affect long-term results. The grid system used by Growex is controlled and manually managed. There are at most 6 positions for each pair and no martingale principles are followed.
Trading Results
Backtests are not available for this Forex EA, which makes us think twice before investing in it. Without backtesting data, we cannot get a clear picture of EA's profitability.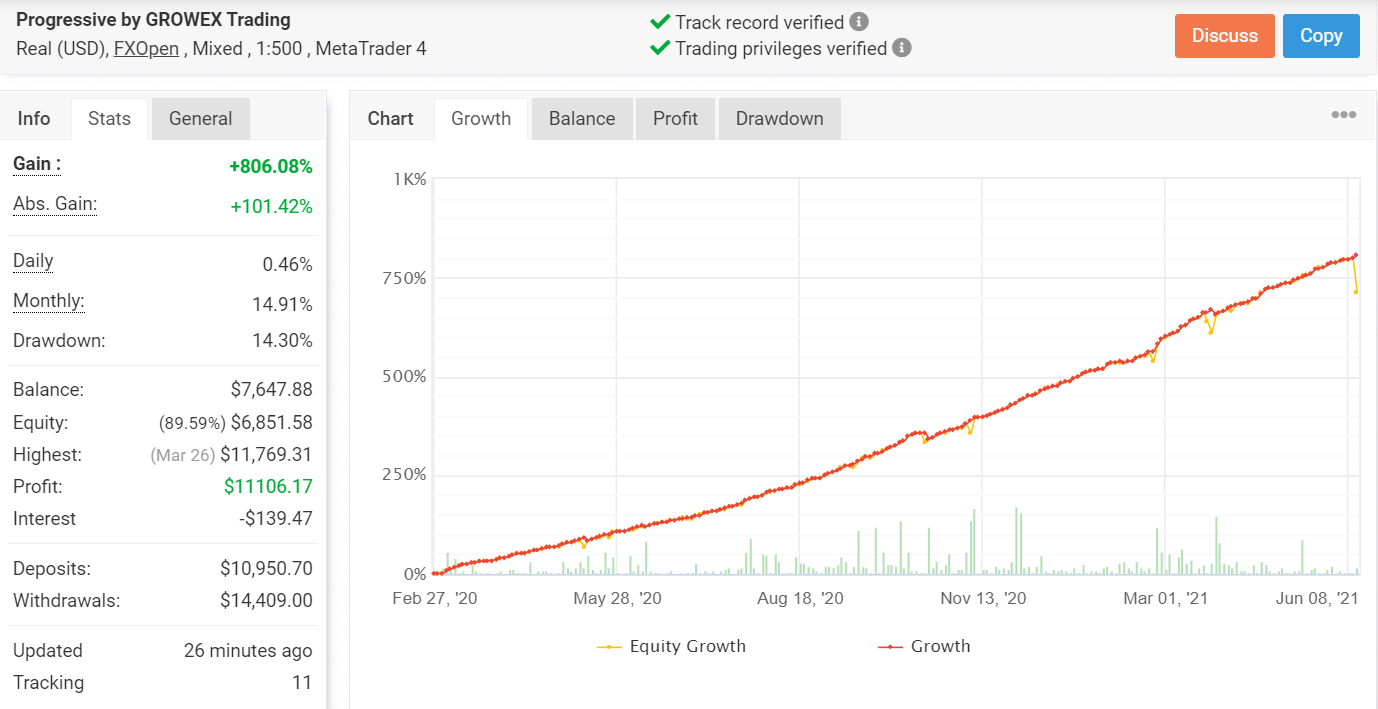 This is a live trading account for the Progressive plan that's verified by Myfxbook. To date, a total profit of $11106.17 has been generated through this account, and 652 out of 937 trades have been won with a profitability of 70%. The daily and monthly gains are 0.46% and 14.91%, respectively.
Customer Reviews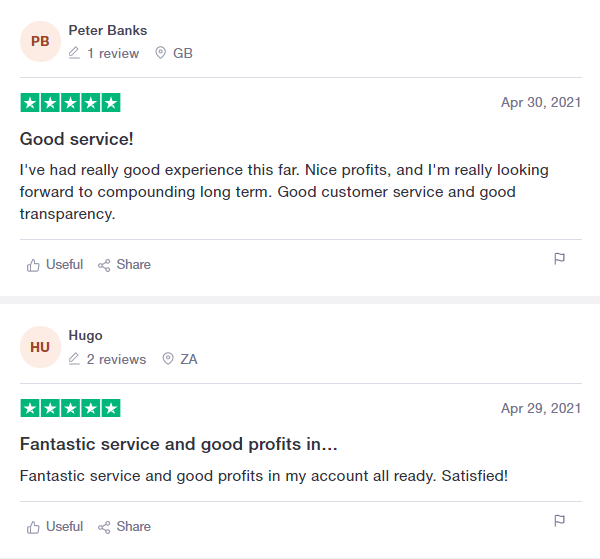 The reviews for Growex on Trustpilot are mostly positive, with the users praising the customer service and the profits made by the robot.