Happy Breakout is a Forex expert advisor that is compatible with both Metatrader 4 and Metatrader 5. You can use it to trade in two currency pairs and it is compatible with different operating systems. It has shown decent performance during a 3-year backtest as well as the live testing.
The parent company behind this EA is known as Happy Forex. This company is based in Germany and they have been building Forex robots for quite some time now. It is unclear who the traders and developers behind this company are. However, this company is well-known for developing expert advisors like Happy Neuron, Happy Power, Happy Galaxy, Happy Trend, Happy Way, Happy Gold, Happy Fast Money, and other products in the Forex market.
Happy Breakout overview
On the official website, the vendor has provided a short introduction to the trading system, followed by a list of features and recommendations. They haven't focused on any particular feature, instead of attempting to provide the maximum possible information on the expert advisor. We have the links to two live trading accounts and some screenshots showing the backtesting data.
This EA is compatible with ECN brokers and supports auto-detection of 4 or 5 digit quotes. Since it is a fully-automated robot, you don't have to manually intervene for it to work properly. It avoids using risky trading strategies like martingale, arbitrage, hedging, and grid.
Pricing
The current price of this expert advisor is 550 Euros, which is not too expensive compared to other expert advisors on the market. By purchasing this EA, you get access to an unlimited number of real and demo accounts. Additionally, you get the Happy Forex Full Pack containing 10 EAs, free of charge. Those who have already purchased the Full Pack EAs get a discount of 30%.
The vendor offers free updates and upgrades as well as a 30-days money-back guarantee. You only need to pay for the license for the first month. After that, you automatically get a free lifetime license via email. You only need to pay for the license once.
How it works
As per the vendor's recommendation, you should test the robot with minimal risk before using it for live trading. It is also recommended that you use a hosting server or a VPS that has minimal latency to the broker's server.
You should sign up with a broker that offers low commission and spreads and has fast execution speed. The system is compatible with operating systems like Linux, Mac OS, and Windows. It can trade in two currency pairs, namely EUR/USD and GBP/USD. The recommended timeframes include H1 and M30. Happy Breakout can work with a small deposit of $100. While the maximum spread is 10 points, the maximum stop level is below 10 points.
Trading strategy
The strategy works on the basis of support and resistance level breakouts. For risk management, the EA uses trailing and fixed stop loss.
Trading results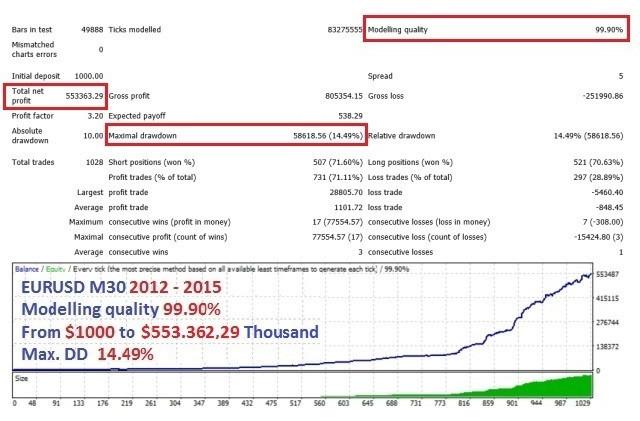 For this backtest, the EA conducted 1028 trades, winning 71.11% of them and generating a total profit of $553363.29. The relative drawdown of 14.49% was not too high and the profit factor was impressive at 3.20.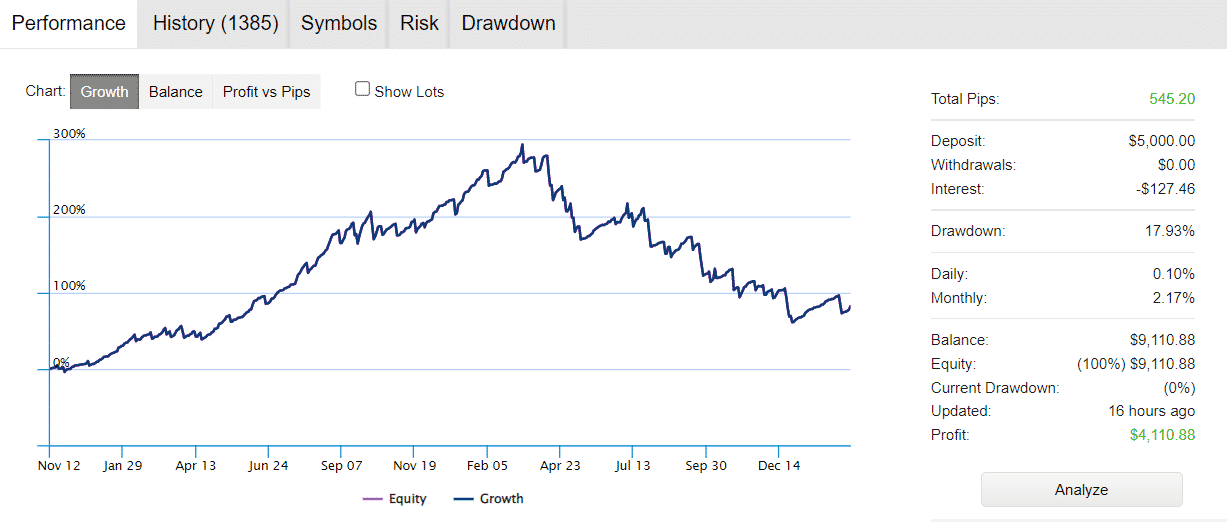 Since November 2019, the EA has conducted 1190 trades through this live account on FXStat. It currently has a high profitability of 80.08%. It is clear that the robot has managed to generate substantial gains, as the total profit currently stands at $4110.88. The account has a drawdown of 17.93%, which is within the acceptable level. The daily and monthly profits are 0.10% and 2.17%, respectively.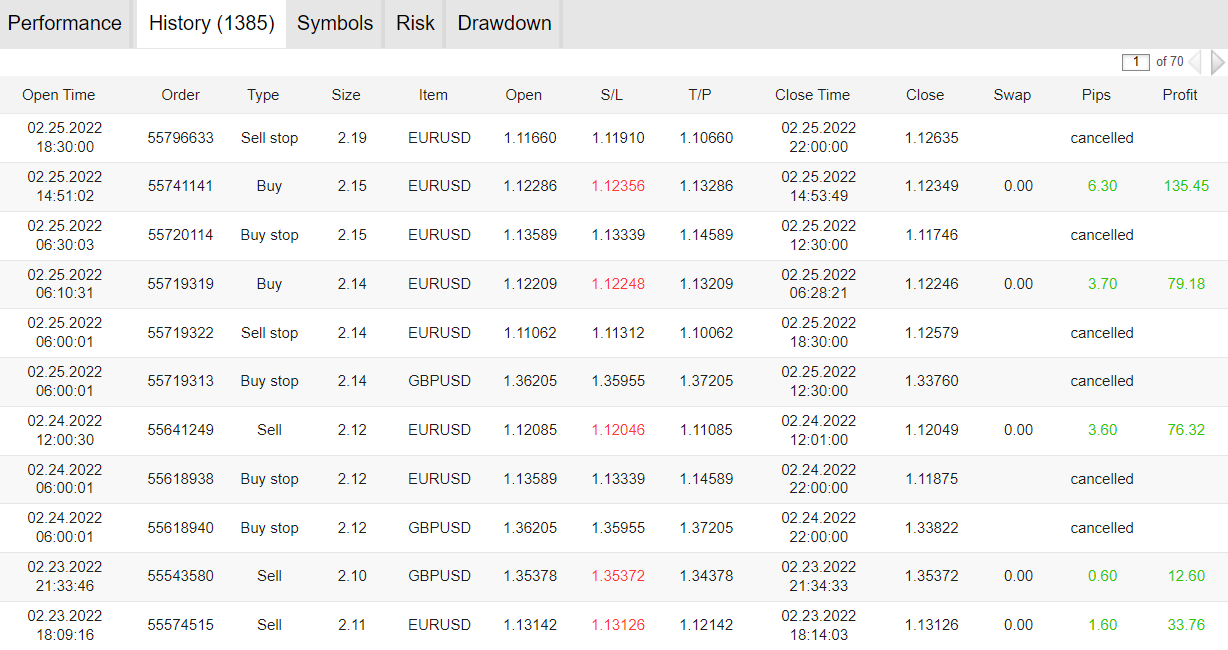 We can see that the EA trades with a lot size of 2.10-2.19, winning sizable profits from each trade. The average trade duration is 0.39 hours, and the average profit and loss are $54.46 and -$227.59, respectively.
Customer reviews
At this moment, there are no user reviews for this expert advisor on third-party websites.