Happy Forex is an expert advisor that provides its owner with an automatic trading experience. It was designed by a Happy Forex family. The presentation provides us with all required information to work with the system profitably.
Happy Forex features
We have united all gathered explanations about how the system functions in the following list.
The system trades with three sets of possible settings.
It can provide us with stable profitability.
It requires low drawdowns to be profitable.
The system applies a Grid of orders strategy using Martingale from time to time.
So, this requires much more margin to close orders successfully.
The system gets data from MT4 indicators.
There's a news filter that helps us to avoid trading during the high-impact news periods.
It has to work with optimal spreads of 4 pips to be profitable.
We can get not only the system but also ten robots and one indicator absolutely for free.
Trading hours can be customized.
We are allowed to decide how many orders will be on the market.
It protects orders by placing SL and TP levels.
It's possible to trade with it with any account size.
The system was tested on the 99.90% tick data.
The advisor works under FIFO regulation.
We can trade from the MT4 platform.
It supports three types of an account: Micro, Mini, and Standard.
The system tardes EURCHF and AUDUSD.
The only time frame to work with is H1.
The developers can cover us with 24/7 knowledgeable support.
The best broker house for this system is ECN ones.
It can auto detect 4 and 5 digit quotes.
Pricing
The system is available in two packages that vary by the number of real account licenses that can be used at the same time. The price is 299 EUR for two licenses and 499 EUR for five licenses. We can rely on support, free updates and upgrades, and a 30-day refund policy. The devs share 10 EAs and Happy Indicators Pro for free.
How it works
The advisor works automatically for us.
It opens and closes our orders on the market.
The system can provide us with proper money-management.
Trading strategy
The core strategy is a mix of Martingale and Grid.
It works with EURCHF and AUDUSD pairs.
We can work on the H1 time frame only.
Trading results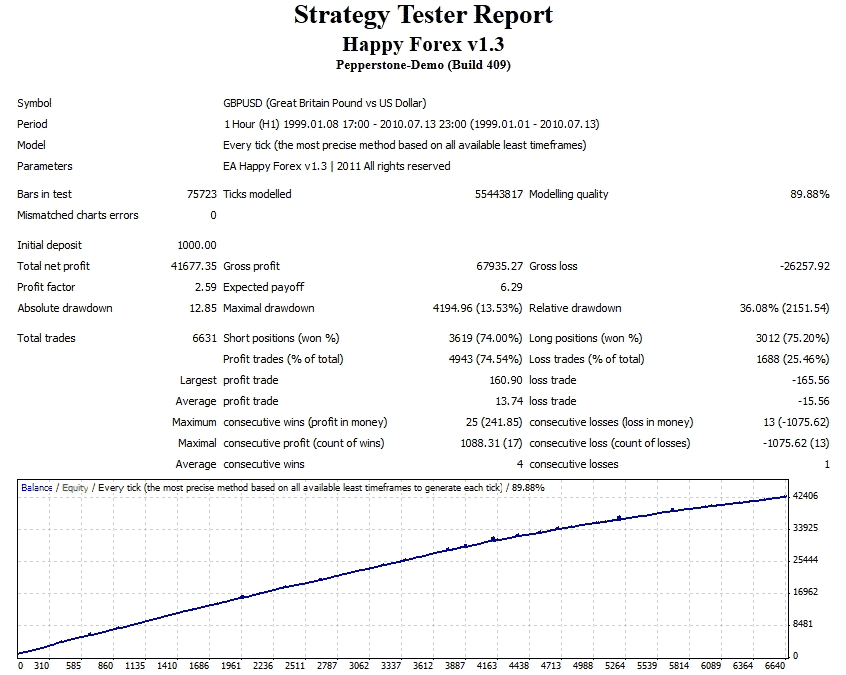 We have the system tested on GBPUSD on the H1 time frame. The data period united 1999 and 2010 years. The modeling quality was much lower than it should be, 89.88%. An initial deposit was $1000. The total net profit has amounted to $41,677. The profit factor was 2.59. Happy Forex executed 6631 trades. Average accuracy was 74% for shorts and 75.20% for longs.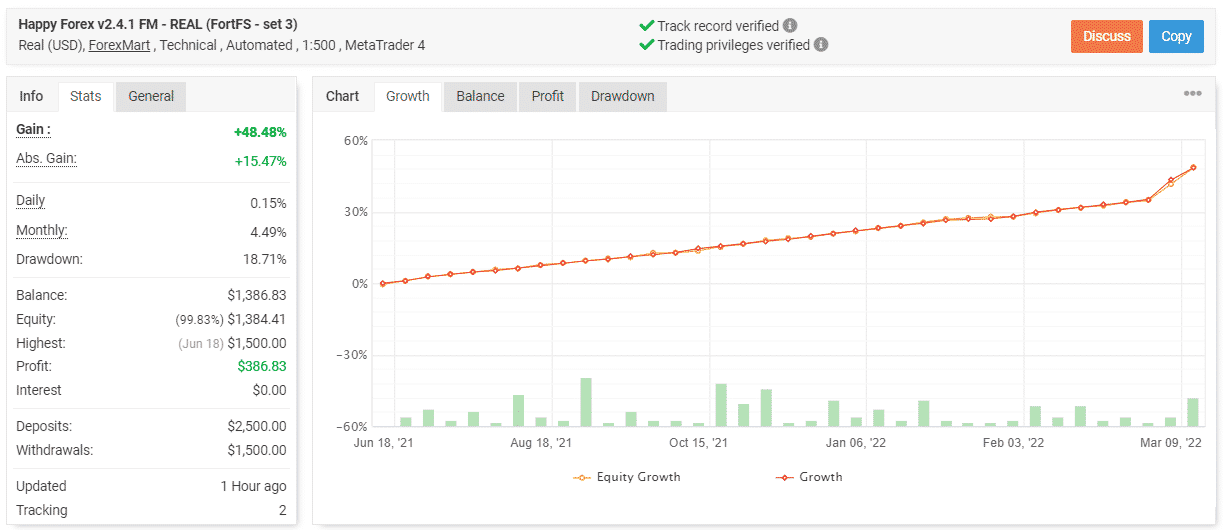 The developers set the robot on a real account on a ForexMart broker. The advisor executes orders automatically with 1:500 leverage on MT4. The account has a verified track record and verified trading privileges. It was created on June 18, 2021, deposited at $2.500, and withdrawn at $1,500. Since then, the total gain has become 48.48%. An average monthly gain amounts to 4.49%. The maximum drawdown is 18.71%. The current balance is $1,386.83.

Happy Forex closed 171 deals with 3909.3 pips. An average win is 55.77 pips when an average loss is -46.55 pips. The win rate for longs is 59% and 76% for shorts. An average trade length is 9 days. We have a high profit factor of 2.42.

Most orders are opened when the American trading session starts working.

Thursday (22) and Friday (24) are the less traded days.

The system trades with low-medium risks. There's a less than 0.01% chance of losing 28 orders (10% of the balance).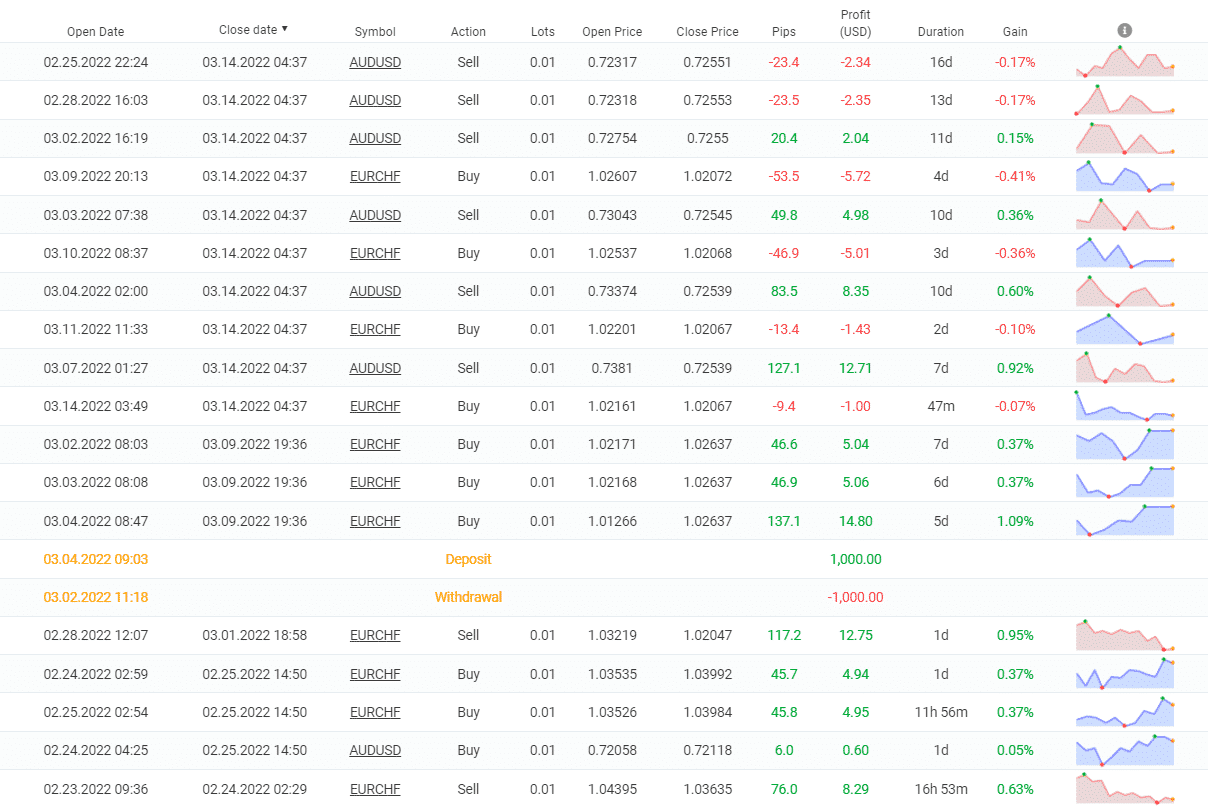 Happy Forex unites 4-6 orders in one Grid and tries to close them in a profit.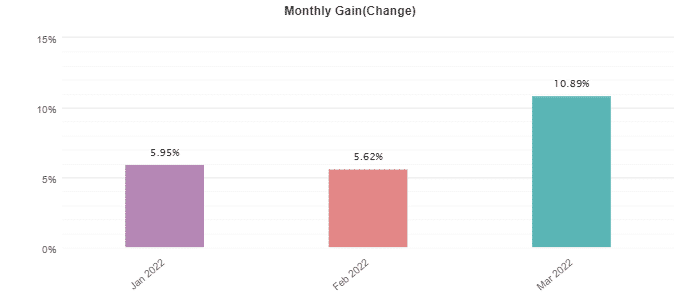 March 2022 looks much better than January and February.
Customer reviews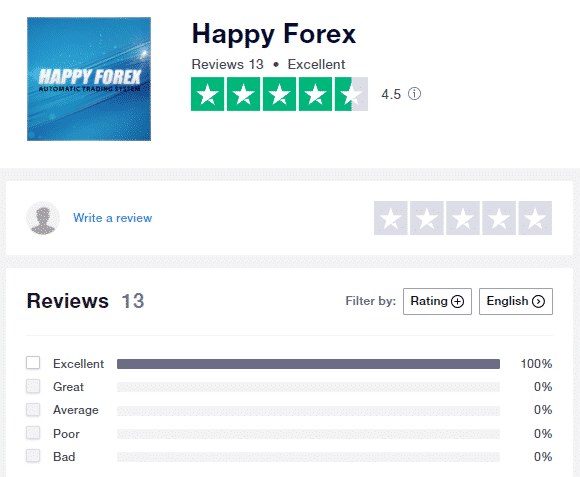 The Happy Forex company deployed a page on Trustpilot that lets people write reviews. We have 13 testimonials written that formed a 4.5 rate.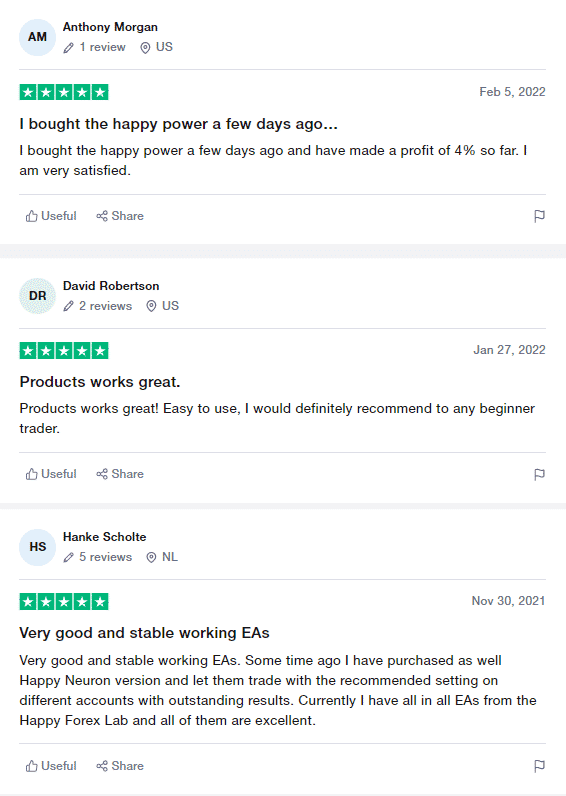 People shared their trading experience and convinced us that the company is trustworthy.