HAPPY NEURON is a new Forex EA from the Happy Forex group of developers, who are known for developing systems like Happy Breakout and others. With this system, the vendor promises a fixed number of trades every week that generate profits on a consistent basis.
There is no information available on the official website regarding the company's background, their year of foundation, service history, etc. We have no information about where the company is located and who the developers and traders are behind the system.
There are several Forex EAs available on the market these days and not all of them are reliable. You can take a look at our best robots list to figure out which ones you can trust. To judge the efficacy of HAPPY NEURON, we must perform an in-depth analysis of each and every system component.
HAPPY NEURON Features
On the official website, the vendor presents us with a brief overview of the features, along with the recommended operating system, trading platform, pairs, timeframe, and minimum deposits. The details of the pricing package and what's included in it are touched upon, and we also have live trading results for three different accounts with different risk settings.
HAPPY NEURON is a Forex EA that follows the FIFO rule and is compatible with ECN brokers. It is a fully-automated system capable of detecting 4 or 5 digit quotes automatically. The setup process is quite simple, however, if you face difficulties, you can always get in touch with the customer support team via the contact form provided on the website.
Pricing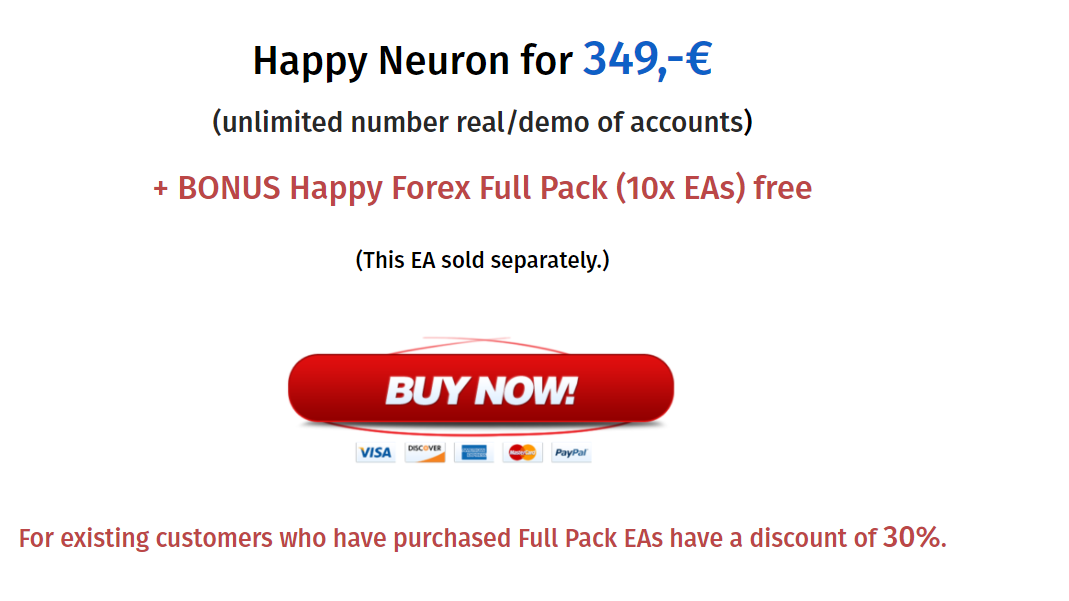 HAPPY NEURON is priced at 349 Euros, and currently, the vendor is offering a bonus package containing 10 Forex EAs for free. In case you have purchased this package separately in the past, you can avail a discount of 30%. This gives you access to an unlimited number of real and demo accounts.
The vendor provides free upgrades and updates on a regular basis for HAPPY NEURON. A 30-day money-back guarantee is offered, so you will get a full refund if the system does not perform as expected. After the first month, your software license will be renewed for free.
The pricing is more or less close to the market average, and we don't think 349 Euros is an exorbitant amount for a lifetime license. Of course, we can fully judge its worth only after assessing the other aspects of the system.
How it Works
HAPPY NEURON works on the MetaTrader 4 trading platform. It lets you trade in 25 currency pairs and has several neural network-based modules that can perform a thorough analysis of the market sentiment while also taking into account the latest financial news.
The H4 timeframe is recommended for this Forex EA and the recommended deposits depend on your risk setting. For a conservative risk setting, a deposit of $5000 is considered suitable, while for normal and aggressive risk settings, deposits of $3500 and $2000 are recommended, respectively.
Trading Strategy
We have no information regarding the trading strategy used by the robot for extracting profits. Thus, we have no way to analyze the technical aspects of the strategy and gauge the profitability of the system. Seasoned Forex traders might consider this lack of information as a red flag.
Trading Results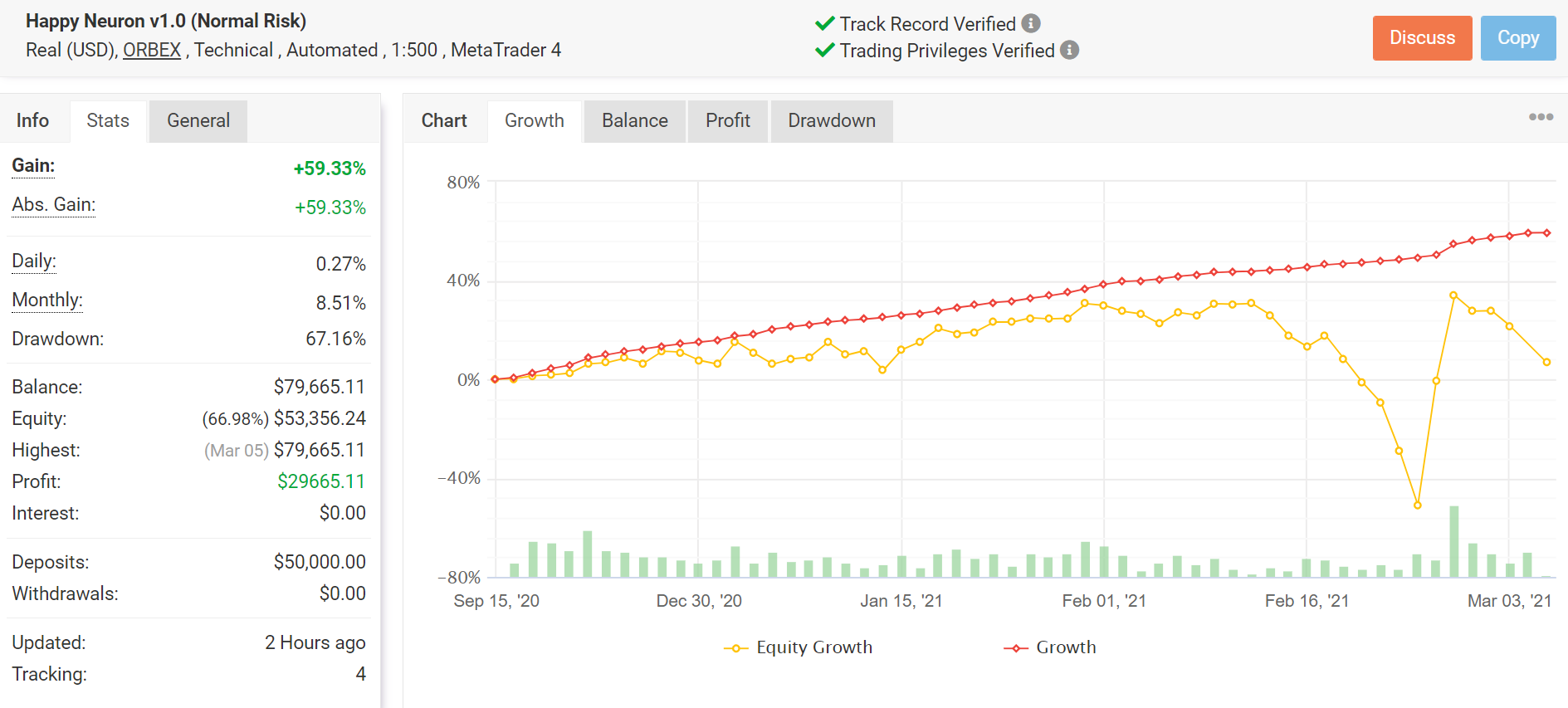 Here we have the trading result for a Myfxbook account using a normal risk setting. As we can see, the account was opened on September 15th, 2020, and up to now, it has conducted 2197 trades, winning 1928 out of them. This represents the profitability of 88% and we think it is quite high compared to other Forex EAs on the market.
The daily and monthly gains on this account are 0.27% and 8.51%, respectively, while the drawdown is 67.16%. While we think the drawdown is a little bit higher than what we would expect from a profitable system, there are other figures that manage to re-establish our confidence in the robot. One of them is the profit factor of 2.02. When a system has a profit factor exceeding 2, you know it will perform better than most Forex EAs.
Customer reviews
We couldn't find any user reviews for HAPPY NEURON on the Forexpeacearmy and Trustpilot website. This tells us that this Forex robot has not earned a reputation for itself yet. Since it is a new system, it might take some time before enough people get to know about it.