Happy News is a Forex EA launched by the Happy Forex team. It efficiently trades news related to the Forex market and claims to let you take advantage of the market momentum. A 100% automated system, it can be used with the Metatrader 4 trading platform.
The Happy Forex team is known for building Forex automated systems. They have manufactured robots like Happy Power, Happy Neuron, Happy Frequency, Happy Trend, Happy Way, Happy Fast Money, Happy Breakout, etc. Not much is known about the credentials and identities of its traders and developers, but from the Myfxbook profile, we can see that the company is based in Germany.
In order to get yourself the best Forex EA on the market, you need to perform a detailed analysis of the various performance aspects of the system. These include the features, trading strategy, live trading results, pricing, etc. For further details on how to choose the best Forex robot, check out our best Forex robots list.
Happy News Overview
On the official website of Happy News, the vendor has made a detailed presentation. We have a brief overview of how the EA functions, along with the latest updates that were made for the system. A list of all the main features has been presented and several live trading accounts have been shared. The vendor seems focused on the features and the live statistics, but does not offer any unique or different compared to other systems.
Pricing
Happy News is sold as a part of the EAs Happy Forex Full Pack that contains a total of 10 EAs. For 2 licenses, you need to pay 299 Euros, while 5 licenses would cost you 499 Euros. According to the vendor, this product is offered at a 30% discount. The vendor provides a 30 days money-back guarantee. The pricing packages are not too cheap compared to other providers on the market.
How it Works
Happy News is a robot that places pending orders in both directions in order to capitalize on the market momentum, in case there is a news release that impacts the price of currencies. The system downloads the news from a trustworthy source and screens it as per your preferences and requirements.
You have complete freedom when it comes to choosing the type of news you wish to trade. The robot uses multiple filters that let you place trades based on various conditions. These conditions include things like whether the latest report is different from the previous one, the kind of impact the news has, etc.
It runs on different operating systems like Linux, Mac OS, and Windows 7, 8, 10. You are advised to use an ECN account with a minimum deposit of $100. This system is easy to install and it supports auto-detection of 4-5 digit codes.
Trading Strategy
The trading strategy used by this Forex robot is not clearly explained on the official website. This is quite disappointing since many Forex traders look to the strategy to find some important details about the system, like its profit-making capability.
Trading Results

We don't have the backtesting results shared on the official website, and this may come as a disappointment to many potential investors. Backtesting data reveals how robust an EA is and whether it can tolerate extreme drawdown periods. Without backtests, it is difficult to determine whether the robot can give you long-term results.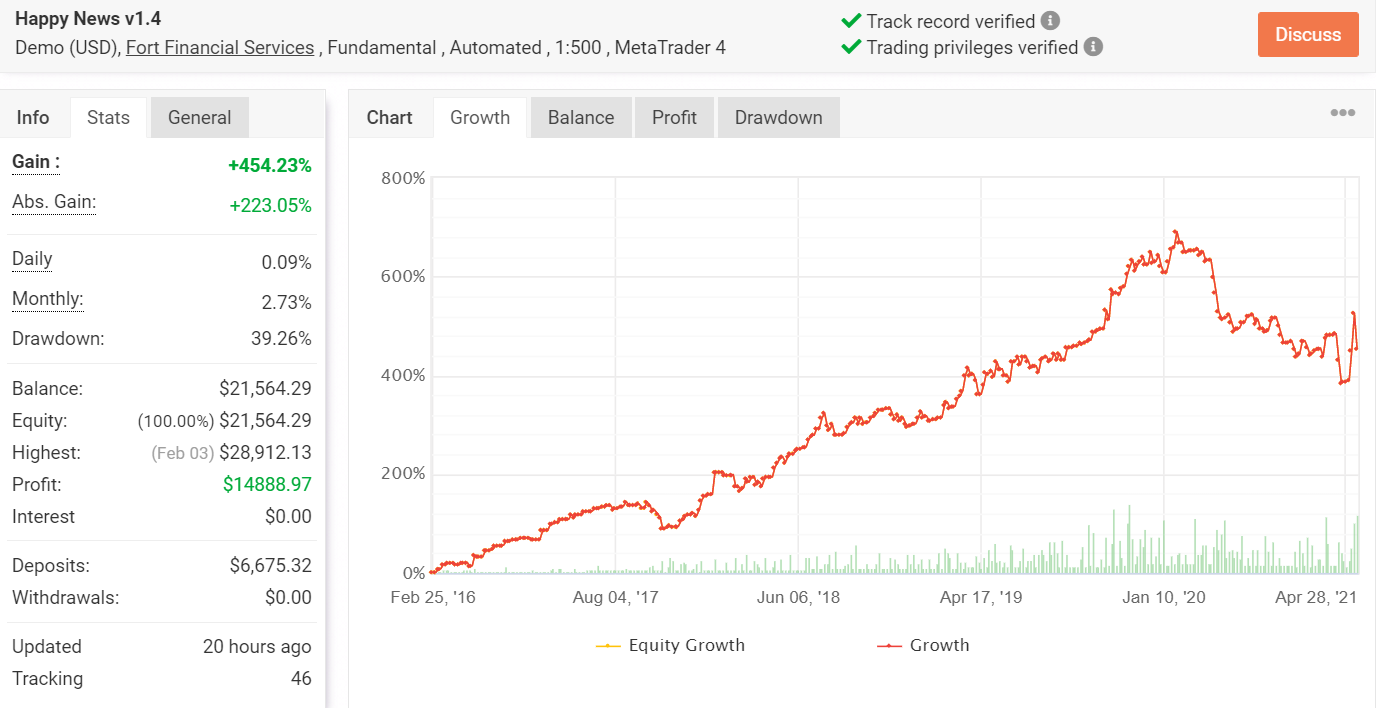 Here we have a live trading account for Happy News that has been verified by the Myfxbook website. It has been trading live since 25th February 2016, and to date, a total profit of $1488.97 has been generated through it. The daily and monthly gains for this account are 0.09% and 2.73%, which is not too impressive. We can also see that the drawdown is pretty high at 39.26%.
Out of 767 trades placed through this account, 652 have been closed in profit. It has a profit factor of 1.25 and an average win of 4.10 pips/$112.53.
Customer Reviews
There are no customer reviews for Happy News on websites like Forexpeacearmy, Trustpilot, Quora, and Myfxbook. Clearly not many know about this system, or they are not confident enough to use this robot in the live market as of now.