Happy Way is specifically designed to trade in the direction of the market and to support 5 stable currency pairs, namely USDCAD, AUDUSD, AUDCAD, CADCHF, and AUDCHF. The vendor assures us that both novice and experienced traders can use the EA comfortably.
Happy Way is the work of Happy Forex, a company renowned for creating automated systems for traders. Some of its other robots are Happy Gold, Happy News, Happy Frequency, etc. The company was founded in 2016, but we are clueless about the team working behind the scenes. The presentation doesn't talk about these professionals.
Happy Way offering
We have provided the features of the robot as described by the vendor below:
Setting it up is easy.
The system is compatible with ECN brokers.
It comes with auto-quotes detection 4 or 5 digits.
It is 100% automated.
A 30-day money-back guarantee is available.
It supports micro, mini, and standard accounts.
The minimum recommended deposit amounts for micro, mini, and standard accounts are $1000, $10, and $100, respectively.
The EA works on the H1 timeframe.
Pricing
Happy Way has two distinctive pricing packs. You can get 2 licenses at €299. If you want more licenses, say 5, then the cost is €499. The former plan allows you to trade 2 real accounts while the latter one enables you to trade 5 real accounts. Notably, both packages come with 9 other EAs. This means that you cannot buy Happy Way individually. Each of the aforementioned offers features a user guide, unlimited demo accounts, free updates, and upgrades, among others.

How it works
Happy Way essentially automates trading decisions for the human trader. It runs on the MT4 terminal, where it places and manages trades for you 24/5.
Trading strategy
The devs admit that Happy Way doesn't use any indicators while trading. They believe that its usage of reinsurance positions (the grid strategy) without increasing lot sizes (no martingale) is advantageous.
Trading results
Backtest results for this MT4 tool are missing. This data is essential as it enables traders to have a clue about how the robot will work for them should they acquire it.
Fortunately, the vendor is using the EA to manage an account on Myfxbook. Let us examine the data below: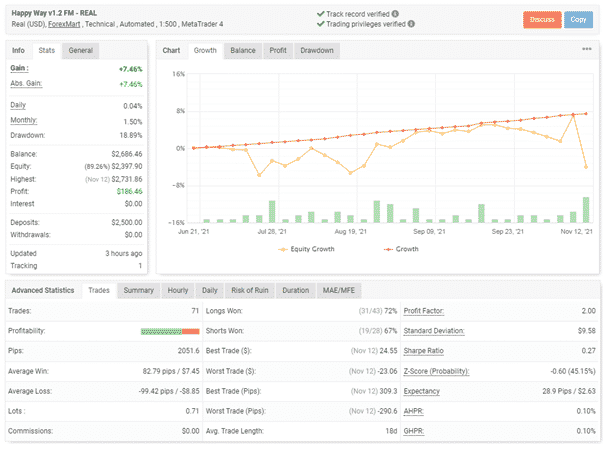 We can see that the above account was launched on June 21, 2021, and so far, only 71 trades have been implemented. From the average trade length (18 days), we can tell that the software can stay for prolonged periods without initiating any trades. Its profitability rate is also too low. On a monthly basis, only 1.50% profits are made. So, we only have a gain of $186.46 from a deposit of $2500.
The current drawdown is 18.89% and about 12.5 times higher than the monthly profit rate. It indicates that the account has made way more losses compared to wins. The win rates for long and short positions are 72% and 67%, respectively.

The system mainly places buy orders and gains a majority of profits from these positions.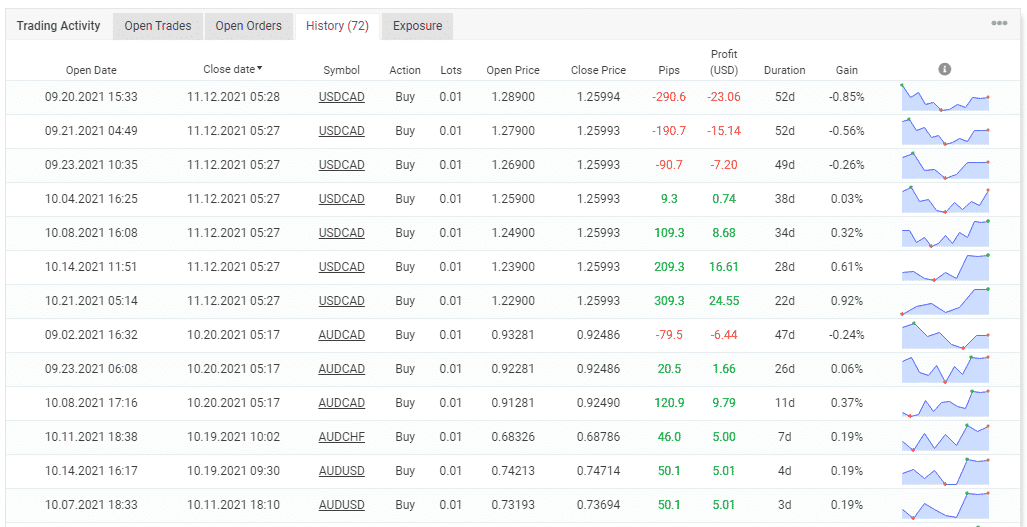 The EA works with a grid of orders and fixed lot sizes. There are occasions where the EA remained inactive for up to 52 days. Some sizable losses were made in September.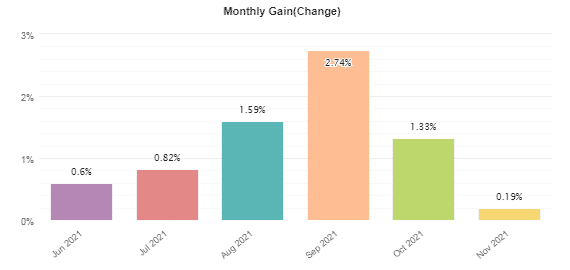 The most profitable month was September, and it only had 2.74% profits. November is so far the least lucrative month with 0.19% gains.

The account is not at risk of being ruined for now.
Customer reviews
Happy Way does not have any customer reviews. We searched for people's feedback on FPA, Trustpilot, and mql5 but could not find any. Perhaps the EA has not caught the attention of serious traders so far.