IndEX EA is a fully automated MT4 EA based on multiple trades on forex indices. It claims to be the first commercially available EA that is fully self-contained and back testable. We will visit the website to know about it better and see if it is useful.
The website looks neat with a professional design. The menu bar makes it easy to navigate through the site. It is stated on the site that the developer of this EA is Phibase and they developed it using the Phibase-IndEX algorithm. However, there is no further information about who Phibase is or where they are located. They mention Asian Markets, but their disclaimer mentions the US Government. So, the origin is not clear.
IndEX EA Offered plans
Phibase offers three subscription plans. The quarterly plan with 600 pips comes for $270. The half-yearly plan with 1500 pips costs $378. Finally, there is the annual plan with 3000 pips that costs $540. All currency pairs are available with all plans. You also receive two real or demo accounts and a performance guarantee. The subscription is extended if the minimum target is not achieved. 
| | |
| --- | --- |
| Type | Fully automated EA |
| Price | $270 – $540 |
| Strategy | Swing trading strategy |
| Compatible Platforms | MT4 |
| Currency Pairs | GBPJPY, EURJPY, USDJPY, EURUSD, GBPUSD, EURGBP and XAUUSD |
| Timeframe | H1 |
| Recommended Min. Deposit | N/A |
| Recommended Deposit | N/A |
| Leverage | 1:400 |
Automated Trading Strategy
IndEx EA does not rely only on the trend for trading. Instead, it benefits from all key elements in the forex market that are market noise, volatility, and trend. This EA uses the swing trading strategy to trade EUR/USD/GBP pairs. It is a price action based day trading strategy that finds high-profitability entries at swing points. By indexing information from multiple currencies, you can buy the dips in a rising market and then sell the rallies in a falling market. The trading takes place on a moving 24-hour time frame by depending on the most reliable signal.
Strategy Backtests
There are no backtest reports provided on the website but there are some strategy test reports on different currency pairs that you can check out at the website.
IndEX EA Live Trading Performance
IndEX EA has trading accounts on both FX Blue and Myfxbook account. We will analyze the Myfxbook account because it is more reliable and scams are easier to find on Myfxbook. However, here are screenshots of the FX Blue account.


The trading account on Myfxbook started trading on February 26, 2018. The track records and trading privileges of the chart are verified and it is also very recently updated. However, the chart still looks a bit suspicious because almost all stats are hidden. We can see that the gain and absolute gain are +1.97%. The daily and monthly are 0.00% and 0.07% respectively. 
These stats are not very impressive. However, the drawdown rate looks safe. It is only 30.10%. It has also maintained an equity of 100.90%. Although, it is difficult to put trust on these stats because we cannot see the other stats like deposits, withdrawals, balance, and profit. The profitability displayed here is 43%, but again, we cannot trust the figure with the other stats hidden from us.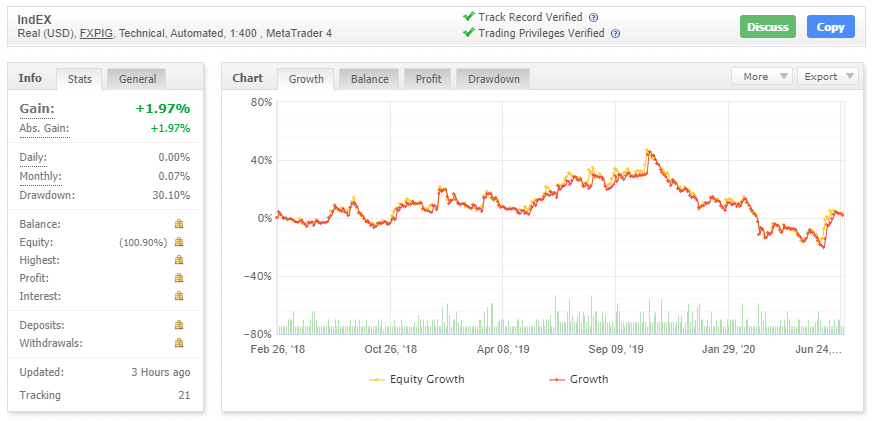 | | |
| --- | --- |
| Myfxbook Account | IndEX (Real USD) |
| Started | February 26, 2018 |
| Deposit | Hidden |
| Balance | Hidden |
| Gain | +1.97% |
| Daily | 0.00% |
| Monthly | 0.07% |
| Drawdown | 30.10% |
| Profitability | 43% |