This review is dedicated to a Forex expert advisor, which is powered by a Neural Network algorithm. The robot follows the HFT trading algorithm to ensure placing thousands of trades per short period.
The Phibase team, the group that stands for multiple products, including Cabex and RayBot systems, developed this robot. Unfortunately, the devs fail to mention it on their sales page. It is strange. We would recommend the devs to provide this sort of information because it would help their potential customers to understand what trading experience the team has in the Forex marketplace.
There are hundreds of EAs available in the Forex market. Therefore, choosing the best one is a challenge for any trader. Nevertheless, if you have decided to try iProfit EA, this review will be useful for you. Here we will tell all about this robot, its advantages and disadvantages to help you make the right investment decision.

iProfit EA Features
The team behind this software wants us to know about 8 key features of this robot. They include an average gain of 170 pips/month, the maximum drawdown of -1000 pips, no risky trading strategies, 12 years backtests, and more: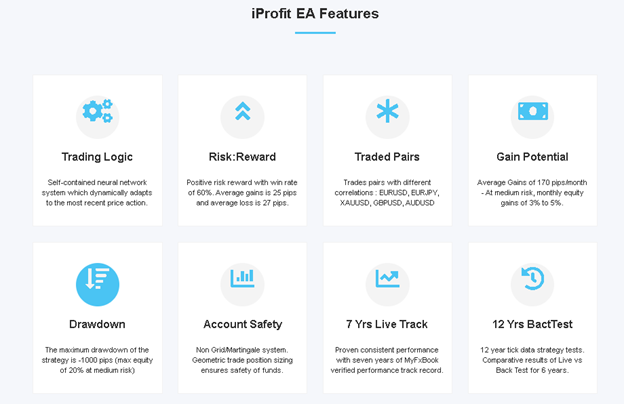 Pricing
The software is available in 2 different packages. Each of them includes 2 accounts (Demo or Real), free and regular updates, and 30 money-back guarantees. If you decide to trade with this EA for a year, then you will need to pay $470. In case you want to pay for a lifetime membership, then its price will be twice higher and equal $899.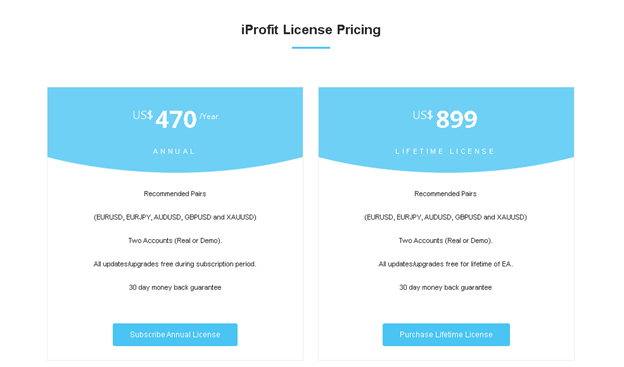 This price is extremely high in comparison with the other EAs in the Forex marketplace.
How It Works
This robot does not contain any difficult set-up rules, algorithms, or indicators. iProfit HFT strategy adjusts to any market conditions and makes a profit from it.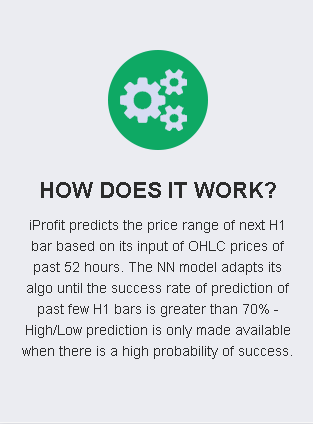 Trading Strategy
What is good about this EA is a detailed trading strategy description on their sales page. This includes an image, which describes the trading strategy in details: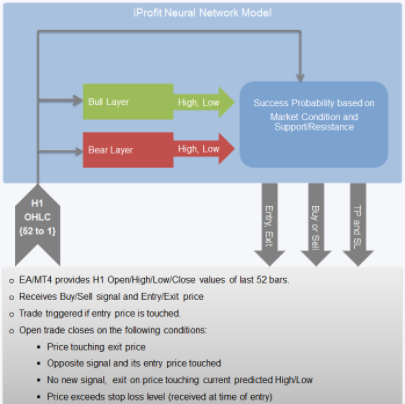 Trading Results
The devs provide us with a direct link on their training account verified by myfxbook.com: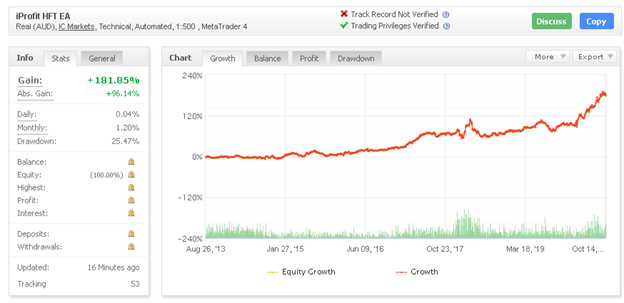 This account was launched on August 26, 2013. For over 7 years of trading, a trader has obtained a 181.85% gain with a monthly gain of 1, 20%, and peak drawdown of 25.47%. The gain of over 180% for over 7 years of trading is not large, but we may see that the growth chart is relatively consistent and effective (see the screenshot above).
We do not like that its balance and profit charts are hidden. It can only mean that the devs are trying to hide something from us. Lack of transparency is a red flag for iProfit EA: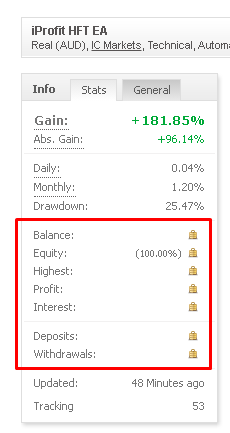 The robot has placed 4788 trades and won 2785 out of them, which represents 58%. It has traded 39297.6 pips with an average win of 63.27 pips and a higher average loss of -68.35 pips. The average trade length is 3 hours and 33 minutes. Its profit factor is small and equals 1.15.

In comparison with previous months, the system has shown a negative trading statistics in October 2020, with a monthly loss, which equals -2, 38% in October 2020: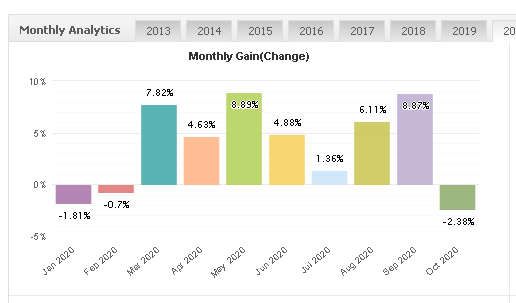 Customer Reviews
Unfortunately, there is no customer review on Forex Peace Army. However, we have found a performance test that is showing a gross loss of -31.54: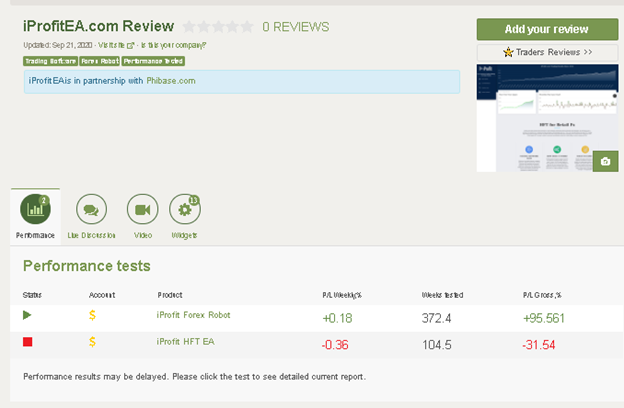 Trading Strategy Backtests
Strange, but the maximum DD we're offered for, should be about 800, but not 1000 pips. The profit factor is 1,29 and that is a very low level.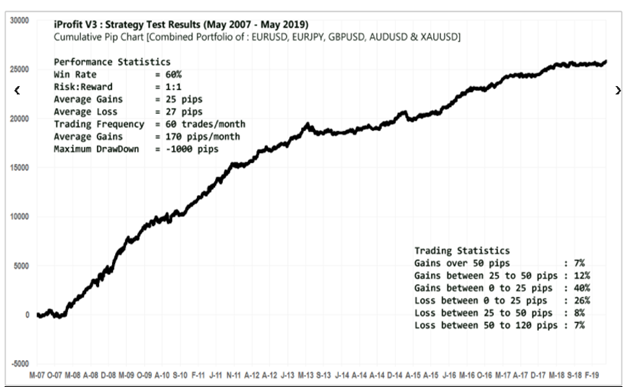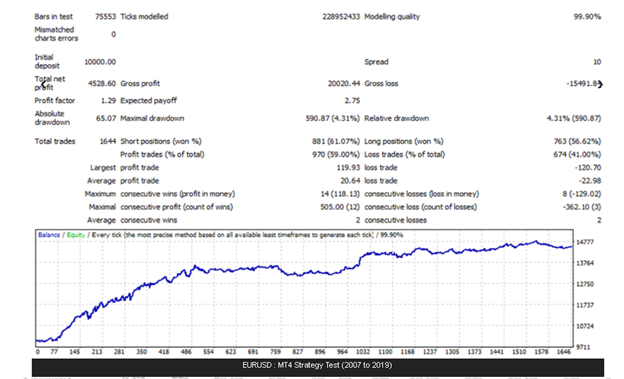 Unfortunately, these are only simple images that cannot be verified. Therefore, we cannot 100% trust the backtesting results.